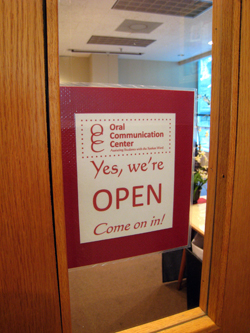 You might be wondering what utility the OCC could have for you. Here are our top five reasons why every Wittenberg student should visit the OCC when facing a speaking assignment of any kind:
5. The student consultants who work in the OCC are trained in both communication skills and training/tutoring techniques. That means they're particularly well prepared to assist you with any stage of preparation for any kind of speaking assignment on any topic! (They're also really nice, fun people!)
4. The student consultants are prepared to assist you with any kind of speaking assignment, including presentations, debates, participating in class discussion, leading a class session or activity, interviews, improving your listening skills, learning how to construct effective arguments, preparing and/or practicing a PowerPoint presentation, dealing with speech anxiety, and many other tasks and skills!
3. Your fellow Wittenberg students have had great experiences with the OCC. Read what they have to say about how visiting the OCC helped them! They felt more confident, prepared, and excited about their speaking assignment than they did before their visit, which helped them feel less anxious and be more successful.
2. The time you spend in the OCC working on a particular assignment with a consultant is a good investment, because you'll be able to put those new skills to use on future assignments. Learning good habits and techniques now makes you better prepared for other kinds of speaking requirements later!
1. You have to practice that presentation anyway - you might as well do it with someone who knows what they're talking about and can offer high-quality feedback. After all, your mirror can't tell you what you need to work on! You also can choose to have your practice session videotaped so you can see how you did.