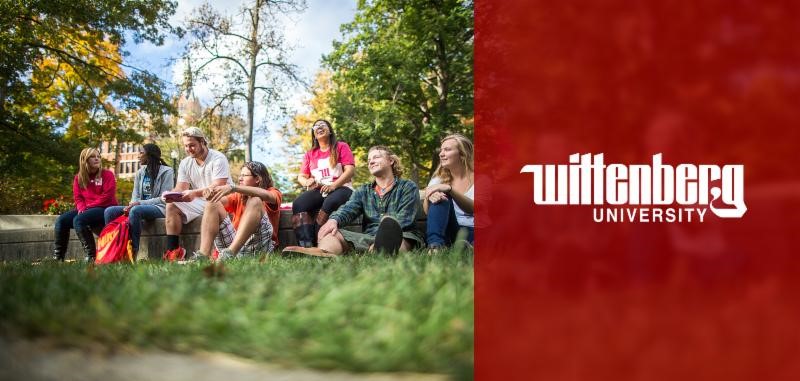 Published April 11, 2019
Wittenberg Community,
From academic excellence being on full display during our annual Celebration of Learning and Honors Convocation on Friday, to welcoming alumni back for the 20th reunion concert of the WittMen Crew, to men's volleyball sharing the AMCC regular season title, to baseball alumni coming together to remember a teammate lost way too soon, to Just Eve's concert, to the mainstage production of The Tempest, and multiple other activities, last week highlighted student success and the power of community at Wittenberg. My thanks to everyone who played a role in ensuring that these events reflected the best of Wittenberg.
Looking ahead, the month of April shows no signs of slowing down with Celebrate Service, the Witt Triathlon, WittFest, athletics contests and other activities on the horizon. On April 24, the annual Commit to Witt Day, a one-day fundraising event, will also take place. The goal is to get 500 new donors, and I hope you will consider being one of them if you haven't already supported the annual fund to date. The Wittenberg Fund provides the margin of excellence in support of our student experience, and I thank you for considering an investment on April 24.
As temperatures finally hint at spring. Sharon and I, along with Baxter and our new canine addition, Thea, will be out and about enjoying this dynamic time on campus. We hope you will be, too. Please enjoy this month's edition of Around the Hollow.
Best Regards,
Michael Frandsen, Ph.D.
President
Wittenberg University
---
Last Enrollment Forum
The 2018-2019 recruitment cycle is in its most critical yield phase leading up to the traditional "decision day" of May 1. Vice President for Enrollment Carola Thorson will discuss the latest initiatives underway and answer questions related to the incoming class during the last Enrollment Forum slated for noon today, April 11, in the Alumni Room of the Benham-Pence Student Center.
---
AICUO Shout-Outs
All last week, Wittenberg was the featured member of the week in social media for the Association of Independent Colleges and Universities in Ohio (AICUO). Posts highlighted Wittenberg's research opportunities, service, academics, athletics, and other mission-centered components of the educational experience we provide.
---
Record-Setting Success
Wittenberg's annual Empty Bowls fundraiser celebrated a record $50,187 in donations to support the Second Harvest Food Bank. This equates to 250,935 meals for those in need in Clark, Champaign and Logan counties. Sincerest thanks to Scott Dooley for leading this effort for 25 years and to all those who help to make it happen each year. #WittProud
---
Leadership Awards
I was pleased to attend the 9th annual Leadership Awards on April 3, where student organizations, advisors, and unsung heroes of the year were recognized, and where we celebrated diversity, health, wellness, and contributions to spiritual life. Congrats to all our award-winners.
---
Academic Excellence
Sharon and I want to extend our sincerest congratulations to all the students and faculty who were recognized during our annual Honors Convocation on Friday, and to everyone who participated in the 7th annual Liberal Arts in Action: A Celebration of Learning. Our motto, "Having light we pass it on to others," was revealed in every aspect of the day, and we were honored to celebrate with you.
---
Athletics Update
Wittenberg's spring teams are heading toward the home stretch of the season, highlighted by an Allegheny Mountain Collegiate Conference (AMCC) regular season championship for the Tiger men's volleyball team. The Tigers are the No. 1 seed and will host the AMCC Tournament April 12-13. Also of note is the play of the Tiger men's and women's golf teams, including first-place finishes for the women at the Laura Bump Invitational and for the fourth-ranked men at The Hershey Cup. Other highlights include strong starts by Tiger baseball (13-8 record through 4/10), men's tennis (9-5 record through 4/10) and women's tennis (8-5 record through 4/10).
---
HWA Update
With the official opening of the 1929 Fieldhouse, our Health, Wellness & Athletics Complex is already becoming a sought-after venue for upcoming events. In May, our Board of Directors will be meeting in various sections of the facility, and we continue to hear positive feedback from faculty, students, staff, and coaches about the new space. A reminder that the entire facility will open during Homecoming and Reunion Weekend, Oct. 24-27.
---
Staff Advisory Council Shout-Out
The Staff Advisory Council's April shout-out goes to Celebration of Learning co-chairs Cherie Rebar and Molly Wood, and the entire committee, including Brandee Bates, Linda Beals, Cameron Dobrotka '20, Sharon Greitzer, Holly Gersbacher, Cindy Holbrook, Ryan Maurer, Sarah Shivler, and Vanessa Orduna Zarazua, for their tremendous work in bringing the campus together to recognize academic achievement in all its forms. The 7th annual event proved a huge success as we joined in celebrating the accomplishments of our students through. posters, panel presentations, TEDTalks, and performances. Congratulations!