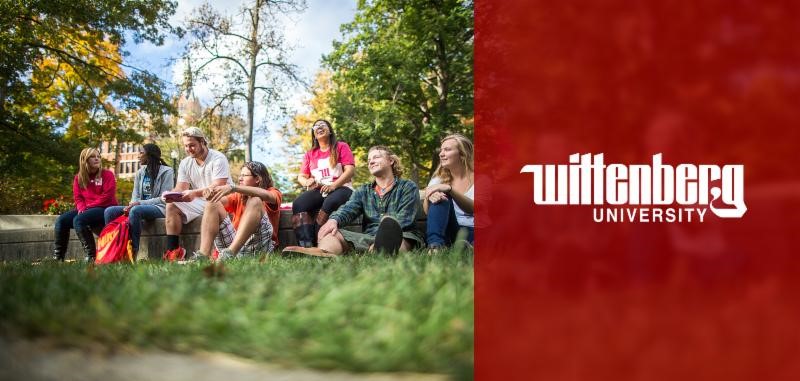 Published December 5, 2018
Wittenberg Community,
Last week, Sharon and I were happily surprised by some special guests at our door. Members of our wonderful a capella group, Just Eve, were out and about sharing the holiday spirit through song. The group's advisor and our political science professor, Ed Hasecke, had joined them. After Just Eve finished its caroling, the group headed to the Hasecke's home for a post-caroling get-together, where they sang around the family's dining room table.
I share this first to thank Just Eve, but also to highlight what I believe is authentic to Wittenberg. We are a true community, where learning and engagement continue well outside traditional classroom doors. We are a University where relationships matter and where they make a huge difference in our success. We are also a community that serves and one that embodies the passing of light.
We each have a role to play in sharing stories like the one above as we work to show future students and families how Wittenberg is, and always will be, all in for them.
Sharon and I look forward to seeing you this Friday for our holiday reception immediately following the Wittenberg Series'-sponsored Lessons & Carols for Advent and Christmas event, Dec. 7, where we will continue the holiday spirit Just Eve sparked for us.
Best Regards,
Michael Frandsen, Ph.D.
President
Wittenberg University
---
Enrollment Forum
I want to remind you about the first Enrollment Forum, which Carola Thorson, our new vice president for enrollment management, will lead on Thursday, December 6, beginning at noon in the Alumni Room inside the Benham-Pence Student Center. As Carola shared in her recent campus-wide update, the forum will provide an opportunity to learn more about specific initiatives underway and how to partner with admission to engage prospective students. Carola will also answer any questions you may have.
---
A Mission That Matters
In my continuing effort to remind us of the respective impacts we all make, I am again sharing another video that speaks to the power of Wittenberg through the voices of our community. My thanks to Chyanne Boyd '22, from Newark, Ohio, for being the third student to share what makes Wittenberg so special.
---
Lessons & Carols
The 2018-19 Wittenberg Series continues at 7:30 p.m. Friday, Dec. 7, with the annual Lessons and Carols for Advent and Christmas service in Weaver Chapel. More than 100 musicians are expected to perform, including the Wittenberg Choir and the Wittenberg Singers, the Wittenberg Chamber Orchestra, the Wittenberg Handbell Choir, and the IMANI Gospel Choir, which is joining in the service for the first time.
---
New Partnership
Wittenberg recently joined several other Ohio colleges and universities in partnering with the Montgomery County Ohio College Promise program. The program, created in 2010, seeks to identify, select, and support 500 Montgomery County, poverty-impacted, eighth-grade students, over a 10-year period, who have shown academic promise so that the dream of attending and graduating from college becomes a reality.
---
Athletics Success
It's a wrap on the 2018 fall season, which featured league championships for the Tiger football and women's volleyball teams, league tournament berths for the field hockey and women's soccer teams, and the highest win total for men's soccer in more than a decade. Wittenberg women's volleyball ranked in the top five throughout the season before its NCAA Tournament run ended in five dramatic sets at No. 1 Calvin. The winter season is now underway, highlighted by tip-off tournament wins for men's basketball at Muhlenberg and women's basketball at North Park, along with solid finishes for swimming and track at competitions hosted by Transylvania and Mount Union, respectively.
---
HWA Update
We are working with our webcam partners to document the entire HWA construction project through imagery. The most recent time lapse is available on the project's website, as well as by clicking the link below. Our investors continue to be pleased by the progress to date, and we are excited that the HWA offices are expected to be operational in the 1929 building after spring break.
---
Staff Advisory Council Shout-Out
The Staff Advisory Council sends its December shout-out to the hard-working members of COMPASS. Helping students find jobs, prepare for finals, wrap up registration issues, and successfully navigate into spring semester during the last days of fall is critical work for which we are most grateful. Their dedication to our students is vital to Wittenberg, not only in improving retention, but in achieving the overall mission of supporting our students and giving them every tool for success that we can. Thank you for being there for those who need you the most – we all benefit from your herculean efforts, not only at this time, but all year round.