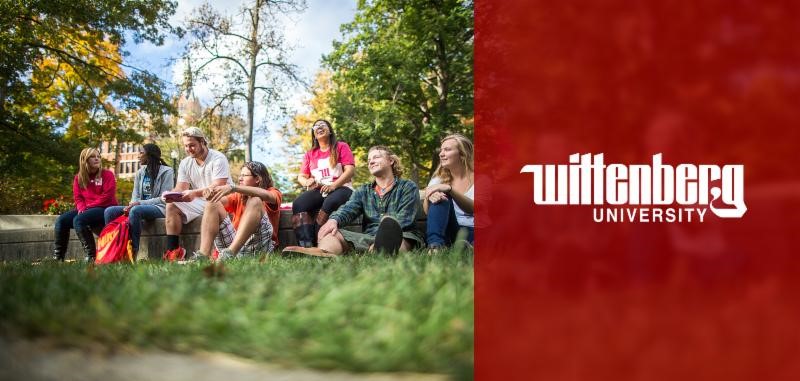 Published January 9, 2019
Wittenberg Community,
Happy New Year. I hope the holiday break was restful, rejuvenating, and filled with times with family and friends that will be fond memories for years to come. Each semester's start of classes is always invigorating to me as the campus comes alive again, but this semester will spark even more energy as Wittenberg moves forward on several fronts.
As noted last week, we will be to welcoming our Provost candidates to campus during the next two weeks. Our first candidate, Dr. Vincent Wang, arrived yesterday and will present during an all-campus forum today from 4:30 p.m. to 5:30 p.m. in Room 105 of the our Shouvlin Center. I encourage everyone to attend. All-campus forums for the other candidates will be January 10, 14, and 16, also from 4:30 p.m. to 5:30 p.m. You will receive reminders of each.
The search for a new Vice President for Advancement and Alumni Relations will begin in earnest this month. Rob Young and Sally Brannan have agreed to serve as co-chairs for the search, and Academic Search will provide support as it has with the Provost search. My goal is to conclude the search by the end of the semester. This is an important step as we prepare to launch the quiet phase of a comprehensive fundraising campaign, the first such campaign in nearly two decades.
Additionally, as part of our Health, Wellness & Athletics restoration and expansion initiative, the 1929 building will re-open this semester, and plans are underway to make that occasion a momentous one.
This will be an exciting time on campus, but none of it would be possible without your dedication. Thank you for your continuing partnership and engagement as we work diligently to advance our mission. Below is my first update of 2019.
Best Regards,
Michael Frandsen, Ph.D.
President
Wittenberg University
---
Enrollment Forum
The second Enrollment Forum, which Carola Thorson, vice president for enrollment management will lead, is slated for Thursday, January 24, beginning at noon in the Alumni Room, Benham-Pence Student Center. The Admission team will provide an update and share more information on Slate, Admission's new customer relationship management (CRM) system.
---
A Mission That Matters
In my continuing effort to remind us of the respective impacts we all make, I am again sharing another video that speaks to the power of Wittenberg through the voices of our community. My thanks to Emma Amurgis '21, from Grandview Heights, Ohio, for being the fourth student to share what makes Wittenberg so special.
---
Wittenberg Series
On Monday, January 21, we will welcome Adam Foss, former Assistant District Attorney of Suffolk County in Boston, Massachusetts, advocate for criminal justice reform, and founder of Prosecutor Impact, as our keynote speaker during the annual Wittenberg Series-sponsored Martin Luther King Jr. Commemorative Convocation.
---
New Council Created
As announced on Monday, the President's Council for Diversity & Inclusion, a university-wide advisory committee, has been established in keeping with one of three proposed recommendations as outlined in our Operational Agenda under Goal 1 online. My thanks to interim Provost Mary Jo Zembar, Vice President/Dean Casey Gill, and Assistant Dean Joshua Moore for their leadership in bringing us to this point. In addition, thank you to everyone who has eagerly agreed to serve. The Council will hold its first meeting later this month.
---
Athletics Update
The Tiger men's and women's basketball teams are both at the midway point of the 2018-19 season, and both find themselves in the thick of their respective North Coast Athletic Conference title chases. Wittenberg's men head into their biggest week of the season - including games against nationally ranked league rivals Wabash and Wooster - ranked in the top 25, while the women have won five straight games. Both teams were victorious in the annual Charles B. Zimmerman Memorial Classic over the winter break.
---
All-Recognition Event
With community being a central component to the Wittenberg experience, I am excited by the efforts of Director of Human Resources Mary Beth Walter and the HR team in creating an inclusive event to honor the service milestones of our colleagues. Please mark your calendars for the first annual All-Employee Service Recognition and Award Luncheon on Wednesday, February 27, 2019, from 11:30 a.m.-1 p.m. More information will be forthcoming.
---
Staff Advisory Council Shout-Out
The SAC's shout-out for January goes to the Office of International Education. JoAnn Bennett and Amy Parks make study-abroad opportunities affordable and accessible for our students while also providing resources and assistance to international students on our campus. January is a very busy time for their office as they are sending students off to Witt in Costa Rica and Witt in Wittenberg, along with helping students in other international programs in various countries. We are so grateful to JoAnn and Amy for all they do, making these incredible, invaluable educational experiences with lifelong impact available for Wittenberg students.