What follows is a collection of Twitter photos/posts representing a busy inaugural year for Dr. Michael L. Frandsen as Wittenberg University's 15th president.
Click on images to enlarge
May 11, 2018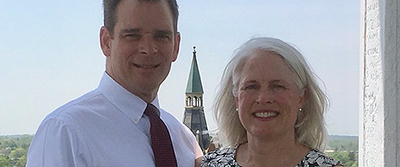 Getting ready for @wittenberg Commencement at the top of Myers Hall.
---
May 10, 2018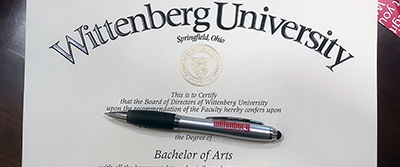 Signing diplomas to get ready for Saturday @wittenberg. #StompTheSeal
---
May 5, 2018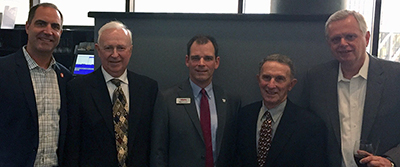 A lot of victories represented by these @WittenbergHoops coaches, all @wittalumni, gathered to honor Coach Brown on his induction into the Ohio Basketball Hall of Fame.
---
May 1, 2018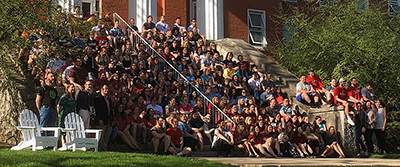 Wittenberg's Class of 2018 Senior Picture. Work still to do, but celebrations beginning.
---
May 1, 2018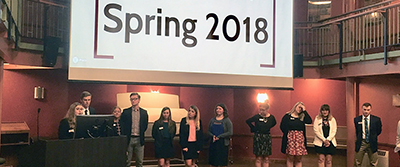 Presentation by our Communication and Business Leadership Experience (C.A.B.L.E.) students. Engaged learning at its finest. #WittFactor
---
April 29, 2018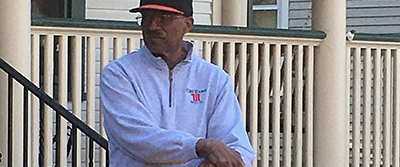 Honoring Dean John Young for 34 years of service @wittenberg. #WittFactor
---
April 28, 2018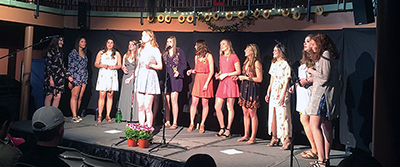 More great a cappella with @JustEveAcapella tonight @wittenberg.
---
April 27, 2018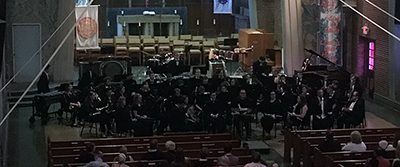 "American Masters" - Ives, Copland, Bernstein, Ticheli, Sousa. The @wittenberg Symphonic Band at Weaver Chapel. Beautiful music in a beautiful place.
---
April 26, 2018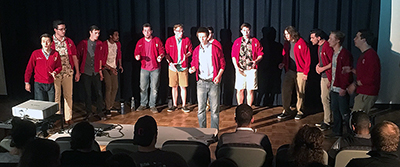 Spring concert for @TheWittmenCrew.
---
April 21, 2018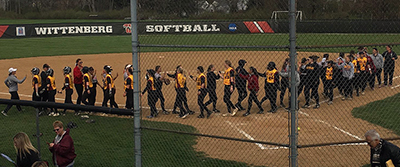 Sweep for @WittSoftball on Senior Day! #TigerUp
---
April 21, 2018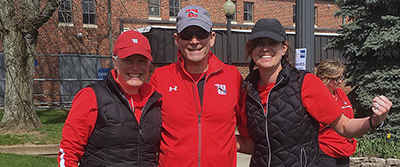 Team effort! Swim-bike-run @wittenberg. #getfitwitt #WittTri19
---
April 19, 2018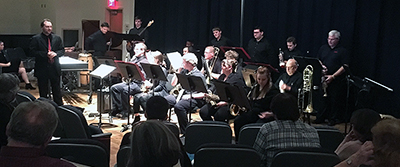 Great sounds! @wittenberg Jazz Ensemble.
---
April 7, 2018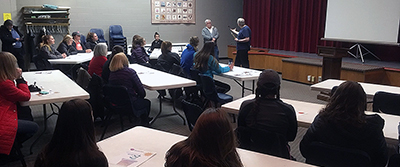 Light illuminated continues. Volunteers from @TheHagenCenter @wittenberg working in Springfield to support our neighbors at @OesterlenSFYInc. #WittServes #PassItOn #TigerUp
---
April 6, 2018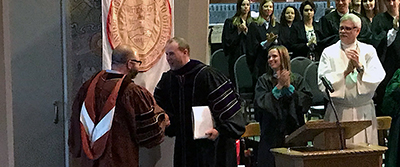 Celebrating academic achievement at our annual Honors Convocation.
---
April 5, 2018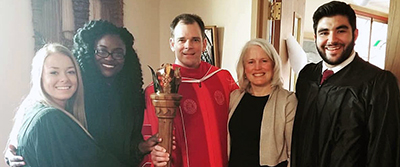 Officially taking the reins at the Inauguration of the 15th President of Wittenberg University.
---
April 4, 2018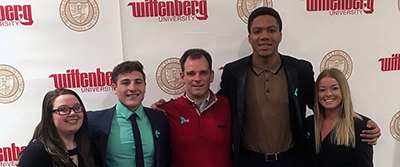 Celebrating student achievement at the annual Leadership Awards.
---
April 4, 2018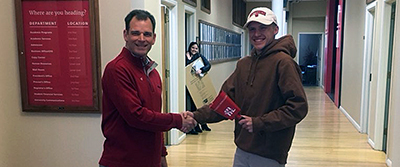 Welcoming a new student as he celebrates his commitment to Wittenberg by ringing the Admission Bell.
---
March 28, 2018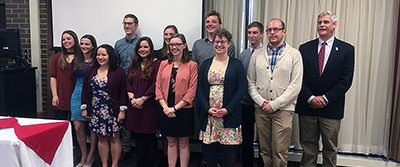 Participating in the induction ceremony for Wittenberg's Phi Beta Kappa Class of 2018.
---
March 14, 2018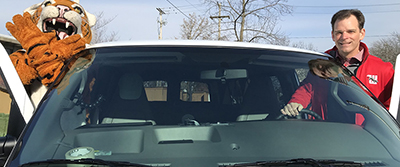 Took a ride with Ezry the Tiger and some of our closest friends for the first-ever Wittenberg edition of Carpool Karaoke.
---
March 12, 2018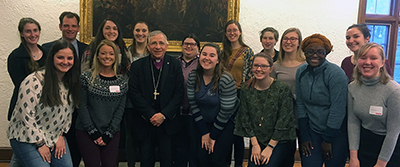 Enjoyed getting to know Bishop Younan and learning about his story and perspective.
---
February 27, 2018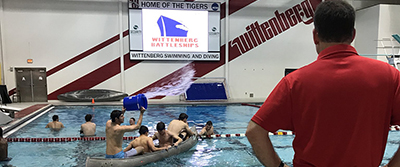 Honored to serve as the judge at 2018 Battleships at the HPER Center Natatorium.
---
February 17, 2018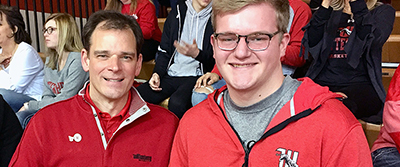 Watching a thrilling Wittenberg men's basketball game against arch-rival Wooster with future Tiger, Adam Calhoun. #TigerUp
---
February 16, 2018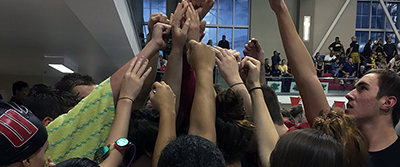 Proud to support our Tiger swimming and diving teams at the NCAC championships. #TigerUp
---
February 14, 2018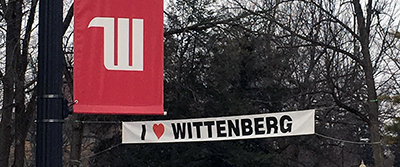 Thanking all who help make what we do at Wittenberg possible. #LOVEWITT
---
February 7, 2018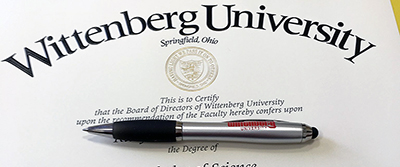 A favorite part of the job, signing diplomas. Congratulations to our December Wittenberg graduates!
---
February 1, 2018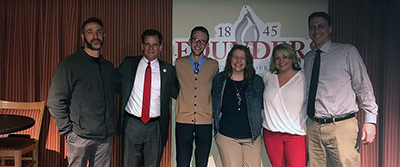 Honored to be among the Wittenberg faculty and staff members selected as Honorary Members of the Class of 2018.
---
January 27, 2018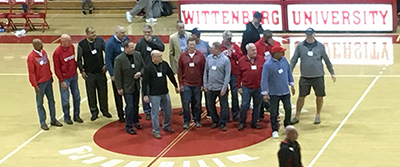 Celebrating championship teams and individuals who have represented Wittenberg on the hardwood through the years.
---
January 26, 2018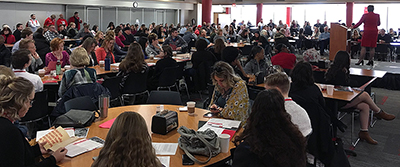 Welcoming another large crowd of future Tigers to our January Accepted Student Day.
---
January 21, 2018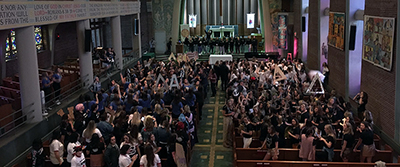 Celebrating Sorority Bid Day in historic Weaver Chapel
---
December 10, 2017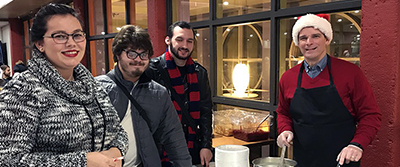 Serving waffles to hungry students as Wittenberg hosts its annual Midnight Breakfast to kick off finals week.
---
December 10, 2017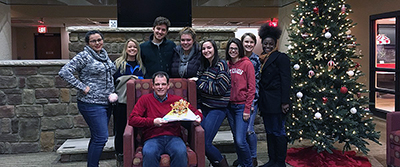 Reading "The Night Before Christmas" to Wittenberg students on the eve of finals week.
---
December 8, 2017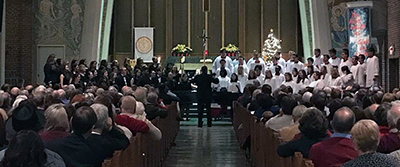 Reading scripture during the annual Lessons and Carols for Advent and Christmas.
---
December 7, 2017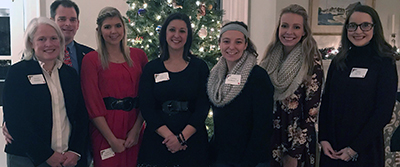 An evening with our Wittenberg Guild scholars.
---
December 6, 2017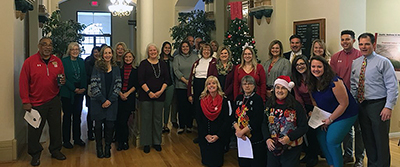 Filling Recitation Hall with the sounds of the season.
---
December 4, 2017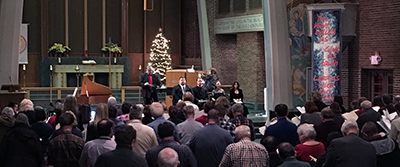 The sounds of the season with the community as the chorus singing Handel's "Messiah."
---
December 1, 2017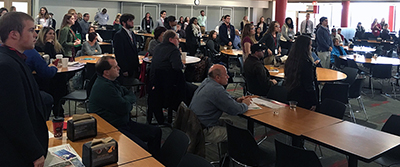 Welcoming future Tigers to campus for the first Scholarship Visit Day of the 2017-18 school year.
---
November 30, 2017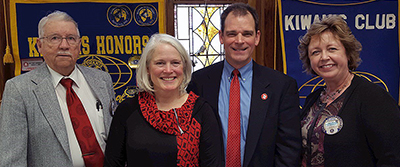 Attending Kiwanis meeting in Springfield.
---
November 27, 2017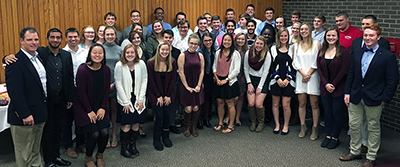 Dinner with first-year students selected to participate in Wittenberg's Emerging Leaders Program.
---
November 20, 2017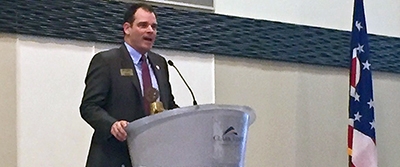 Speaking to Springfield Rotary about Wittenberg and our connections and partnerships with the community.
---
November 18, 2017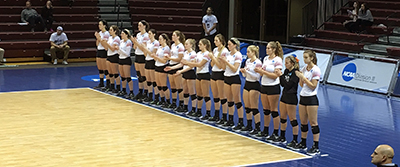 Celebrating the amazing performance by our Wittenberg Women's Volleyball team - 2017 NCAA Division III Runner-Up!
---
November 15, 2017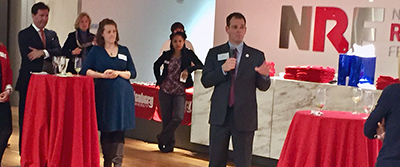 "Miles With Mike" Alumni Tour continues in Washington, DC.
---
November 11, 2017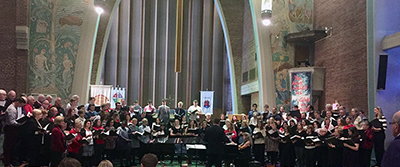 Celebrating 50 years of the Wittenberg Choir with a reunion weekend, highlighted by a fantastic concert.
---
November 10, 2017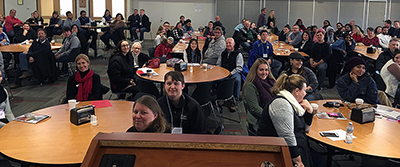 Welcoming nearly 100 prospective students and their families to campus for the third Fall Visit Day of 2017.
---
November 9, 2017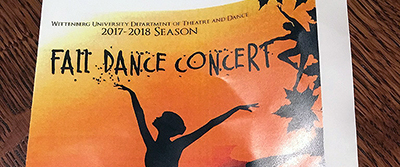 Attending my first Fall Dance Concert - amazing students doing amazing things on stage!
---
November 9, 2017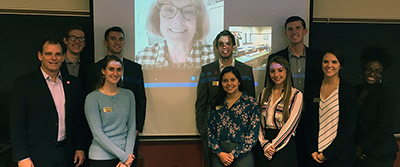 Attending a presentation by students preparing for professional success in our CABLE program.
---
October 30, 2017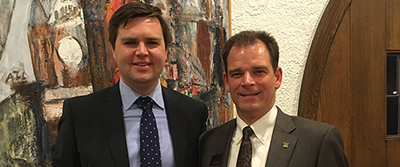 Welcoming Hillbilly Elegy author JD Vance for a thought-provoking Wittenberg Series presentation.
---
October 29, 2017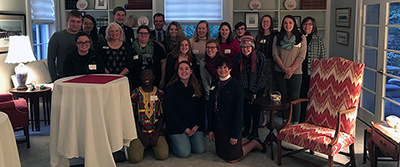 Students and staff members joining me in the Benjamin Prince House before the culmination of our series celebrating the 500th Anniversary of the Reformation.
---
October 28, 2017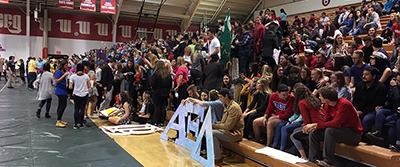 Fun end to Greek Week at annual Lip Sync contest in HPER Center.
---
October 28, 2017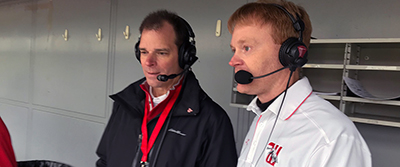 Halftime interview with the Voice of the Tigers, Scott Leo, as Wittenberg Football wins tough game at Wabash en route to another NCAC title.
---
October 6, 2017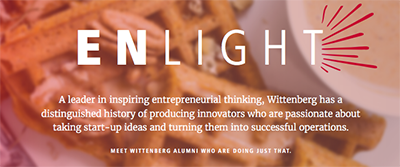 Reaffirming Wittenberg's entrepreneurial spirit during Enlight's "Taste of Witt."
---
October 6, 2017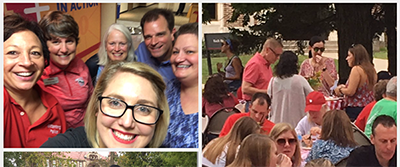 Kicking off Family Weekend with fun and smiles.
---
October 6, 2017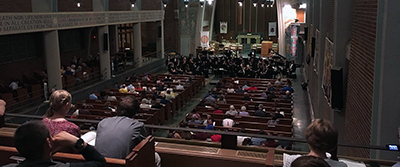 Attending Symphonic Band concert
---
October 3, 2017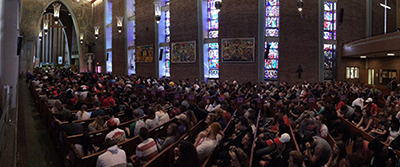 Joining with First Year Seminar students as they sign Wittenberg's Honor Code.
---
September 30, 2017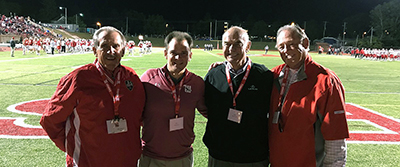 Taking time to welcome back members of the 1962 National Championship football team.
---
September 29, 2017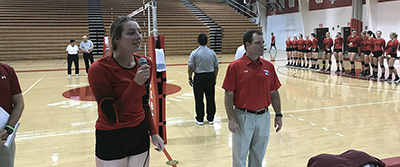 Wittenberg Women's Volleyball welcomes Dr. Frandsen to serve as honorary coach.
---
September 27, 2017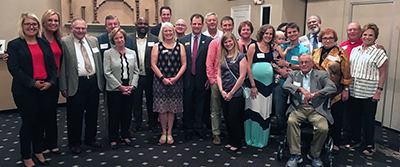 The official 2017-18 "Miles with Mike" presidential alumni tour kicked off in Indianapolis, Ind. Thirty more stops to go from now until June 2018.
---
September 16, 2017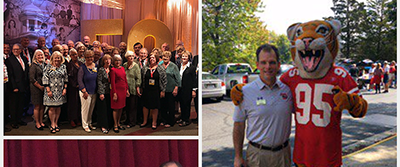 From celebrating with the 50th reunion class to recognizing this year's alumni award-winners, President Frandsen called his first Wittenberg Homecoming outstanding.
---
September 15, 2017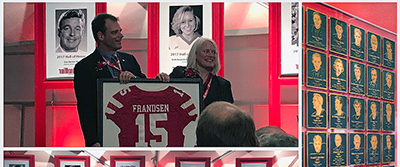 Celebrating the best in Wittenberg athletics during annual Hall of Honor Induction Ceremony.
---
September 9, 2017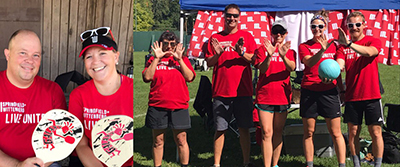 Supporting all Wittenberg representatives competing in the United Way Community Challenge.
---
September 5, 2017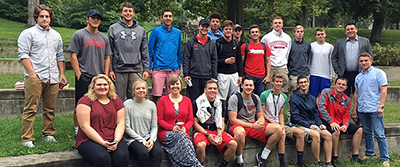 Enjoying breakfast with FYS entrepreneurship class in Commencement Hollow
---
September 1, 2017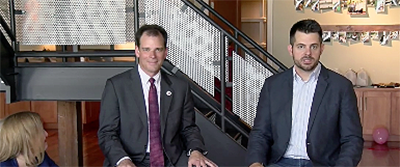 Springfield USA hosted an informal panel session with President Frandsen and Stephanie McCuistion of the Susan Hirt Hagen Center for Civic and Urban Engagement.
---
August 31, 2017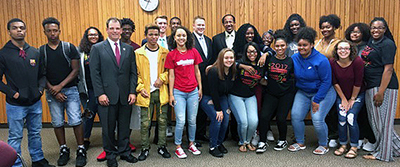 President Frandsen joined with the campus community in thanking Congressman Warren Davidson for his office's leadership in restoring federal funding to Wittenberg's longstanding Upward Bound program.
---
August 29, 2017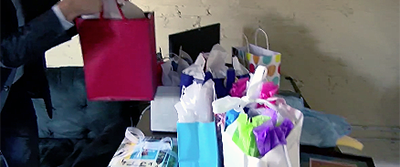 Springfield USA provides big welcome to the Frandsens. Click here to watch the video.
---
August 28, 2017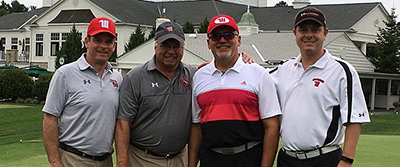 In Cleveland to support Lutheran high schools during a golf outing.
---
August 27, 2017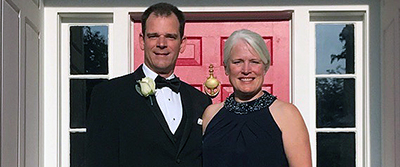 Preparing to attend annual Springfield Art Ball.
---
August 24, 2017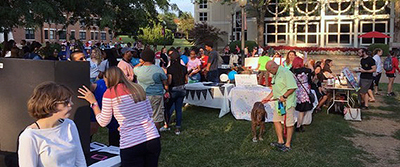 Engaging with students and campus during annual Student Involvement Fair.
---
August 22, 2017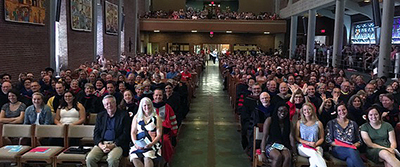 Presenting keynote address during Wittenberg Series-sponsored Opening Convocation.
---
August 19, 2017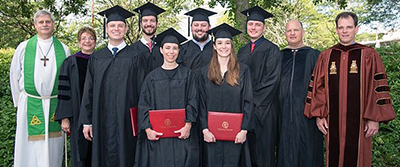 Attending first Commencement ceremony for new M.S. in Analytics program.
---
August 17, 2017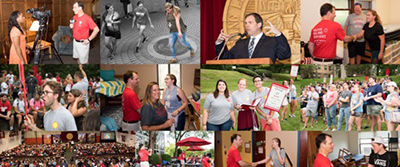 Helping nearly 600 first-year students move-in during annual New Student Days, welcoming them and ensuring that Wittenberg has their backs.
---
August 15, 2017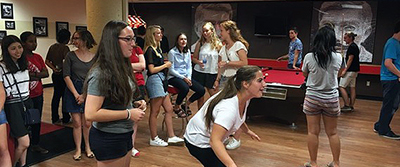 A little skee ball with Wittenberg international students.
---
August 11, 2017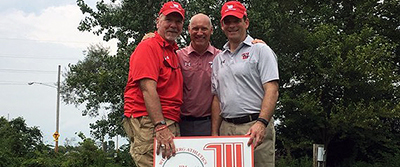 Annual Wittenberg Athletics' golf outing brought campus, Board and community together.
---
August 10, 2017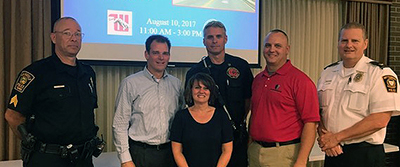 Members of the Wittenberg community, including President Frandsen, spent three hours with Springfield/Clark County partners in reviewing emergency preparedness.
---
August 8, 2017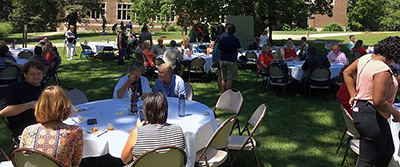 End-of-Year campus picnic proved picture perfect with Frandsens and faculty/staff from across Wittenberg.
---
July 24, 2017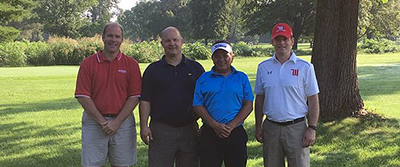 Supporting Community-Mercy Health Partners during the annual golf outing.
---
July 23, 2017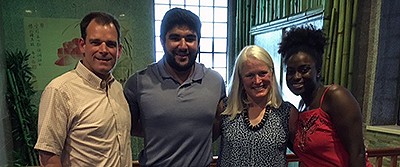 Alma Mater Mecca Abdul-Aziz and Alma Lux Lucas George joining President and Mrs. Frandsen for dinner.
---
July 21, 2017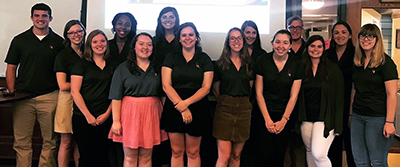 Interns for Susan Hirt Hagen Center for Civic and Urban Engagement presenting about their community engagement.
---
July 12, 2017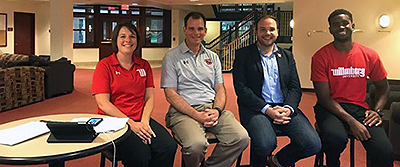 Participating in a special Facebook Live event with admission, student development and student representatives designed to help incoming students and families transition to Wittenberg.