Lesotho Archivist
Contact: Scott Rosenberg, Professor of History
Student will get hands-on experience doing archival work and cataloguing documents from Lesotho, from journals to newspapers. This is professional engagement for those interested in becoming an archivist or historian.
Lesotho Nutrition Initiative Accountant
Contact: Scott Rosenberg, Professor of History
The student will serve as an intern for LNI, and their responsibilities will be to organize the books and create charts which will benefit the organization by helping it understand its cash flow and well as where income comes from and break-down of expenses.
Biology Lab Assistant
Contact: Stephanie Enright, Lab Coordinator for Biological and Environmental Sciences
Assistants will help with weekly setup, maintenance, teardown, and cleanup of BIO 170/180 labs; weekly check computer lab and classroom computers for malfunctions, required updates, etc.; water and maintain plants in the greenhouse, atrium, and lounges; and assist with other miscellaneous duties that arise from day to day (organize lab supplies, wash glassware in labs, other special requests from faculty)
Animal Caretakers in Biological and Environmental Sciences
Contact: Stephanie Enright, Lab Coordinator for Biological and Environmental Sciences
Reptile caretakers: Dr. Phillips. Fish caretakers: Dr. McWhorter. Marine life caretakers: Dr. Reinsel
Caretakers will be responible for the care and feeding of the animals, inaddition to cleaning their environment. Responsibilities will vary, depending on the type of animals.
Supplemental Instructor (SI)
Contacts: Mike Mattison, Professor of English & Associate Provost (mmattison@wittenberg.edu) and Grace Sever, Senior Director for Student Success & Academic Services
SI leaders are students who have taken the specific course before or are familiar with the subject area and are prepared to share knowledge about the material and how to prepare for class. They attend each class session and take notes along with the current students. Then, they hold sessions outside of class to review the material and help with preparation for upcoming assignments and assessments. The role of an SI leader is not to re-teach the material covered in class, but to help students think through lectures/readings/discussions/etc. and put it all together during the SI review sessions.
First-Year Seminar (FYS) Peer Mentor
Contact: Mike Mattison, Professor of English & Associate Provost, mmattison@wittenberg.edu
FYS Peer Mentors serve as academic, social, and cultural guides for new students. In course meetings and in other interactions with first-year seminar students (Witt Series events, etc.), FYS Peer Mentors play a crucial role in helping first-year students make a successful transition to college work and life by providing "insider" knowledge of campus life and personal development. Through fall training sessions, meetings, and regular interaction with faculty and staff leaders, FYS Peer Mentors will learn a specific body of knowledge about the University and must be sincerely interested and skillful in sharing this knowledge with their students.
Biology 170/180 Peer Mentors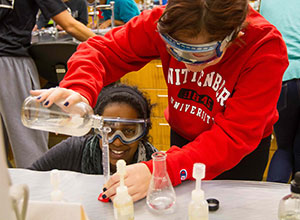 Contact: Stephanie Enright, Lab Coordinator, Department of Biology, senright@wittenberg.edu
Students will assist BIO 170/180 students with ensuring proper lab procedures are followed and assist BIO 170/180 students by tutoring and answering questions. Students will also model appropriate lab practices, wear appropriate lab clothing, report to lab on time, take responsibility for any daily lab setup, cleanup or other lab duties, and follow necessary lab safety precautions and make sure students are operating in a safe manner. Successful candidate must complete Wittenberg's Chemical Hygiene Plan Training.
Media Intern Assistant for the Ermarth Institute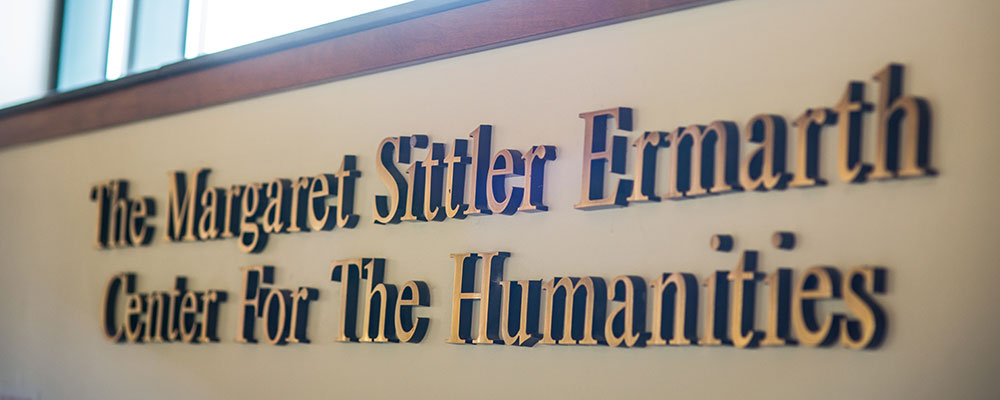 Contact: Christian Raffensperger, Professor of History & Director of the Margaret Ermarth Institute for the Public Humanities, craffensperger@wittenberg.edu
This position requires a student to work with and learn from the existing media intern for the Margaret Ermarth Institute for the Public Humanities. Duties will include learning social media platforms (Twitter, Facebook, and Instagram), posting regularly to them, and developing skills in outreach to the local community to best publicize events and activities for the Institute.
Chemistry Laboratory Teaching Assistant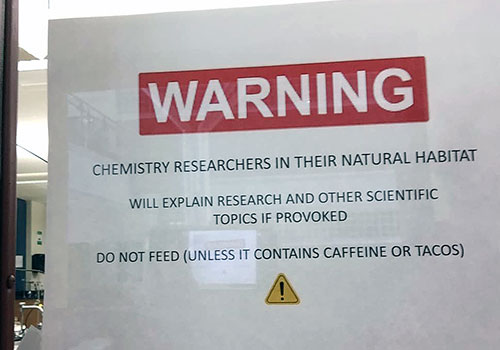 Contact: Justin Houseknecht, Professor of Chemistry and Chair of Department, jhouseknecht@wittenberg.edu
Depending on the course, it is anticipated that students will work 40-60 hours / semester. Students consult with their direct supervisor (Coordinator and Instructor) During the 14th week of the semester, reflection assignment will be due to the Dept. Chair. Credit will be awarded upon successful completion of reflection.
Nursing Simulation and Skills Lab Student Worker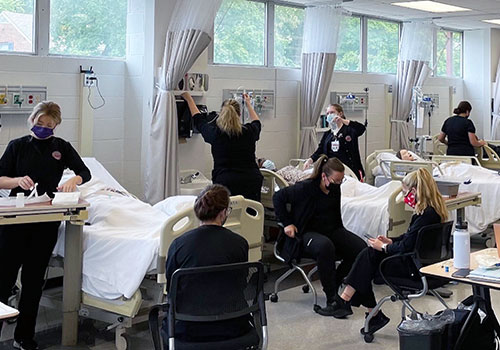 Contact: Stacy Gilson, Professor of Practice in Nursing, gilsons@wittenberg.edu
The nursing student lab worker is responsible for overseeing students' independent open lab practice hours as well as checking underclassmen off on required nursing skills. The nursing student lab worker assists lab faculty in maintaining supply inventory of the lab and putting together various lab experiences designed to meet course outcomes. The student lab worker assists with moulage, playing the role of standardized patient, maintenance of equipment of supplies, creating patient charts, and other duties as assigned. The student lab workers meet with faculty at the beginning and end of the semester and multiple times throughout the semester. Student lab workers also assist when the need arises to give tours of the lab, meet with prospective students, speak with surveyors, etc.
Oral Communication Center Consultant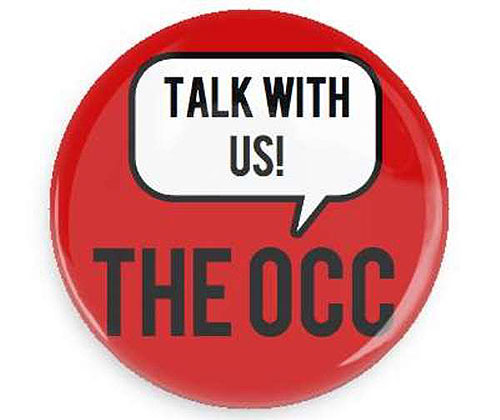 Contact:Mike Mattison, Director of the OCC, mmattison@wittenberg.edu
OCC consultants work one-to-one with students on any oral presentation project. They can help brainstorm ideas, create slides, or serve as an audience for a speech. Consultants also read and reflect on scholarship in the field of peer tutoring, and they will also meet with the director (and the other consultants) throughout the semester to discuss best practices.
Writing Center Advisor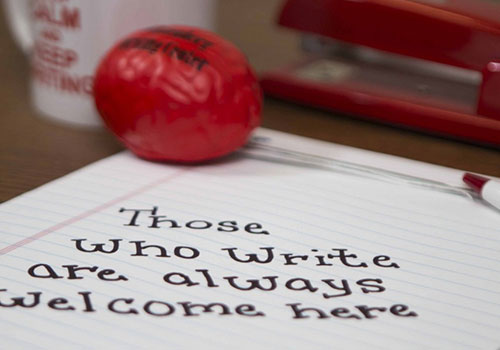 Contact: Mike Mattison, Director of the Writing Center, mmattison@wittenberg.edu
Writing Center advisors work with students on any writing project, at any stage of the writing process, from brainstorming to editing. They usually work 7-10 hours per week, and complete montly reflections. Advisors will also need to read and reflect on a writing center article, and audiotape a session in order to analyze and discuss their work with the director.