The Honors Program provides an academic and social climate in which students of high academic potential can find a community of classmates with similar scholarly goals and professors to support and encourage them in pursuit of those goals. The students are brought together in special, limited enrollment seminars which provide a supportive environment for, often interdisciplinary, intellectual inquiry. The Program culminates in independent scholarly research which produces a senior thesis project within the student's major area of study.
Prospective Honors Students
If you are a high achieving prospective Wittenberg student interested in more information about the extended academic opportunities and rigor offered through Wittenberg University's Honors Program, please complete this form.
Admission Process
Incoming freshman may be invited into the University Honors Program based on consideration of high school grade point average (GPA), class rank, curriculum, and standardized test scores. They will be notified of their conditional admission to the University Honors Program shortly after their admission to Wittenberg.
Conditional members achieving a cumulative GPA of at least 3.5 after their first semester will be invited to continue in the Honors Program. Students will be contacted by the Director of University Honors, provided with information about requirements for University Honors, and asked to respond that they understand the requirements and commit to the Honors Program. Conditional members who do not achieve a cumulative GPA of 3.5 or above will not be invited to continue in the Honors Program. Upon achievement of a 3.5 cumulative GPA in a subsequent semester, students may reapply to the Honors Program in the annual Spring semester Honors admissions process.
Other first and second year students are invited to apply for membership to the Honors Program early in the spring semester each year if they have achieved a 3.5 cumulative GPA. Students who achieve a 3.5 cumulative GPA later in their careers may also apply for admission to the program on a case-by-case basis.
Once admitted to the program, a student may take honors seminars, which usually satisfy a general education requirement, as well as utilize the Matthies House and attend special Honors social events. Students must maintain a 3.5 cumulative GPA throughout their Wittenberg career to remain members of the Honors Program.
Honors Program Staff
Matthies House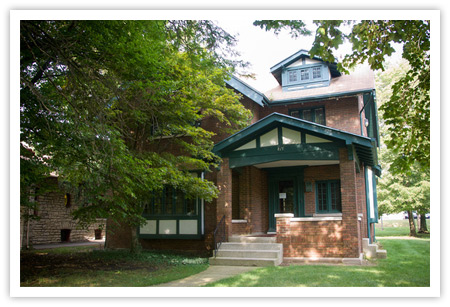 Honors Program members frequently gather at the Matthies House, the campus home of the University Honors Program named after Dr. Roland C. Matthies, Vice President and Treasurer Emeritus of Wittenberg University. He and Mrs. Maxine M. Matthies lived in the house for many years.
The Matthies House provides a "home away from home" type of environment for students who need a change of scenery. Conveniently located on Woodlawn Avenue near Thomas Library, the Matthies House offers access to comfortable study lounges and meeting rooms, a kitchen with hot and cold beverages, popular board games, and a computer lab with printers, network access, and helpful reference books. Access is gained by use of an entry code given out at the beginning of each semester, so students can (and do) use the facilities around the clock. What is offered within the house differs greatly from the other facilities open for homework and studying around campus, making the Matthies House a special benefit for the Honors community.
Thanks to generous donors, the Matthies Honors House received a facelift in the summer of 2019 that included a new roof, gutters and painted trim for the exterior along with an interior update with new paint, carpet and flooring throughout the house. Special thanks to the Matthies family for the donation of a front porch swing that has become a popular spot for Honors students and their friends to "hang out"!