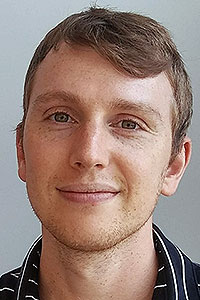 Visiting Assistance Professor of Languages
French
Hollenbeck Hall 228
(937) 327-6357
ladygaj@wittenberg.edu
Dr. Jacob Ladyga is a Visiting Assistant Professor in the Department of World Languages and Cultures. He teaches courses on the French language as well as French and Francophone literature and culture. In each of the courses he teaches, Dr. Ladyga emphasizes the roles of open questioning, dialogue, and a sense of discovery to encourage thoughtful and critical student engagement in the course material.
Dr. Ladyga's research interests include Early Modern French Studies, women writers, gender and sexuality studies, the relationship between image and text, the body in literature, religion in literature, and Renaissance and modern poetry. He has published on Louis Aragon and reading as a form of intimacy for the Équipe de Recherche Interdisciplinaire Triolet / Aragon (August 2019) and is an active member of the Société Marguerite de Navarre. His current book project, Radical Immanence: Blasons, Bodies, and the Birth of Modern Subjectivities in Marguerite de Navarre's Late Verse, explores Navarre's use of the anatomical blason as a fundamental rhetorical tool in her late poetics, further demonstrating how her experimentation with various subjectivities–the archetypal, the lyric, and the monstrous–cements her status as an artist of modern sensibility.
A native of neighboring Indiana, Dr. Ladyga earned his B.A. in French and Religious Studies at Indiana University Bloomington, studying at the Université de Provence Aix-Marseille I (today Aix-Marseille Université) during that time. He went on to earn both his M.A. and Ph.D. in French and Francophone Studies at I.U. Bloomington before joining the Wittenberg faculty.