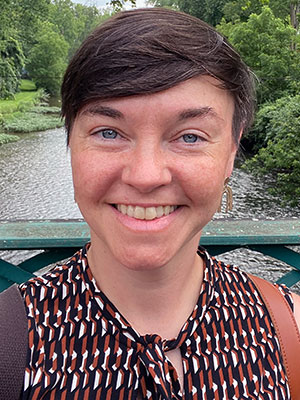 Assistant Professor of Languages
German
Hollenbeck Hall 230
(937) 327-6350
plumlyv@wittenberg.edu
Vanessa Plumly is Assistant Professor of German. She completed her B.A. in German and History at Bethany College, her M.A. in German Studies at the University of Kentucky, and her Ph.D. in German Studies at the University of Cincinnati. She has taught at the University of Kentucky, the University of Cincinnati, SUNY New Paltz, and Lawrence University, where she was also an Andrew W. Mellon Fellow. Dr. Plumly is the recipient of multiple teaching awards, including the AATG German Embassy Teacher of Excellence Award and has lived in Berlin, Kiel (as a Fulbright teaching assistant), and Heidelberg, Germany.
Her interdisciplinary research and teaching interests center on marginalized and racialized communities in the German-speaking world and lie at the intersection of feminist, queer, and gender studies and film and media studies. She is co-editor of the book Rethinking Black German Studies: Approaches, Histories & Interventions and is currently co-editing a volume titled Innovations in Black European Studies. She also serves as an editor with Peter Lang for the Imagining Black Europe Series, is co-chair of the Black Diaspora Studies Network at the German Studies Association, sits on the boards of Humanities First and the Black German Heritage and Research Association, and is a review editor for H-Net Black Europe.