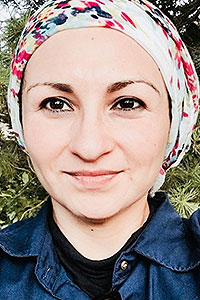 Visiting Assistant Professor of Languages
Spanish
Hollenbeck Hall 125
(937) 327-7058
torresv@wittenberg.edu
Verónica Torres is a Visiting Assistant Professor of Spanish in the Department of World Languages and Cultures. She teaches courses in Spanish and in Latin American Literatures and Cultures. A native of Mexico City, she received her B.A, M.A and Ph.D. from the Ohio State University.
Her research focuses on the representations of the Middle East in Mexican literature and culture. Particularly, on Orientalists and decolonial approaches towards this region of the world that interrogate the notion of national identity, gender, race, and the conception of womanhood. As part of her book project, Dr. Torres is currently working on analyzing Spanish media representations – movies and tv series – that on one hand, perpetuate negative connotations about the Middle East and Islam in the Spanish speaking world, and on the other, those more inclusive depictions that highlight the importance and legacy of Middle Eastern migration to Latin America. Other professional interests include the inclusion of performance as pedagogy in the classroom as a holistic approach to teaching that incorporates students' personal and cultural backgrounds into the learning environment and allows students' self-expression inside and outside the classroom setting.