Adam Headlee '18 Saw American Politics First Hand While Working In The White House
As a political science major, Adam participated in Wittenberg's Washington Semester Program. Working for the Domestic Policy Counsel at the White House, he learned how the institution was actually functioning, far beyond what the media tells us.
"Tell me about your internship."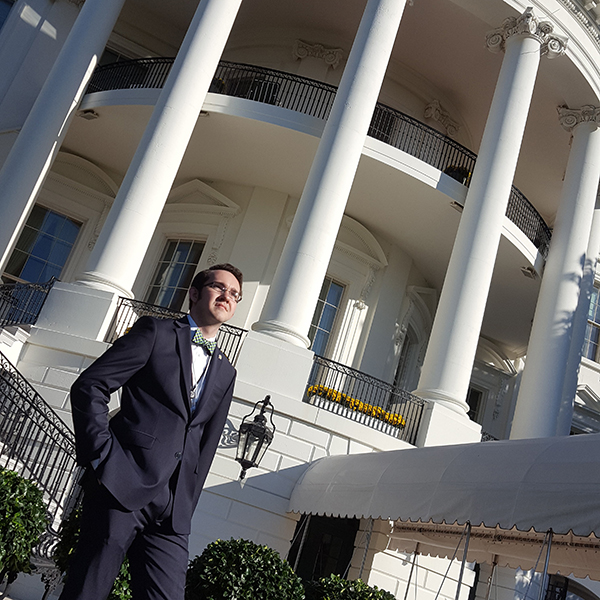 "I was the intern on the Domestic Policy Counsel. Basically what I did was a lot of research, which is pretty much the same thing that we are doing in public policy class. For example, I was putting together information of different policy problems and different potential solutions that have been proposed. I also was putting a lot of information and statistics together to give to my supervisor, and she would use them to make a decision about what she wanted to bring to the table in a larger meeting between departments."
"How did you get this opportunity?"
"I got to this opportunity through the Witt Washington program. Everyone who does the program has an internship somewhere in D.C. like Congress or with a non-profit interest group. As I was applying to those, I decided to apply for the White House Internship program, and there was an online form for that. I was on a waitlist and hadn't been selected at first, but luckily I was able to get an open spot!"
"Wow! Why did you decide to apply?"
"I think for me as a political science major and as someone who supports career administration, it's the top of where I could be right now in my career. An internship in White House is the highest I could get as an undergraduate before moving to my actual career. Thus, I thought, if I'm able to do this, that's going to set me up for success as I go trying to find a long-term job in the future."
"What did you learn from your internship?"
"I think I learned a lot about how the executive branch actually functions at day to day level. It's really interesting to see a lot of people who are on TV or in the media or members of senior administration, people who are very visible in the public eye. It is amazing how deep the institution is because for the most of part, people I was working with are those you don't see on TV and they do an incredible amount of work. It's very difficult to fully understand unless you have a chance to live in it. For me, it was needed to be deep inside the institution to be able to see how everything works on the day to day basis at the level you don't necessarily see."
"What was the favorite moment in your internship?"
"Um…there were a lot. I think a big one is when the president came in and we all took picture, which was exciting. Also, there was a volunteer opportunity when I was invited to go to a kitchen in the White House and help the executive chef bake Christmas cookies.
However, when it comes to my favorite moment about my job, it was getting to see things behind scenes that most of the American public would have never seen on TV. When I started my internship in Washington, one of the first things my supervisor had me do was to gather some statistics and information related to science education in schools. A few weeks later, the president signed a presidential memorandum that drew on some of the information I had helped find that synthesized 200 million dollars to give to public education. The exciting part about that is not just seeing it go up the chain, but also once that money was approved, it came back down to our level. There was a need for me to see how this lower and upper levels were interacting and also to be a part of that process of a lot of different points in a long way."
"Lastly, do you have any advice for students who are seeking an internship in the political science field?"
"Yes, specifically in political science, I would say it is incredibly important to take the time to learn about how things work in the lower levels. There's plenty of people who start off by running for office. That's not necessarily a bad thing, but I believe, if you have taken some time to work at the level where the policies are actually made, that it will help you be a more effective leader."
Compiled By: Mizuho Harada '18