Avery Adams '22, majoring in political science with minors in justice, law, and public policy (JLPP) and sociology, interned with the U.S. Marshal Service, the oldest federal law enforcement agency in the United States.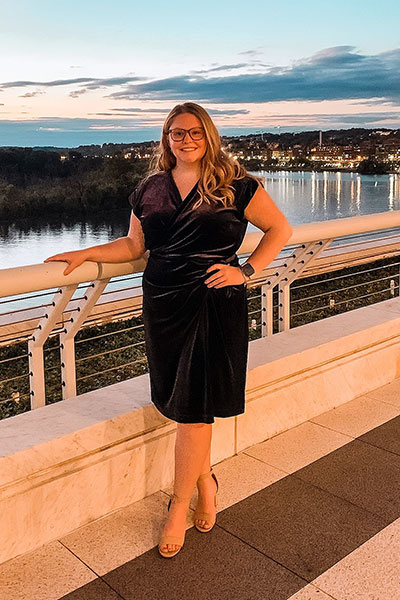 At Wittenberg she is an academic services tutor, a member of both the Alpha Lambda Delta Honor Society and Pi Sigma Alpha Honor Society, a member of Alpha Delta Pi, the American Sign Language Club secretary, serves on Student Senate, and is the 2022 class president.
"I decided to take the plunge and participate in the LCWS program to see what was waiting for me outside of my coursework. I have many passions and aspirations, and sometimes I struggle to narrow them down to find what is next in the cards for me. I figured going to D.C., the hub of politics, would help me narrow down my interests and help guide me to my future career. The opportunity to have an internship in the nation's capital was something I couldn't pass up.
"My favorite part of this experience was my personal growth. I can see many differences in myself since arriving in D.C. in September, including being more comfortable in professional settings. I am better at making connections, more confident in my abilities as a young professional, and so much more. It truly was a transformative experience. Aside from that, my favorite experience was going on a Segway Tour of the National Mall our first week there. I had never been to D.C. before, and this allowed me to see everything at once essentially. It was so hot, but it was so fun! My next favorite experience was my trip to the top of the Washington Monument during the last full weekend. I was able to look down the National Mall toward the Capitol building and have a whole "wow, I really just lived in D.C. for three whole months" moment. Between the two experiences, I feel like everything came full circle for me.
"I had the opportunity to intern with the United States Marshals Service (USMS), and I would say that this trip helped me decide whether I wanted to pursue a law degree or a master's in public administration (MPA). From this experience, I can successfully say I would like to get my MPA after working for the government for three months. The program was very transformative for me, and I would love others to have this experience. "