Kaci Morin '22, exercise science major and a minor in biology, interned with Aquila Health. The group works to enable organizations to achieve greater health and well-being efficiency, inspire fitness engagement with consumer-centric services and applications, and improves health outcomes.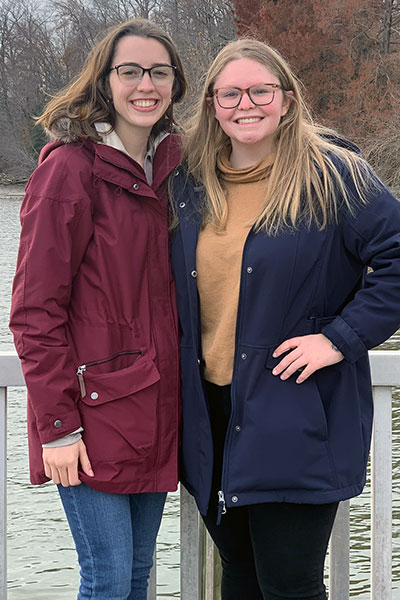 At Wittenberg, Morin (pictured, left, with fellow fall 2022 intern Avery Adams) is a member of Alpha Alpha Alpha, Alpha Delta Pi, and is a student leader fellow.
"I chose to participate in the Washington Semester program because I was not able to study abroad in Germany as I had originally planned. I also received encouragement from my roommate, along with the current dean of the program, Dr. Ed Hasecke, to step out of my comfort zone and attend the program.
"My favorite part of the trip was being able to see all of the national history located in D.C. I have never previously been to D.C., and I never took much time to dive into everything the city has to offer before this experience.
"I had an internship at Aquila Health and Fitness. This company provides fitness services to different government agencies. My internship was virtual; however, I was able to learn a lot and apply many of the things that I have learned in the classroom. This experience has boosted my confidence in myself in succeeding in the workplace. I have learned how to manage team projects, communicate effectively, and balance a full-time internship while also in school. There really was no better real-world preparation for the future than this."