Nicole Cooney, Class of 2016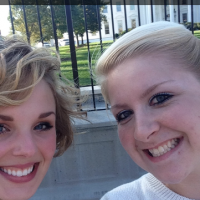 Originally I thought that LCWS was going to be a great experience for me, but nothing compared to the experience of an international study abroad program that many other Witt students take advantage of. I thought that while this is a perfect option for myself, I was likely going to be missing out on the real study abroad experience. Now that my time is nearing an end I have realized that I could not be more wrong. In fact, this may even be better than an international semester abroad. Yes, spending time in another country is cool and all, but most of the time, at least for me, would be spent exploring the country itself rather than gaining experience and knowledge of things that actually affect me. LCWS, on the other hand, forces us to have experiences, rather than just adventures. Don't get me wrong, I love adventure, and I have had plenty of opportunities for it, but spending a semester away from Witt should not just be about the adventure. Instead, I should have experiences to share, experiences that challenged my way of thinking and maybe even caused me to consider things that I never would have thought about.
Our field trips force us to not only take advantage of all of the opportunities in D.C., but to learn about the country as a whole. We are introduced to so many interesting speakers and places that I would not have decided to attend on my own. I can honestly say that whether I enjoy each field trip or not, I do learn from them. My favorite thus far was our trip to the Newseum. Unlike our other field trips, we were basically given free rein to explore the museum at our leisure. This gave each of us the opportunity to take from it what we wanted. Everyone finds different topics interesting, hence, this allowed us to explore the areas that we were interested in, while simply glazing over those that we were not.
It is not just the field trips though that make this program unique, but the Dean's Requirements. We are not only expected to hold an internship and take classes, but also to complete community service, attend a congressional committee hearing, and attend a protest. Once again, these are not activities that I would have thought to do on my own. I am so thankful for these requirements though. I found community service opportunities that allowed me to spend the night at a homeless shelter, dress up to attend a fundraiser, and to help shelter dogs find permanent homes. Each of these experiences were very different, but I enjoyed them for that reason. I would likely never have gotten the opportunity to attend a fancy event in D.C. had I not volunteered to do so. I also would hope to never need to spend a night in a homeless shelter, until I was introduced to the community service opportunity. Ultimately, the LCWS program has built in expectations that force you to have a well-rounded experience.
I am grateful for the program requirements, which are just enough to keep us busy during the week, so we still have our weekends to experience the tourist side of D.C. I have definitely learned a great deal about myself while being here, but that is a whole other topic. I credit the LCWS program for making those changes happen and providing me with a great experience that I can reflect on and use when I return to Witt. I have learned many things that I would not have learned by staying at school and for that I am grateful. I am not saying the program is perfect, nothing is, but if you open yourself to it and take from it what you need, then I believe that it has served its purpose.