William Downing, Class of 2015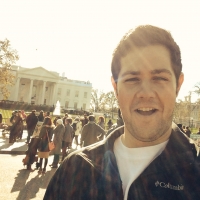 As I am fast approaching the end to my time in DC it is a good time to look back and reflect the LCWS experience. The program in general has been a great time and I could not have asked for a better experience.
The apartments we live in as LCWS students are extremely nice and are located in Rosslyn, VA. Rosslyn is a great location to be in whether you are looking to check out the DC nightlife, want to tour monuments and museums, or you simply need to get to work. The apartments are only one metro stop away from George Washington University and in walking distance of Georgetown which also adds a fun dynamic.
Throughout the program the group of LCWS students participant in a variety of field trips such as touring the White House and sitting in on discussions at various think tanks. Personally, my favorite field trip was the Monuments at Night tour that was guided by one of the LCWS professors. I would recommend to anyone visiting DC to make sure you take the time to walk around the National Mall at night and see the monuments. It truly is a spectacular sight. In addition to experiences with LCWS, being in DC we are able to really see the day-to-day action that occurs. It is honestly amazing to pass politicians on a daily basis.
Being able to attend events for political parties and candidates is a great experience. This week I was also fortunate enough to attend a House Committee Hearing (Pictured). It was great to see first-hand how the committee system works. Also, I attended a protest this weekend which was very interesting (also pictured). I was actually able to interview the leader of the group protesting. It turned out the group was protesting President Obama's address regarding immigration and they opposed what he was doing claiming he was 'overreaching his power'. It turned out none of the people protesting had actually watched President Obama's address either so they actually had no idea what he said. Also I fortunate enough to have lunch with Robert Tack who is a Wittenberg graduate class of 1988.
As a Wittenberg student the local DC graduate chapter is great enough to connect students here with mentors who are Wittenberg graduates that we can meet with throughout our time in DC. In retrospect, the DC experience has truly been a wonderful time.