Anu Chaudhary '18 Works Toward Lifelong Goal
Anu is a biology major and health science minor who hopes to become a pediatrician. She has been engaged in clinical practices both as a volunteer, and as an intern as she works toward her dream since childhood.
"What made you interested in the field of pediatrics?"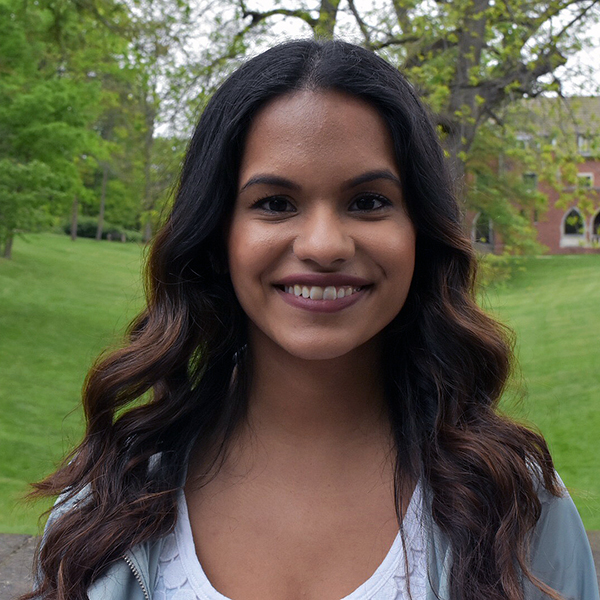 "I don't really know how the interest started, but I've always been super interested in pediatrics. I just remember when I was a third grader in elementary school, my teacher asked 'what do you want to do when you grow up?', and I said 'pediatrician'. She was like, 'how do you spell that?' and I answered, 'I don't know'. It was funny because I knew what I wanted to do from that time."
"How did you start working toward this goal?"
"When I came to Wittenberg, I started volunteering at Rocking Horse Center, which is a non-profit organization in Springfield. I volunteered in flu and adult clinics, and used to do phone calls and satisfaction surveys, basically just everything they needed."
"Have you done any internships?"
"After my junior year, I interned at Nationwide Children's Hospital in Columbus during the summer. The job was basically administration stuff. I worked on scheduling, filing…just the basic secretary. Then I also got to work with doctors called Health Coaches. They help children who have ADHD, Obesity, and Asthma to keep them healthy. In hospitals, doctors spend only 10 minutes with each patient, but Health Coaches try to spend longer and educate their families as well. They don't take a symptom as a one time problem, but give specialized care like a medical counselor, which was so cool."
"How did you find those internship positions?"
"I just found them on my own. I called clinics and said 'hey, is there any way I can volunteer?' That's how I went through internships with Nationwide. But this year, the internship I'm doing now in Nova Pediatrics was set up by Career Services."
"Have your internships helped you? Did you enjoy them?"
"Yes, I really enjoyed interning because I was able to experience real medical work. Doing internships in the health field is kind of hard due to many limitations of what interns can do, but I still learned a lot through following doctors and having conversations with patients. Also, I could see different ideas and lifestyles of doctors, which is another reason why I love interning."
"What was your favorite moment in your experiences?"
"I guess my favorite thing is when I get to clinically observe something that I had learned in the classroom. Sometimes it is hard to understand why we have to learn certain things, but when you get to see them in real life, that is the best part!"
"Lastly, do you have any advice for students who are thinking about interning in the medical field?"
"My advice would be, 'Be prepared'. Like, you should know what you have to do each year. My second advice would be 'Never be afraid to ask for help'. Asking people who have gone through the processes is really important. I used to ask upperclassmen, my sorority sisters, friends in medical school and my advisor. Although I'm a senior now, I still ask a lot. Especially because Wittenberg is small, we shouldn't be afraid to ask each other for help. Use all of your resources and take advantage!"
Compiled By: Mizuho Harada '18