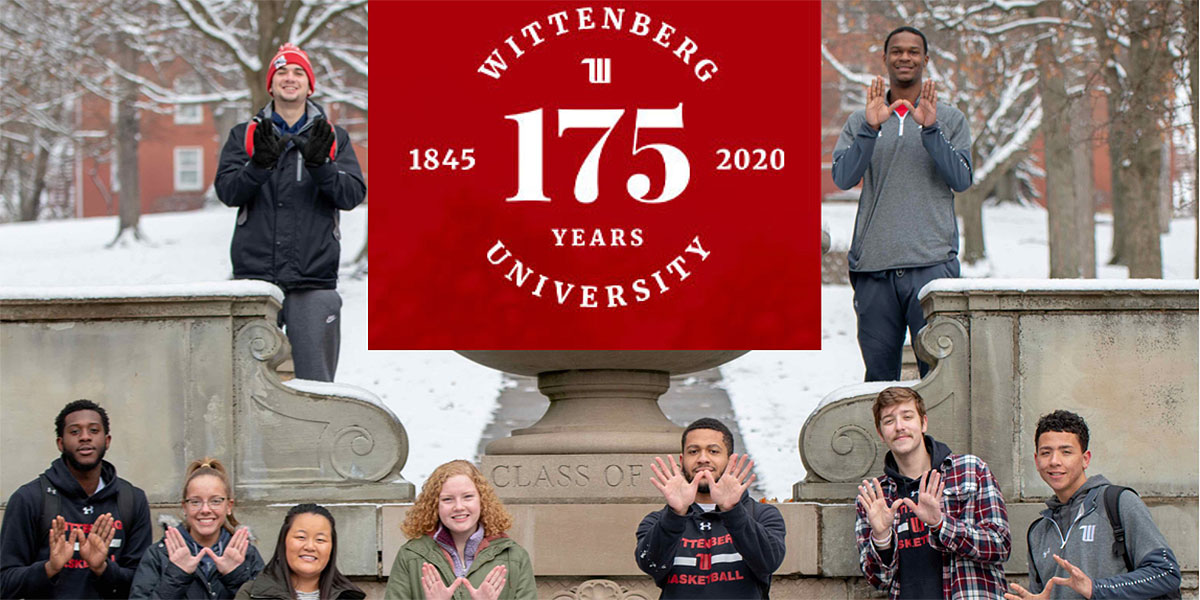 Published February 28, 2020
Wittenberg Community,
We all are feeling the weight of the challenges we face. That is undeniable and inescapable. As we take difficult steps forward, I hope we will take a moment to celebrate a few of the positive highlights of this week for our campus community.
The first happened yesterday when we recognized the service milestones of our faculty and staff during a special luncheon. At this time, we also presented our first-ever Torch Bearer Award, the highest honor given to a Wittenberg staff member. Torch Bearer Award recipients personify our motto, mission, and values, and are passionate about the University, our students, and their personal role in making Wittenberg a better place. I am pleased to announce that the inaugural Torch Bearer Award winner is Jules Tignor, coordinator of enrollment operations. Congratulations to Jules and the other nominees, and thanks to the Staff Advisory Council for its role in creating the award.
We also learned that the Peace Corps has ranked us No. 16 among small schools on its list of top volunteer-producing colleges and universities in 2020. The last time we appeared on this list was in 2004, when we ranked No. 22.
On the basketball court, our men's team won the NCAC regular season title and the women finished third in the regular season standings. Both teams have advanced to the NCAC Tournament semifinals this evening. The men play Oberlin in Pam Evans Smith Arena at 5:30 tonight, and the women travel to DePauw for their match-up with Denison.
On March 11, Wittenberg will officially celebrate its 175th birthday, which we are recognizing throughout the year. We all want the University to be here for another 175 years, and we are taking the necessary steps with urgency, not panic, to ensure that we are.
Below is my latest update.
Best Regards,
Michael Frandsen, Ph.D.
President
Wittenberg University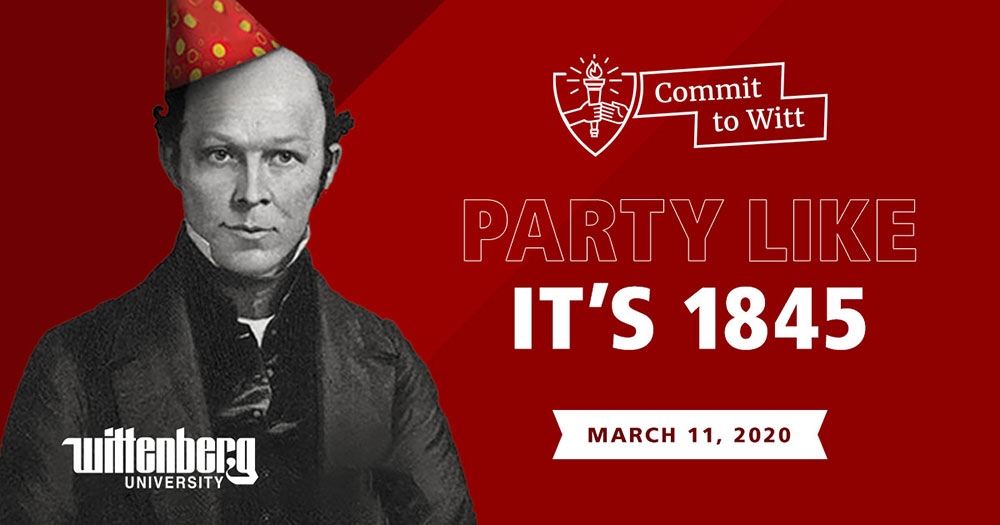 Commit to Witt
To commemorate Wittenberg's 175th anniversary, we have set a goal of $175,000 in total gifts for this year's Commit to Witt on March 11. More than 70 people have already signed up to be an ambassador throughout the day, which has become a major generator for philanthropic engagement. If you would like to be an ambassador, please sign up here.
---
Ways to Engage
During this challenging time, our alumni have rallied in support of our shared future. In one-on-one conversations and in emails, alumni have relayed to me how special Wittenberg is to them. They have also repeatedly asked how they can help for which I am most thankful. To assist them, we have created a special web page called "Ways to Engage." I would encourage you to reference this site should you receive similar inquiries from your friends, colleagues or community members.

On The Road
As we celebrate #Witt175, I will be heading to Florida to connect with alumni during spring break. This year's trip will also kick-off Alumni College on the Road for Lifelong Learners, which brings the classroom directly to our alumni. Jim Welch, professor of biology and department chair, and Scott Dooley, professor of art and coordinator of Empty Bowls, will be our featured faculty presenters.
---
Sports Update
We are in the midst of one of the busiest months ever for Wittenberg athletics, thanks to a variety of new playing and practice opportunities available to our student-athletes in The Steemer. Wittenberg hosted its first-ever indoor scrimmages for softball, and both the men's and women's lacrosse teams have hosted both scrimmages and official games earlier than ever before. In addition, Wittenberg hosted three indoor track meets during their 2019-20 season, providing great preparation for this week's NCAC Championships. The swimming and diving teams wrapped up their season recently at the NCAC Championships, men's volleyball is midway through its 2020 campaign, men's and women's tennis are off to strong starts to their spring seasons, and women's water polo is enjoying success in its second season as an intercollegiate program, including a 3-1 record at last week's W&J Invitational. Finally, men's basketball won the NCAC regular season title, and the women finished third in the regular season standings. Both teams have advanced to the NCAC Tournament semifinals tonight.
---
Latest Hires
We have again compiled the list of our most recent hires (November through mid-February) for this communication. In that time, more than 30 people have joined our community. The new list can be accessed here.

SAC Shout-Out
Two weeks ago we spent time on campus sharing how we each "I (Heart) Witt" as part of the annual Advancement-driven engagement effort leading up to Valentine's Day. A considerable amount of time and planning went into making the week special. The week concluded with students, faculty, and staff signing thank-you cards to donors. We also had a chance to get to know a few of our alumni couples in the process. As such, the Staff Advisory Council wishes to send this month's shout-out to the entire Office of Advancement and Alumni Engagement. Thank you for creating an experience for our community and donors, and for reminding us why we #LOVEWITT.