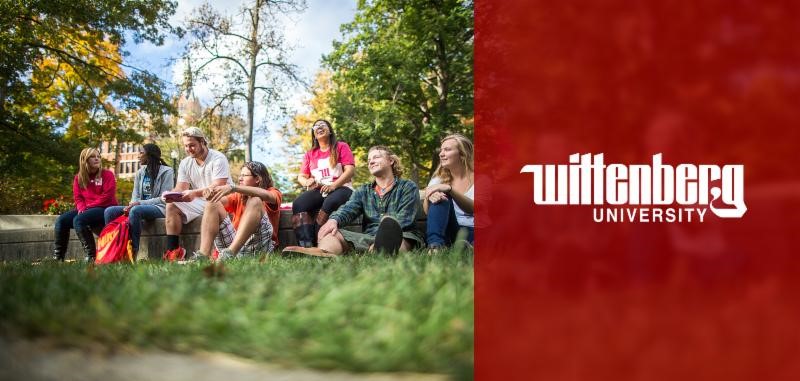 Published March 13, 2019
Wittenberg Community,
On April 5, we will again gather as a community to honor student achievement and academic excellence during our annual Liberal Arts in Action: A Celebration of Learning. Now in its seventh year, this event has quickly become a favorite tradition for me and Sharon as it reminds our campus and shows our extended community the exceptional education we provide. I want to thank this year's program coordinators, Cherie Rebar and Molly Wood. This is not an easy task to pull such a comprehensive program together, and they should be commended for their time and dedication.
I also want to thank our faculty for encouraging all their students to attend and for making it possible for all of them to do so despite the classroom/lab schedules. Our values speak to embracing the life of the mind and how we, as a community, are "committed to bringing to the lives of our students an enduring passion for learning, which requires risk-taking, persistence, reflection, and high ethical standards." This event reflects this institutional value in every way, and I look forward to seeing you all there on April 5.
From students partnering with the Fuller Center for Housing in disaster relief efforts over Spring Break, to recently welcoming nearly 400 dancers to campus, to a wonderful Wittenberg Choir Tour, and continuing success across so many other fronts, we have much to celebrate at Wittenberg. Let's keep finding more moments to come together in the months ahead.
Best Regards,
Michael Frandsen, Ph.D.
President
Wittenberg University
---
Enrollment Forum
The fourth Enrollment Forum, which Carola Thorson, vice president for enrollment management, will lead, is slated for
Thursday, March 28, at noon in the Alumni Room of the Benham-Pence Student Center. The focus of this forum will be on the incoming student track. As a reminder, the "Weekly Numbers Update" is also now available for review every Monday in the MyWitt Portal.
---
Kinnison Lecture
We are excited to welcome Pultizer Prize-winning writer and educator Elizabeth Fenn as the keynote speaker for the annual Wittenberg Series-sponsored William A. Kinnison Endowed Lecture in History this evening. The event begins at 7:30 p.m. in Bayley Auditorium in the Barbara Deer Kuss Science Center, where Dr. Fenn will share "Sacagawea's Capture and the History of the Early West."
---
Endowed Chairs
Congratulations to our two newest endowed chairs: Cathy Pederson, professor of biology, who is the first holder of newly established Elizabeth (Betty) E. Powelson Endowed Chair in Biology, and Kevin Steidel, assistant professor of practice in business and director of our M.A. in analytics program, who will now hold the Ness Chair in Entrepreneurship. Endowed chairs are permanently funded positions typically established through gifts from donors to support excellence in teaching and scholarship. My thanks to the late Betty Powelson and to Bob '63 and Lynn Ness '64 for making these distinguished chairs possible.
---
HWA Tour A Success
We were proud to host a special media and community leader tour of our HWA facilities on February 27. Vice President and Director of Athletics Gary Williams led the tour, which brought together 50 area leaders and local media outlets, along with Dr. Tim Kremchek '81, whose generosity is ensuring that our facilities house one of the finest athletics training operations in the country.
---
Empty Bowls
Our annual Empty Bowls fundraiser will be celebrating its 25th year when the highly anticipated event takes place tomorrow, March 14, from 4:30 to 7 p.m. in the CDR. Wittenberg's Department of Art in conjunction with Catholic Charities hosts the annual fundraiser, proceeds from which support Springfield's Second Harvest Food Bank. My thanks to this year's steering committee: Scott Dooley, professor of art, student coordinator Katlyn Roberts '20, Mary Alice Neely, Anna Plataniotis, Katie Wade, and the staff at Second Harvest Food Bank. The goal for this year's event is to raise $50,000.
---
Athletics Update
The 2018-19 winter sports season has come to a close, but not before significant Red & White fireworks. Making the biggest wave as a team was men's basketball, which won 11 straight games to capture the NCAC Tournament title and advance to the second round of the NCAA Division III Tournament. Individually, the highlight was provided by women's track and field as freshman Alexis Walker took first place in three events at the NCAC Indoor Championships to claim Sprinter/Hurdler MVP honors. As the winter teams were winding down, the spring seasons were heating up with action featuring men's volleyball, men's and women's golf, men's and women's tennis, men's and women's outdoor track and field, men's and women's lacrosse, baseball, softball, and, for the first time as an intercollegiate sport, women's water polo.
---
All About Dance
We were excited to host nearly 400 dancers on campus and at the John Legend Theatre, March 1-4, as part of the American College Dance Association East-Central Region Conference. Classes, workshops, performances, social events and the sheer joy of dancing united all who attended. Sincerest thanks to our Theatre and Dance Department, and especially to Dr. Shih-Ming Li Chang for her leadership in making this event happen.
---
Recognizing Our Own
Thank you to all who attended the first-ever All-Employee Service Recognition and Awards Luncheon on February 28. In addition to joining together as a community, the event allowed us the opportunity to recognize those members of our faculty and staff who are celebrating milestones in their years of service to Wittenberg.
---
Staff Advisory Council Shout-Out
The Office of Student Financial Services, which houses both financial aid and bursar operations, is getting the Staff Advisory Council's March shout-out for all the good work the office performs on campus to help students navigate the financial aspect of their college experience at Wittenberg. Whether it be payment options, FAFSAs, education loans, or financial literacy, the SFS' knowledgeable and courteous staff members are always eager to answer questions and provide guidance to those in need. Additionally, SAC gives special thanks to the financial aid team for all the hard work it has been doing during the recruitment cycle to diligently craft financial aid award packages for all the accepted students that are looking forward to calling Wittenberg home in the fall.