Last Updated: 10:45 p.m. March 3, 2019
Gala Selections
Love Is…, Kent State University (guest artist)
Through the Eyes of My People, University of Michigan, Ann Arbor (undergraduate student)
Welcome to the Art, Community College of Baltimore County (faculty)
Turn Over, Madonna University (guest artist)
Dear Creepy Guy, Eastern Michigan University (undergraduate student)
INTERMISSION
Five Herstories, Loyola University Chicago (undergraduate student)
Nuisance: Ballad of the First Born, Oakland University (undergraduate student)
B is for Girls, Kenyon College (undergraduate student)
The Same Person, Grand Valley State University (undergraduate student)
Encounter (Excerpts 6 and 7), Western Michigan University (faculty)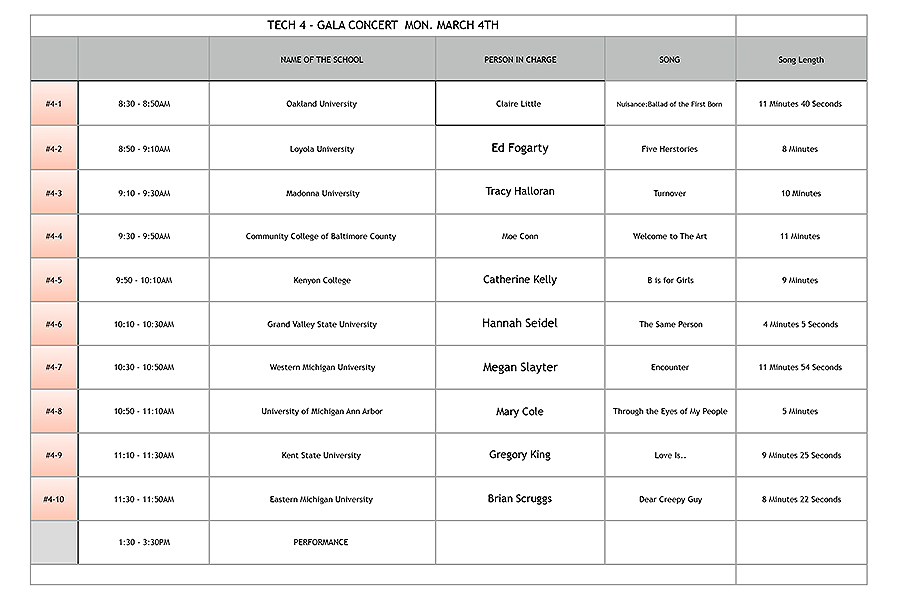 Dances that do not adhere to ACDA policy are ineligible for consideration for the Gala.
Master Schedule & Class Schedule
Day by Day Schedule Links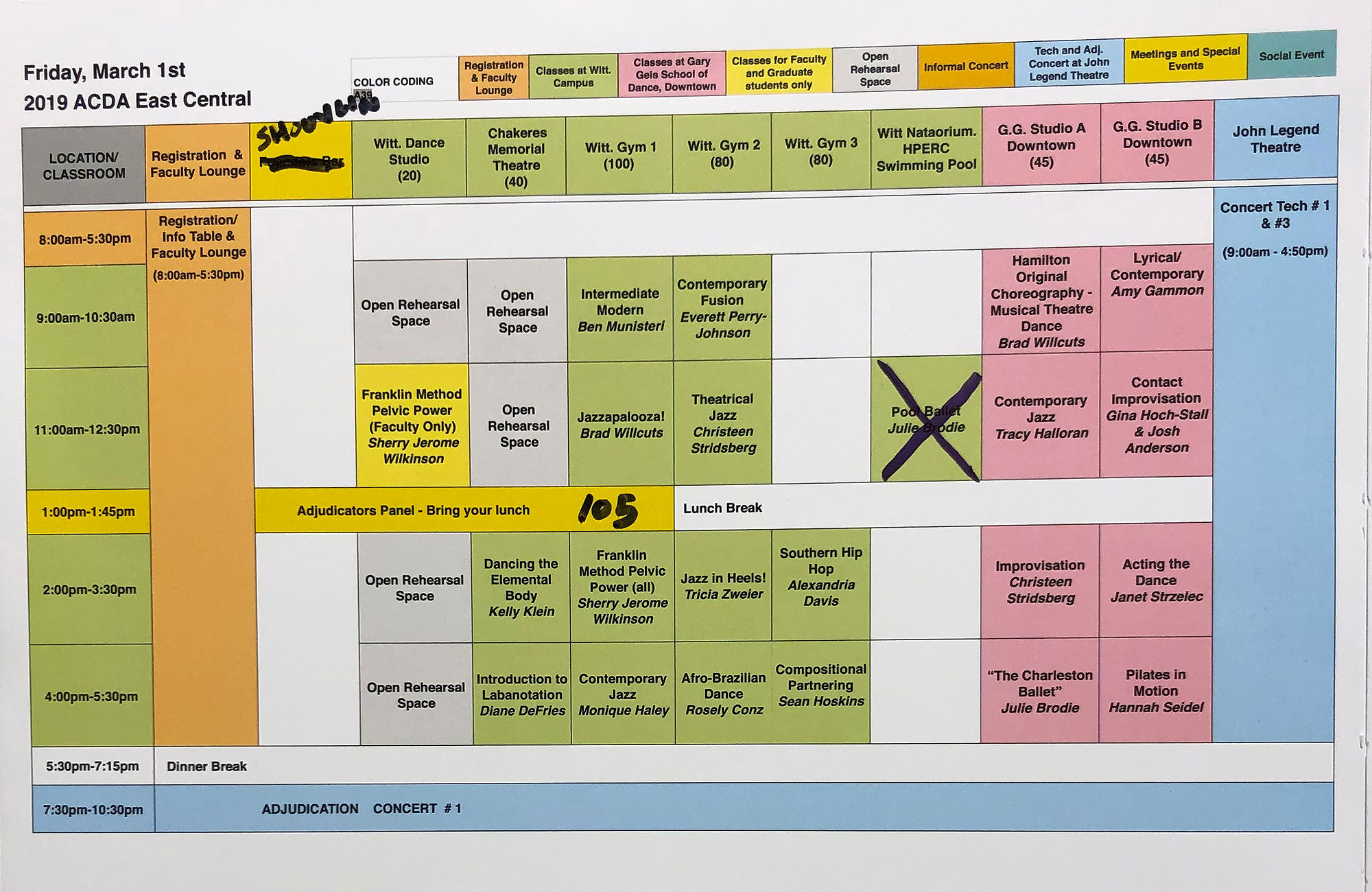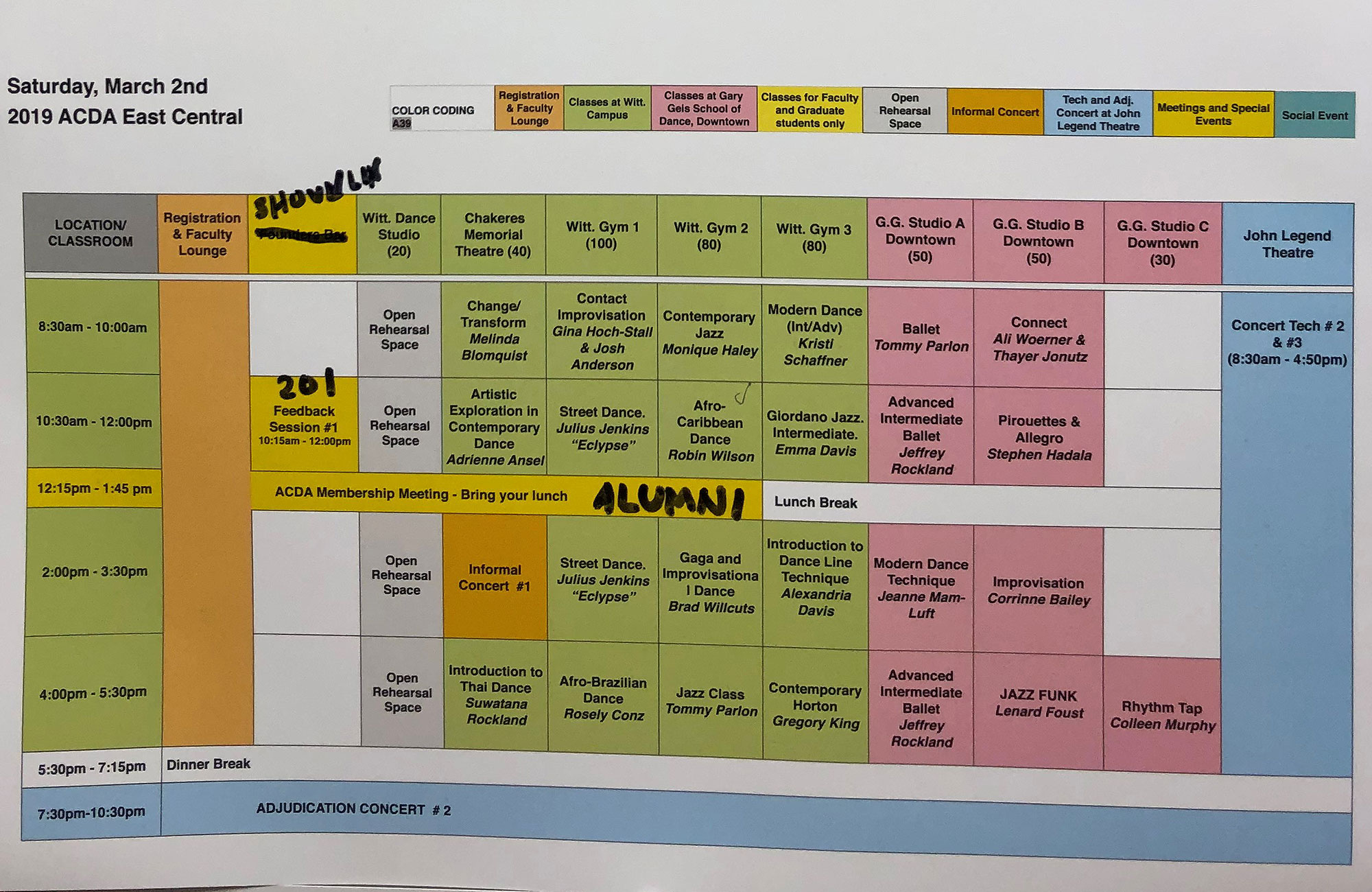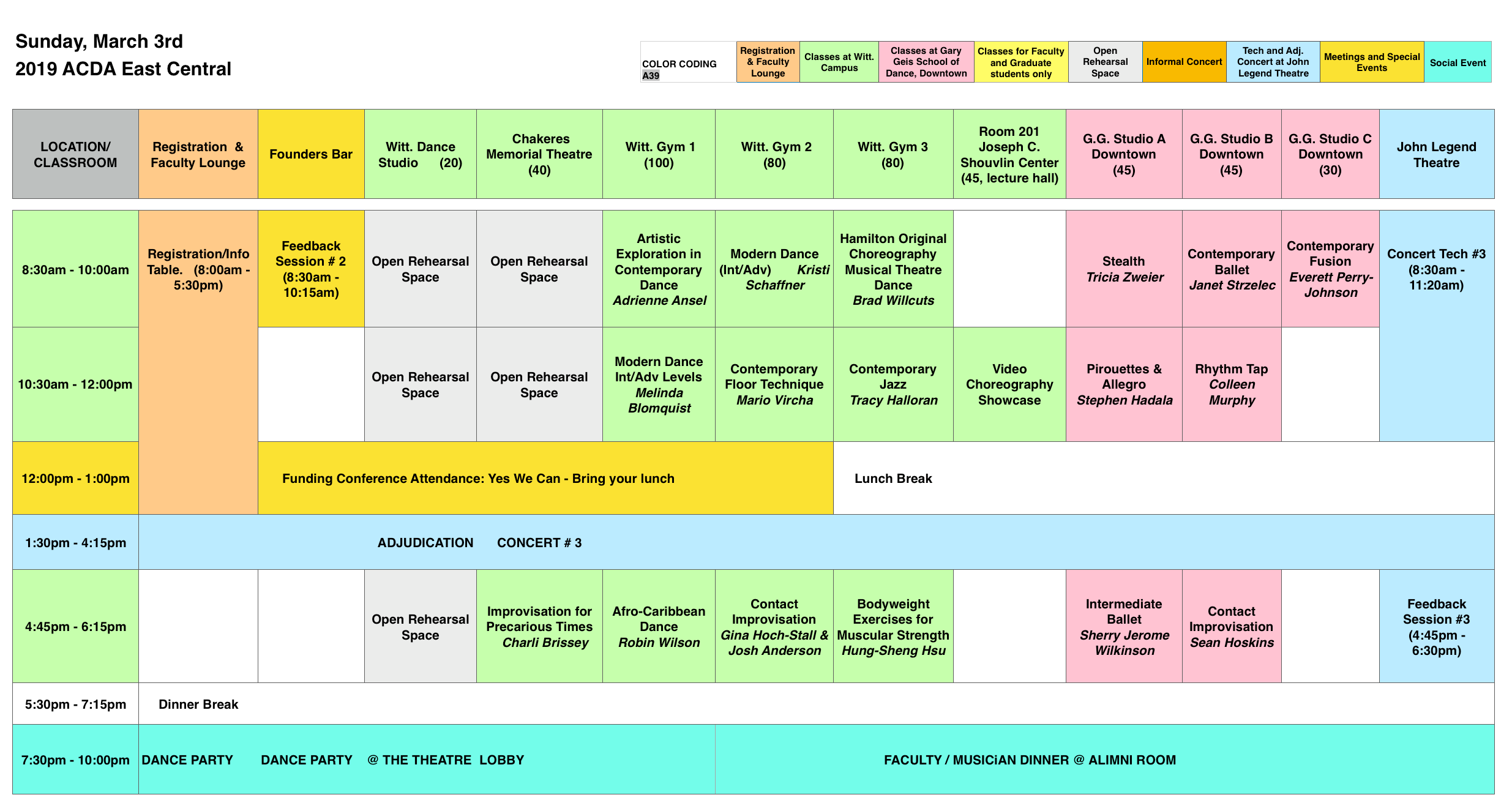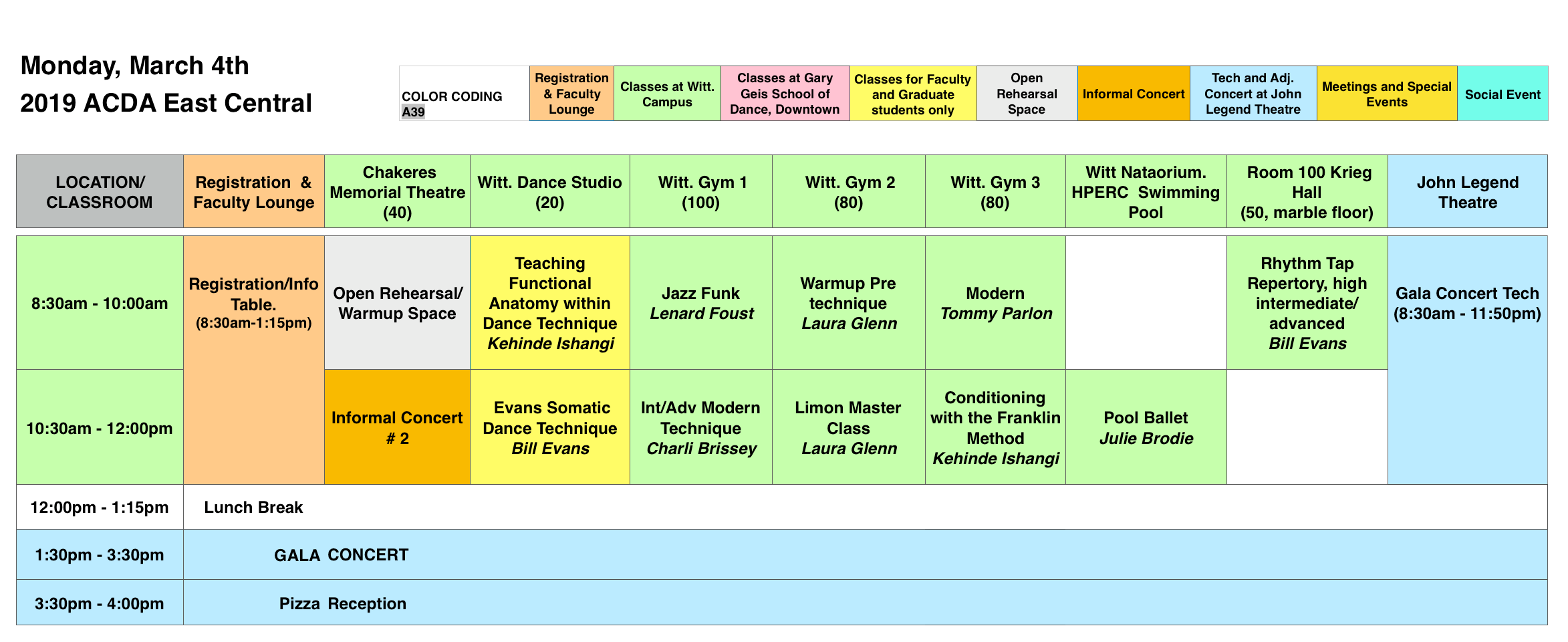 Important Links
Contact Conference Coordinators Shih-Ming Li Chang, Department Chair of Wittenberg Theatre & Dance, and Esther Chang via email: acda.wittenberg19@gmail.com
Welcome To The Conference
Welcome to the ACDA East-Central Conference and to Wittenberg University. As the Conference Coordinator, it is my pleasure and honor to welcome you.  The next four days will be filled with classes, workshops, rehearsals, performances, social events and the joy of dancing together. We hope this conference will give you wonderful memories and new insights to carry home. Please read on to learn more about what we have planned for you.
Faculty Representative - Enclosed in your welcome packet:
One hard copy of conference materials
Faculty (blue)/Student (ivory) name badges

Please wear name badges to the concerts and to the social events

Faculty/Student wristbands (green)

Please wear your wristbands at all times.

Pre-purchased meal and T-shirt tickets/vouchers for your group (if applicable)

A limited number of shirts are also available for purchase at the registration table.

Tickets for pre-purchased Faculty/Musicians Dinner (if applicable)
Maps
Four (4) coffee vouchers for our campus café, Post95.
Souvenir gifts
Faculty/Musician - Enclosed in your welcome packet:
One hard copy of conference materials
Faculty (blue)/Student (ivory) name badges

Please wear name badges to the concerts and to the social events

Faculty/Student wristbands (green)

Please wear your wristbands at all times.

Maps
Four (4) coffee vouchers for our campus café, Post95.
Souvenir gifts
Internet Access:
Guest Wi-Fi on campus is available for all to use without need for a password.
Username: Witt-Guest
Make sure that the Wireless is enabled on your desktop, notebook or Mobile Device
Select Witt-Guest
If your web browser does not open automatically, open your web browser. Then fill out the information requested and click Submit.
Witt-Guest will only allow connections for 3-days, after which you will have to re-register for a connection to Witt-Guest
**Please note that Wi-Fi will not available at the John Legend Theater.
Contact Numbers:
ACDA Conference Coordinator Cell Phone: Shih-Ming Li Chang (614) 832-2854 (texts preferred)
ACDA Student Volunteers' Coordinator: Gabby S. (330) 240-6329 (text only)
Wittenberg Police Department:
Non-Emergency: (937) 327 - 6231
Emergency: (937) 327 - 6363
All volunteers will have a special colored nametag. If you need help, ask any volunteer or anyone at the registration desk.
Tech Information:
All schools will need to check in at the John Legend Theater lobby at least 30 minutes prior to their designated tech time. An attendant will be there to guide you to the waiting area. Another attendant will guide you to the backstage.
Class Information:
Classes will be held on campus and in an off-campus downtown studio, Gary Geis School of Dance. All conference locations are within walking distance but we will have shuttle vans available between classes to help you get where you need to go on time. Four vans will be driving in loops every half hour from 8am to 6pm on Friday, Saturday, and Sunday, and from 8am to 1:35pm on Monday. They will begin at the Student Center, then go to the downtown dance studio, the John Legend Theater, the downtown dance studio once again, and end back at the Student Center.
Classes are limited to 20 - 100 participants based upon the size of the space. Classes will be available on a first-come/first-admitted basis, so arriving at class spaces early is advised. There will be a class monitor stationed at the studio door to help control class size. We will try to accommodate as many as possible but, for safety's sake, we will keep classes at a reasonable size. The capacity of the class will be noted on the class schedule. Please respect the class monitors throughout the conference; their job is to ensure the safety and enjoyment of all participants in classes. Each class space will be stocked with a first aid kit.
 
Classes are a great learning opportunity even if you are not actively dancing, so all are open for observation. If you choose to observe a class, please be respectful to the teacher. We ask that you avoid conversation, silence your phones, and simply be polite.
Guest artist classes (Jeanne Mam-Luft [Modern], Corrinne Bailey [Improvisation], and Julius Jenkins [Street Dance]): These classes are capped at the number appropriate for the space where each class is held. Participation is first-come/first-admitted.
Panels, Presentations, and Meetings: Adjudicators Panel; Video Choreography Showcase; Funding Conference Attendance: Yes We Can; ACDA Membership Meeting; and Regional Planning Meeting.
Faculty Only Events: Faculty/Musician Dinner in our student union's Alumni Room – additional tickets will be available for purchase at the registration table.
**Faculty members will have access to the faculty lounge, located right behind the registration desk. It will open every day when the registration desk is up. You will be provided with a voucher for coffee each day, which can be found in this packet.
Reserving rehearsal space: If you would like to rehearse, there will be a sign-up sheet at the registration desk so that you may reserve an open space. This will be first come, first serve. If you are late for your reserved time, then others will be allowed to use the space.
ACDA Mission Statement
The American College Dance Association exists to support and affirm dance in higher education through regional conferences, the adjudication process, and national festivals. The educational mission of the Association is to foster creative potential, to honor multiple approaches to scholarly and creative research and activity, to promote excellence in choreography and/or performance, and to give presence and value to diversity in dance. The Association acts as a national membership service organization to strengthen the educational network for students and faculty within the academic dance community.
The Association shall operate without profit, so that no part of its earnings or assets shall ever be distributed as a dividend or inure to the benefit of any private shareholder or individual. The Association does not discriminate in leadership, admission or access to its programs and activities.
Anonymity Reminder
Just a reminder…The adjudication process is structured to ensure that feedback and the selection process is as objective as possible.  Adjudicators do not know the names of schools or choreographers presenting work in the adjudication concerts. In order to keep the integrity of this ACDA policy and process in tact through the adjudicators' final decision, it is necessary to ask all conference participants to avoid conversation with adjudicators about the adjudicated dances, the adjudication process, or their comments during the feedback session. In addition, please do not discuss your school's programs or your own work with the adjudicators. Your full cooperation is being requested for the enjoyment of all conference participants, including the adjudicators!
Statement Of Empowerment
ACDA recognizes that Art can provoke; therefore, during the course of the conference, participants are empowered to remove themselves from conference activities.
Privacy Statement
Out of respect for all participants, publishing or posting recorded material from an ACDA conference is prohibited without permission.  All images of any structured activity (performances, feedback sessions, classes, receptions, etc.) during this conference are owned exclusively by ACDA and the host school and may not be posted, printed or distributed in any way, including on the Internet (e.g., Instagram, YouTube, Facebook, etc.), without express written permission from the subject(s), ACDA and/or the host school, and all necessary copyright permissions. This pertains to all elements, including, for example, music heard in the background of a video clip.  Informal images with friends may be posted with permission from those in the images.
Adjudicator Bios
William Evans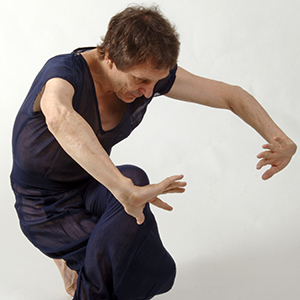 Bill Evans is the founder and director of the Bill Evans Dance Company, which celebrated its 44th anniversary in April, 2018. BEDCO has appeared in all 50 states, throughout Mexico and Canada, and in 19 other countries (Evans' dance research has taken him to another 11 countries).
Evans danced, choreographed and served as artistic coordinator with Repertory Dance Theatre from 1967 through 1974 and later served as artistic director of Winnipeg's Contemporary Dancers, Canada's oldest modern dance company. He is visiting professor emeritus at SUNY College at Brockport and distinguished professor emeritus at the University of New Mexico. For four years, he was a resident of Providence, Rhode Island, and taught at both Dean College in Franklin, Massachusetts and Providence College.
Evans was awarded the 2016 Rhode Island State Council on the Arts' Fellowship in Choreography and a RISCA individual artists award in 2018. Previous honors include a Guggenheim Fellowship, the New Mexico Governor's Award for Excellence in the Arts, Lifetime Achievement Awards from the National Dance Education Organization, Dance Teacher Magazine and the American Dance Guild, an honorary doctorate from the Cornish College of the Arts in Seattle, the Outstanding Service Award from the National High School Dance Festival, the Distinguished Dance Alumni Award from the University of Utah, an Honorary Membership from the International Association of Dance Medicine and Science, and many other awards. He was named one of three favorite world tap dancers in the first Dance Magazine Readers' Poll.
Evans served on the boards of American College Dance Association and the National Dance Education Organization and was Vice President for Performance for the National Dance Association. He celebrated his 78th birthday with performances in Providence and Cambridge. He moved to Port Townsend, Washington in September, 2018. The Evans Somatic Dance Institute, based in Port Townsend, will be his major focus during the coming years. The 21st annual Bill Evans Teachers Institute and will be held at Hobart and William Smith Colleges in Geneva, NY, July 4th through 9th, 2019, and at Fort Warden State Park, Port Townsend, WA, August 4th through 11th, 2019. The 7th annual Bill Evans Somatic Dance Conference and Performance Festival will be held at Hobart and William Smith Colleges, July 10 through 14th, 2019. Visit www.billevansdance.org for complete information on his summer programs, free-lance engagements and his book, Reminiscences of a Dancing Man.
Laura Glenn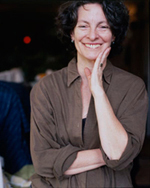 Laura Glenn is faculty emeritus at the Juilliard School, her alma mater, where she taught for the last 31 years. She also directs and produces the Ted Hershey Dance and Music Marathon in Hartford, CT, which will be celebrating its 21th anniversary. As director of her own dance company, WORKS/Laura Glenn Dance, she has created more than 35 works and is recognized internationally as a performer, choreographer, and teacher. She has also taught at Marymount Manhattan and Teacher's College, the Alvin Ailey School, Lincoln Center Institute, and the Laban/Bartenieff Institute for Movement Studies, and she is a Certified Movement Analyst.
Over the last 30 years, Laura has received fellowships from the NEA, the New York Foundation for the Arts, and Roberts and Dance Magazine foundations. Her professional experience includes touring extensively with teaching programs, presenting her own solo program, dancing as a soloist with the Limón Company (11 years), and staging Limón works in addition to the touring of her own company. As the artistic director of White Mountain Summer Dance Festival, Laura Glenn nurtured its growth for 32 years.
WORKS/Laura Glenn Dance is known for its performing and teaching residencies throughout the United States and Europe, including major festivals in Holland, London, Paris, and New York. W/LGD has performed in New York City at the Joyce Theater, Dance Theater Workshop, St. Mark's Church, and for the National Performance Network. W/LGD has been awarded grants from the NEA, the New York State Council on the Arts, the New Hampshire State Council on the Arts, the Hartford Foundation for Public Giving, the Connecticut Commission on the Arts, the Greater Hartford Arts Council, and the New York City Department of Cultural Affairs.
Kehinde Ishangi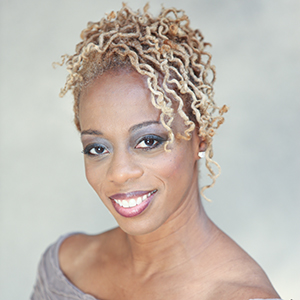 Kehinde Ishangi holds an MFA in Dance from Florida State University and a BA in Dance Pedagogy from Brenau University.
She is a Franklin Method® Educator, certified GYROTONIC®, GYROKINESIS®, STOTT PILATES™ and CoreAlign® Instructor. She is a dancer, educator, choreographer and movement scientist. Ms. Ishangi has danced as a soloist with Ballethnic Dance Company (USA), Cleo Parker Robinson Dance Ensemble (USA), Compagnie James Carlès (France), and Compagnie Georges Momboye (France). She founded The Ishangi Institute to further her research and application of practices leading to the integral health and longevity of dancers and athletes. Currently, she is an Assistant Professor at Florida State University.
Previously, Ms. Ishangi has been Movement Coach and Conditioning Specialist for both the Internationally acclaimed Urban Bush Women under the direction of Jawole Zollar and Germaine Acogny's Jant-Bi of Senegal, West Africa. She served for three years on the faculty of L'Académie Américaine de Danse de Paris in Paris, France and was on faculty at Tulane University, New Orleans, LA. Ms. Ishangi is a performing artist with KM Dance Project in New Orleans, as well as a solo artist who choreographs commissioned works.