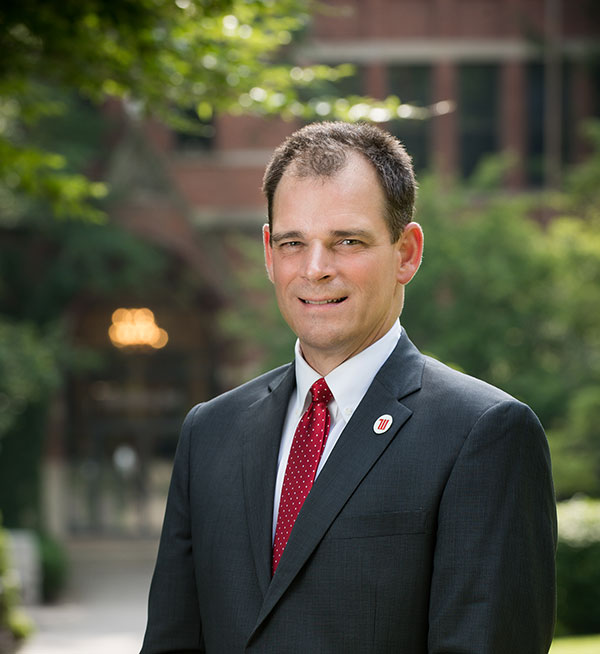 Mike Frandsen was unanimously elected the 15th president of Wittenberg University on Feb. 10, 2017. His tenure officially began July 1, 2017.
Frandsen came to Wittenberg from Oberlin College where he served as vice president for finance and administration. In addition to overseeing finance and accounting, facilities, human resources, information technology, and investments at Oberlin, Frandsen served on the strategic planning steering committee and the enrollment management team. During his tenure, Oberlin undertook several major construction projects, including the Peter B. Lewis Gateway Center, a mixed-use facility that will receive LEED Platinum certification.
Prior to joining Oberlin in 2014, Frandsen spent 10 years at Albion College in Michigan, where he held four different roles. Initially a faculty member in economics and management, he went on to serve as director of the Gerstacker Institute for Business and Management, an honors business program. In 2009, he joined the senior leadership team as vice president for finance and administration. For his final year at Albion, 2013-14, Frandsen was interim president.
Before joining Albion, Frandsen spent five years at Juniata College in Pennsylvania, where he served as a faculty member in the accounting, business and economics department, as well as in the information technology department. Frandsen also taught undergraduate and graduate courses at Colorado College, St. Edward's (Texas) University, and his alma mater, The Pennsylvania State University.
Prior to his career in higher education, Frandsen worked in corporate finance for global companies in the telecommunication, chemical and electronics industries. Although his posts were always domestic, he worked for companies based in Canada, Germany and France, as well as the United States, in his more than 10 years in the corporate world.
Additionally, Frandsen coached swimmers, from novice to Olympic Trials qualifiers, at clubs in Pennsylvania, Tennessee and Colorado before pursuing his corporate career. He continued to coach part-time occasionally prior to his work in higher education.
Frandsen earned his Ph.D. in management, with an emphasis on strategic management, from the University of Texas at Austin. His dissertation examined how stock prices respond to announcements about new chief executives. He also holds an M.B.A. and B.S. in finance, both from The Pennsylvania State University.
Frandsen and wife, Sharon, recently visited their 50th state, saving Hawaii for last. They are the proud parents of two grown daughters, Janie and Kate. Frandsen is also an avid sports fan, especially of college sports, and enjoys playing golf and going on bike rides in his spare time.