About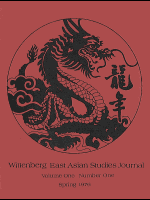 The Wittenberg University East Asian Studies Journal is a widely accepted and highly regarded journal, which is completely written, edited, and published by undergraduate students. The student staff selects academic articles and creative pieces having to do with East Asia, regardless of whether they are written from a Chinese, Japanese, Korean, or integrative perspective. No limitations are placed on the academic area from which works are written, as writings from all disciplines are welcome. Pieces come from undergraduates at Wittenberg as well as around the world.
Submission Guidelines
Submissions are always welcome. They must be written by undergraduate students, and they can include nonfiction (academic papers, research studies, etc.), fiction (short stories, poetry, etc.), translations, as well as artwork. All submissions must center on an East Asian country, particularly China, Japan, or Korea, yet the specific topic or theme can fall within a wide range. We ask that citations be done in the Chicago Style. We also ask that your submission not be under consideration for another journal.
If accepted, these articles will be published in Wittenberg's East Asian Studies Journal, both online and in print.
Journal Index
Submit
If you would like to either send in your own manuscript or artwork, your submission must be uploaded to this site. Please register to create an author profile (with contact information) and submit your piece. Refer to the About section for more information on the submission, selection and publishing process.