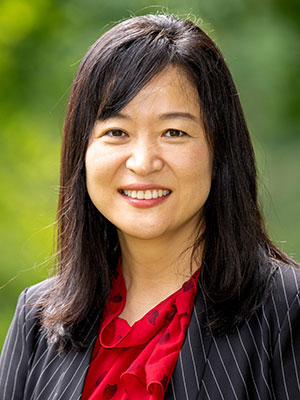 Associate Professor of Business & Economics
Management
Hollenbeck Hall 218-B
(937) 327-7929
jeongs@wittenberg.edu
Academic Background
Ph.D., Recreation, Sport and Tourism, University of Illinois at Urbana-Champaign, 2008
M.S., Graduate School of Library and Information Science, University of Illinois at Urbana-Champaign, 2007
M.Ed., Social Studies Education, Seoul National University, 1999
B.A., Geography Education, Seoul National University, 1997
"Sunny is a very energetic, approachable, funny, charismatic teacher that is incredibly passionate about the material she teaches and what students get out of her class. She provides incredible feedback to students to ultimately help them better understand the course material and to become better equipped for the world outside of college. Excellent teacher, best I have had thus far on campus."
"I had never seen anything like this in a Wittenberg classroom before. Attempting to do it at all is a function, I think, of the central importance that Sunny would attach to the creation of a loving learning environment; being able to pull it off, however, is also eloquent testimony to the trust, confidence and comfort that her students feel in her presence" (From Peer Faculty Evaluation on Sunny's Courses)
"I met Sunny as a teacher and my life will forever be impacted from her. I was struggling with substance abuse and many of people did not treat me kindly and made the assumptions that I would fail or drop out of school. However, Sunny believed in me from day one more than anyone else had ever believed in me and treated me like a human being worthy of life and an opportunity to become something better. Sunny has changed and saved my life when I felt alone and had no one to believe in me. Thanks to Sunny's passion for her students, I have been able to recover from substance abuse that would have otherwise killed me. Sunny has taught me how to set a goal, game plan, and follow that plan to reach my goals. Sunny's passion for her students has made my life and countless of other students' lives better."
Courses Taught
BUSN 250 International Business
BUSN 270 Business Ethics and Leadership
BUSN 206 Global Social Entrepreneurship
BUSN 290 Business and Management in East Asia
BUSN 212 Business Research Method
TEMG300F International Cross-Cultural Management at the Hong Kong University of Science and Technology (HKUST-summer)
Selected Publications
Jeong, S. & Burton, O., (2021). Happiness on your own terms: A photovoice method on happiness research and intervention. In J. Marques (Ed.), The Routledge Companion to Happiness at Work. Taylor & Francis, pp. 23-36.
Jeong, S. (2020). Everyday leadership: How can anyone be a leader everyday?: Examples of Amish leadership and Japanese corporation leadership training. In J. Marques (Ed.), The Routlege companion to inclusive leadership. Taylor and Francis, pp. 131-142.
Burton, O., & Jeong, S. (2020). The internal conversation of how human objects speak. In S. Dhiman (Ed.), The Palgrave handbook of workplace well-being. Palgrave Macmillan.
Burton, O., Jeong, S., & Saini, K. (2018). Dark spirituality: Its impacts on intentionality and operational efficacy in people and organizations. In S. Dhiman, G. E. Roberts, & J. E. Crossman (Eds.), The Palgrave handbook of workplace spirituality and fulfillment. Palgrave Macmillan.
Jeong, S. (2017). Recognizing and reframing social problems into business opportunities (MECE and value chain analysis). In P. Miesing, & M. Aggestam (Eds.), Educating social entrepreneurs: A workbook of cases, exercises, and commentaries. Business Expert Press as part of the United Nations PRME (Principles for Responsible Management Education) Book Collection.
Jeong. S. (2015). Managing and sustaining a P2P virtual enterprise: Participant motivation model and technological implication. In A. Camillo (Ed.), Handbook of research on global hospitality and tourism management. IGI Global.
Jeong. S. (2015). Global knowledge to local practice: Experiential service learning model in international business and social entrepreneurship education. In V. Taras, & M. A. Gonzalez-Perez (Eds.), Handbook of experiential learning in international business and international management. (pp. 346-373). Palgrave Macmillan.
Jeong, S. (2013). Governance in non-profit organizations: Does the ban by Boy Scouts of America on gays hurt scouting? In J. Mueller, & P. Wells (Eds.), Governance in action globally-strategy, process and reality (pp. 125-139). Oxford. Rossi Smith Academic Publications, Oxford, UK.
Jeong. S. (2013). The role of social capital in pursuing informal entrepreneurial opportunities. The Journal of Amish and Plain Anabaptist Studies, 1(1), 127-166.
Choi, J., Jeong, S. & Kehoe C. (2012). Women in entrepreneurship education in U.S. higher education. Journal of Business Diversity, 12(2), 11-26.
Bishop, Ann P., Bruce, Bertram C., & Jeong, S. (2009, March). Beyond service learning: Toward community schools and reflective community learners. In L. Roy, K. Jensen, & A. H. Meyers (Eds.), Service learning: Linking library education and practice (pp. 16-31). Chicago, IL: ALA Editions.
Jeong. S. (2008). Collective production of public goods in online travel communities. Information Technology & Tourism, 10(4), pp. 353-373.
Jeong, S. (2004). Sharing information and cultivating knowledge in virtual setting: Increasing social capital in virtual community of tourism. e-Review of Tourism Research, 2(3).
Jeong, S & Santos, C. (2004). Cultural politics and contested identity of place. Annals of Tourism Research, 31(3), 640-656.
Selected Conference Presentation
Jeong, S. (2021, May). Photovoice research method: Visualization, narratives, reflection, and change as a tool for research, pedagogy and practice for management. Presented at International Perspectives on Humanistic Management Webinar Series: Action Research. International Humanistic Management Association.
Jeong, S. (2020, August). Publishing not perishing through qualitative research: A conversation to advance MSR and practice. Chaired symposium at the 80th Annual Meeting of Academy of Management, Online
Jeong, S. Bode, T., & Queen, H. (2019, June). Positive ethics in Amish business: Connection between a belief in God, the church, and positive business ethics, Poster presented at The 9th Biennial Positive Organizational Scholarship Research Conference, Ann Arbor, Michigan, United States.
Jeong, S. (2018, May). 3rd person spirituality: Comparisons on the role of spiritual agents in
management decisions of American with Korean managers. Paper presented at the Science, Morality, and Gender in Korean Culture at The Truman Institute, The Hebrew University of Jerusalem, Mt. Scopus. Jerusalem, Israel.
Jeong, S. (2018, August). Innovative research methods in management, spirituality and religion, Symposium presented at The 78th Academy of Management Annual Meeting, Chicago, Illinois, United States.
Jeong, S. (2017, May). 3rd person spirituality: Role of spiritual agents of shamans in business. Paper presented at 2017 Conference for the Association of Management, Spirituality & Religion. Fayetteville, AR.
Research Interests
General interest: Religion and Spirituality in Management
My research journey of the past 5 years has brought me into contact with people of widely diverse backgrounds in religion and spirituality as different as Amish, Mennonite, Brethren, Protestant pastors, church leaders, astrologers, monks, and shamans. I met them through ongoing series of exploratory research on spirituality in the workplace. I investigated 1) ways that faith and religion are incorporated into business practices and 2) when and why people seek faith or spirituality through their works. I have found almost universal benefits among those who practice or seek spirituality in business and management in every level of management and labor, size of company, and type of company.
Teaching Philosophy
I have visited and lived in over 32 countries around the world. My many years of interacting with people from diverse professional, linguistic, and cultural backgrounds, and teaching international business and global leadership, thus have been grounded in a commitment to instill cross-cultural understanding, by challenging cultural racism and consequent 'demonization of the other.' I have facilitated many cross-cultural workshops around the world. My teaching perspective is informed, as a lifelong learner, not only by the principles of business, but also by my investigation and experience of the political, economic, religious, and social factors that shape the global economy, business practices, and our understanding of others. Student-centered learning in my experiential course, unlike conventional school curricula, gave opportunities for students to engage in workshops, simulations, role playing, service-learning projects, and learning games. These activities are designed to challenge students and enable them to identify and overcome the root causes of fear, bias and prejudice in their own unconscious. This type of learning enhances the students' ability to expand their outlook and their global citizenship potential.
Consultancy and Other Professional Work
[Positions Held]
Former Vice President & Partner, Doorigi LLC. 2009-2011
Executive director and founder, Korean Cultural Center, Champaign, Illinois. 2007-2009
[Consultancy]
Cross-cultural competency & Mindfulness coaching for various organizations
Asset mapping for educational organizations, Springfield, Ohio 2019-2020
Honda, Panel, How to work with Japanese and Mexican businesses, The 11th Annual Honda Lean Network Conference, Sharonville Convention Center in Sharonville, Ohio, 2013
Local Currency Organization, Consultant, consulting UC-Smile (non for profit)'s alternative local currency movement in Champaign-Urbana, Illinois, 2013
Horizon Hobby, Consultant, company's international market entry and marketing strategies to China, Champaign, Illinois. 2010-2011
US-China Eduction Venture, L3C corporation, Advisor and consultant, 2012
Several small-medium size of companies (tea company, bio-tech company, publishing companies, tourism agency etc in terms of their foreign market relation and international marketing, 2010-2013
University of Chicago & University of Illinois at Urbana-Champaign: provided inter-cultural workshop for global & workplaces (focused on China, Korea, Canada, India), 2012
Keynote and Invited Lectures
Keynote, Global social entrepreneurship in East Asia, Education and Peace Network, 2014
Speaker: How to incorporate Japanese business cases into your classroom, Workshop on Integrating Japanese Business into the Business Curriculum, Wittenberg University, 2013 (funded by Japan Foundation)
Keynote, Social justice disparity in South Korea: Gender issue, Urbana Rotary Club, 2012
Speaker, "Social Entrepreneurship and Portfolio Activity," Education Justice Project, Danville Prison, 2011
Speaker, "The Power of Unreasonable People and Social Innovation," Entrepreneurship Classes, University of Illinois/Urbana, 2010
Speaker, "Introduction to Social Entrepreneurship," Philanthropic Innovations Forum & Social Entrepreneur Incubator, 2009
Grants, Awards and Recognition (selected)
Outstanding Service Award at the Academy of Management, August 2019
Best Research Symposium Award at the Academy of Management, August 2018
The Provost's Award for Outstanding Teaching (the highest level of teaching excellence by a visiting or adjunct faculty member at Wittenberg University, recognized at the Opening Convocation in the fall of 2014)
Focal Point Research Grant: Transnational research on local currency movements ($12,000), 2012
Nominated repeatedly by students ("Official Voice of the Student Body" run by Student Senate) for Teaching Excellence Award
Outstanding Service Award, Office of Volunteer Programs, Illini Union, April 13, 2011
Social Justice Award (McAlister Fellowship) at Graduation Ceremony of Graduate School of Library Information Science, 2006
Houchens Fellowship Award at Graduate School of Library Information Science, 2005-2006
Gender & Women's Studies Fund Competition Winner, National Collegiate Global Women's Rights and Human Rights Conference, 2005
The Best Master's Thesis Award at the Association of American Geographer Conference. Philadelphia, PA., March 15-19, 2004.
Ambassadorial Scholar of Rotary Club: Multi Year Scholarship ($24,000), 2001-2002
Dr. Jeong on Media (selected)
[Radio]
[Newspapers]
International Partnership with Higher Education Institutes and Multinational Companies that Dr. Jeong has relations or worked with
[Higher Education Institutions]
Korea: Seoul National University, Korea University, Yonsei University, KAIST
Japan: Sophia University, Kansai Gaidai University, Kyorin University, Nanzan University
Hong Kong: Hong Kong University of Science and Technology
UK: London South Bank University
Brazil: University of Sao Paulo
China: Shanghai University, Zhejiang University, Beijing University
[Companies]
Japan: Honda, Toyota, Sankosha, IBM in Japan, Asahi, Newvery (non profit), Grew Bancroft Foundation
Korea: Samsung, Hyundai, LG, Social Enterprise Network
China: Alibaba, Nokia Simens networks (China Operation), Zhangjiang Group, Wensli Group, Giant
Quotes Dr. Jeong cherishes the most
"Some look at things that are, and ask why. I dream of things that never were and ask why not?"
-George Bernard Shaw
"Success is the point where your most authentic talents, passion, values, and experiences intersect with the chance to contribute to some greater good."
-Bill Strickland, according to MacArthur Fellowship