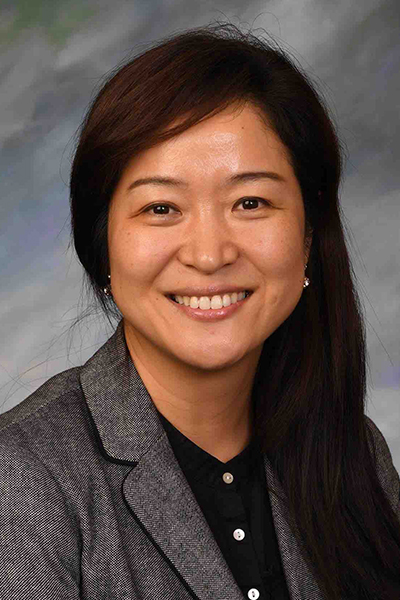 Associate Professor
Hollenbeck Hall 218-B
(937) 327-7929
jeongs@wittenberg.edu
Academic Background
Ph.D., Recreation, Sport and Tourism, University of Illinois at Urbana-Champaign, 2008
M.S., Graduate School of Library and Information Science, University of Illinois at Urbana-Champaign, 2007
M.Ed., Social Studies Education, Seoul National University, 1999
B.A., Geography Education, Seoul National University, 1997
"Sunny is a very energetic, approachable, funny, charismatic teacher that is incredibly passionate about the material she teaches and what students get out of her class. She provides incredible feedback to students to ultimately help them better understand the course material and to become better equipped for the world outside of college. Excellent teacher, best I have had thus far in business college."
"She is the most enthusiast instructor that I have ever met which makes the students really interested in international business - she is the best professor"
"Sunny was inspirational since the first day of class. Her charisma and her genuine love for students made every class fun and engaging. She managed to make over 50 tired business majors brighten up and participate in class every day. I wish I could take more classes with her in the future."
Courses Taught
BUSN 250 International Business
BUSN 290 Global Leadership and Social Entrepreneurship in East Asia
BUSN 290 Business and Management in East Asia
BUSN 211 Business Research Method Selected Publications
Refereed Articles
Jeong. S. (2013). The role of social capital in pursuing informal entrepreneurial opportunities. The Journal of Amish and Plain Anabaptist Studies, 1(1), 127-166.
Choi, J., Jeong, S. & Kehoe C. (2012). Women in entrepreneurship education in U.S. higher education. Journal of Business Diversity, 12(2), 11-26.
Jeong. S. (2008). Collective production of public goods in online travel communities. Information Technology & Tourism, 10(4), pp. 353-373.
Jeong, S. (2004). Sharing information and cultivating knowledge in virtual setting: Increasing social capital in virtual community of tourism. e-Review of Tourism Research, 2(3).
Jeong, S & Santos, C. (2004). Cultural politics and contested identity of place. Annals of Tourism Research, 31(3), 640-656.
Book Chapters
Jeong. S. (2013). Governance in non-profit organizations: Does the Ban by Boy Scouts of America on Gays hurt Scouting? In Jens Mueller and Philippa Wells (eds.) Governance in action globally-Strategy, process and reality (pp. 125-140). Oxford. Rossi Smith Academic Publications.
Bishop, Ann P., Bruce, Bertram C., & Jeong, S. (2009, March). Beyond service learning: Toward community schools and reflective community learners. In Loriene Roy, Kelly Jensen, & Alex Hershey Meyers (eds.), Service learning: Linking library education and practice (pp. 16-31). Chicago, IL: ALA Editions.
Selected Conference Presentation
Jeong. S., Kaplan, T., & Hazarika, S. (2013). Impact of social media marketing for American non-profit organizations compared to traditional media exposure and its impact on revenue growth. 10th Annual NYU Stern Conference on Social Entrepreneurship, November 6-8, 2013 at NYU Stern Berkly Center for Entrepreneurship and Innovation, New York, USA.
Jeong. S (2013). Japanese Social Enterprises & Social Entrepreneurship Education in Japan. Global Social Venture Competition Global Conference: "Reinventing global: shared challenges, local innovations, University of California, Berkeley, California. April 11-April 12.
Choi, J. & Jeong. S (2012). Entrepreneurship education for women in US universities and colleges. The Informal Economy: 2012 Academy of Management Annual Meeting, Boston, Massachusetts, August 3-7.
Choi, J., Kehoe, C. & Jeong. S (2012). Women in entrepreneurship education in U.S. higher education. 2012 Entrepreneurship: A Source of Renewal and Growth, United States Association for Small Business and Entrepreneurship 26th Annual Conference, January 12-15, 2012, New Orleans Marriott, New Orleans, LA.
Jeong. S. (2011). Conceptual framework of social entrepreneurship education: Community inquiry approach to service learning. 8th Annual NYU Stern Conference on Social Entrepreneurship, November 2-4, 2011 at NYU Stern Berkly Center for Entrepreneurship and Innovation, New York, USA.
Research Interests
General interest: social and cultural (religious) capital and spirituality to manage risk in international business & new fair trade model
Currently with research grant of Wittenberg, Dr. Jeong is conducting research on Religious Capital in Amish Entrepreneurship. Numerous studies have shown the link between religion and business success (including "entrepreneurs pray more"). This study examines various roles played by the church and religious practices, both positive and negative, in a business network and the collaborative/competitive business culture embedded in Amish community. At the same time, she works on Ford Grant of Sustainable Development about "Alternative Fair Trade Model to be fair." She and two other faculty from USA and Mexico investigates supply chain management of new fair trade model featured by Think Coffee in New York.
Teaching Philosophy
Great teaching is as much about the passion in substance, as it is about passion in teaching and learning. I am passionate about areas of international business and social entrepreneurship and I keep myself on top of my research field, reading sources, both inside and outside of my area of expertise. Knowledge should not only be confined to scholarly works and classroom settings, but should bridge the gap between theories and fields. In short, I emphasize critical thinking and the need to consider business within its larger social, cultural, environmental, economic, and intellectual contexts.
Consultancy and Other Professional Work
[Positions Held]
Former Vice President & Partner, Doorigi LLC. 2009-2011
Executive director and founder, Korean Cultural Center, Champaign, Illinois. 2007-2009
[Consultancy]
Honda, Panel, How to work with Japanese and Mexican businesses, The 11th Annual Honda Lean Network Conference, Sharonville Convention Center in Sharonville, Ohio, 2013
Local Currency Organization, Consultant, consulting UC-Smile (non for profit)'s alternative local currency movement in Champaign-Urbana, Illinois, 2013
Horizon Hobby, Consultant, company's international market entry and marketing strategies to China, Champaign, Illinois. 2010-2011
US-China Eduction Venture, L3C corporation, Advisor and consultant, 2012 
Several small-medium size of companies (tea company, bio-tech company, publishing companies, tourism agency etc in terms of their foreign market relation and international marketing, 2010-2013
University of Chicago & University of Illinois at Urbana-Champaign: provided inter-cultural workshop for global & workplaces (focused on China, Korea, Canada, India), 2012
Keynote and Invited Lectures
Speaker: How to incorporate Japanese business cases into your classroom, Workshop on Integrating Japanese Business into the Business Curriculum, Wittenberg University, 2013 (funded by Japan Foundation)
Keynote, Social justice disparity in South Korea: Gender issue, Urbana Rotary Club, 2012
Speaker, "Social Entrepreneurship and Portfolio Activity," Education Justice Project, Danville Prison, 2011
Speaker, "The Power of Unreasonable People and Social Innovation," Entrepreneurship Classes, University of Illinois/Urbana, 2010
Speaker, "Introduction to Social Entrepreneurship," Philanthropic Innovations Forum & Social Entrepreneur Incubator, 2009
Grants, Awards and Recognition (selected)
Focal Point Research Grant: Transnational research on local currency movements ($12,000), 2012
Nominated repeatedly by students ("Official Voice of the Student Body" run by Student Senate) for Teaching Excellence Award
Outstanding Service Award, Office of Volunteer Programs, Illini Union, April 13, 2011
Social Justice Award (McAlister Fellowship) at Graduation Ceremony of Graduate School of Library Information Science, 2006
Houchens Fellowship Award at Graduate School of Library Information Science, 2005-2006
Gender & Women's Studies Fund Competition Winner, National Collegiate Global Women's Rights and Human Rights Conference, 2005
The Best Master's Thesis Award at the Association of American Geographer Conference. Philadelphia, PA., March 15-19, 2004.
Ambassadorial Scholar of Rotary Club: Multi Year Scholarship ($24,000), 2001-2002
Dr. Jeong on Media (selected)
[Radio]
[Newspapers]
International Partnership with Higher Education Institutes and Multinational Companies that Dr. Jeong has relations or worked with
[Higher Education Institutions]
Korea: Seoul National University, Korea University, Yonsei University, KAIST
Japan: Sophia University, Kansai Gaidai University, Kyorin University, Nanzan University
Hong Kong: Hong Kong University of Science and Technology
UK: London South Bank University
Brazil: University of Sao Paulo
China: Shanghai University, Zhejiang University, Beijing University
[Companies]
Japan: Honda, Toyota, Sankosha, IBM in Japan, Asahi, Newvery (non profit), Grew Bancroft Foundation
Korea: Samsung, Hyundai, LG, Social Enterprise Network
China: Alibaba, Nokia Simens networks (China Operation), Zhangjiang Group, Wensli Group, Giant
Quotes Dr. Jeong cherishes the most
"Some look at things that are, and ask why. I dream of things that never were and ask why not?"
-George Bernard Shaw
"Success is the point where your most authentic talents, passion, values, and experiences intersect with the chance to contribute to some greater good."
-Bill Strickland, according to MacArthur Fellowship