CABLE is a unique, high-impact professional development opportunity open to Communication & Digital Media, Business, and Sport Management majors and minors. Students learn how to present themselves professionally, network with communication practitioners in a variety of fields, conduct research on case studies and present recommendations to those professionals, and ultimately create a smoother transition for themselves into their career after graduating from Wittenberg.
CABLE 2024 Application - Due by 5 p.m. Monday, October 2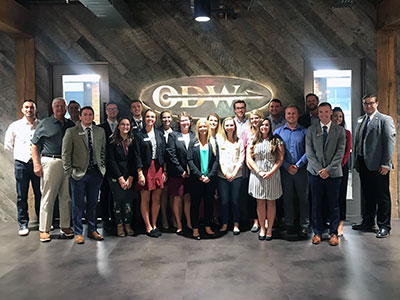 This valuable and competitive program runs from the spring semester of the junior year through the fall semester of the senior year, with a summer internship experience in between. Junior students in the departments listed above are invited to apply in the fall of their junior year, followed by interviews by the program directors. Students who are selected to participate in this practicum experience meet weekly for class, take field trips to various organizations and businesses, meet with and hear from professionals in a variety of contexts, work on real-life case study projects for organizations, and come to understand their own career preferences with greater clarity.
CABLE students have traveled to cities such as Chicago, Atlanta, Washington DC, and Orlando, visiting and presenting to executives at companies such as Google, Coca-Cola, Marriott International, and Special Olympics, to name just a few. Firm believers in the program's significant value, alumni of the program give back to it financially to help ensure its continuance, along with a major donor who helped initiate the program in 2007.
2024 CABLE Directors
Dr. Ross Jackson, Assistant Professor of Business & Economics
Charlotte Hurst-Bluemlein, Assistant Director for External Partnerships & Career Engagement