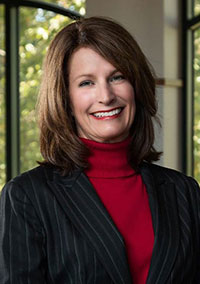 Professor and Chair, Communication
Hollenbeck Hall 323
cwaggoner@wittenberg.edu
(937) 327-7436
Dr. Waggoner teaches courses in rhetoric, including Reasoning and Communication, Analysis of Visual Persuasion, Communication Criticism, and Gender and Communication. Her research focuses on contemporary perspectives on rhetoric, with emphasis in critical/cultural perspectives and gender issues in communication. Her co-written book, Making Camp: Rhetorics of Transgression in U.S. Popular Culture, won two awards in 2009 from groups within the National Communication Association. She currently has a book in press, Realizing our Place: Real Southern Women on Living in a Mythologized Land, which examines performances of Southern identities among women of the Mississippi Delta. Waggoner earned the Distinguished Teaching Award from Wittenberg University's Alumni Association in 2014. She holds a B.A. degree from the University of Southern Mississippi and an M.A. degree from Bowling Green State University (both in English), and a Ph.D. degree in Rhetoric from The Ohio State University. She joined the Wittenberg faculty in 1995.