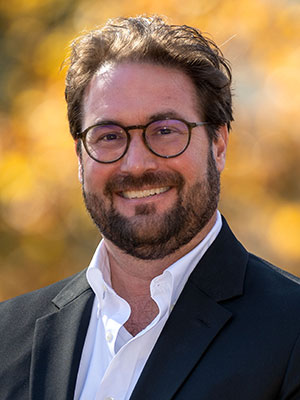 Assistant Professor of Business & Economics
Program Director, Master of Science in Analytics
Management
Hollenbeck Hall 213
(937) 327-7907
jacksonr@wittenberg.edu
Ross A. Jackson, Ph.D., previously served as the technical expert for strategic studies at Headquarters Air Force Materiel Command. Dr. Jackson's research intersects analytics and existentialism to explore the human dimensions of decision-making. Recent research has explored the application of textual analysis techniques to highlight the inherent ambiguity of texts, and to problematize how individuals and organizations make sense as part of their daily routines. Additionally, Dr. Jackson has taught numerous analytics courses over the past 15 years at several local and regional colleges and universities.
Quote
"The only way to deal with an unfree world is to become so absolutely free that your very existence is an act of rebellion." – Albert Camus
Office hours
10:30-12:30 Tuesday and Thursday (or by appointment)
Academic Background
Bachelor of Business Administration, Business Economics (Ohio University)
Master of Arts, Applied Economics (Ohio University)
Doctor of Philosophy, Applied Management and Decision Sciences (Walden University)
Professional background
Defense analyst with 20-years of experience leading increasingly complex research efforts. Research ranges from cost and economic analyses focused on estimating weapon system acquisition costs to applications of advanced operations research techniques to solve strategy, organizational concerns. Air Force career culminated as the chief of Headquarters Air Force Materiel Command (HQ AFMC) Analyses and Assessments Division (A9A). In that capacity, I worked to collaboratively build robust teams capable of assessing, optimizing, and leading data-driven decisions surrounding billion-dollar investments. Additionally, I extended the analytic focus of the organization to incorporate qualitative research techniques, textual analysis and data visualization.
Personal interests