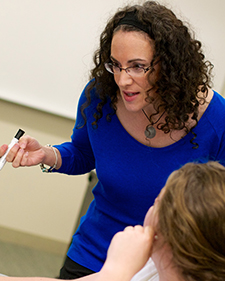 Associate Professor
Cross-Cultural Psychology, Psycholinguistics
Zimmerman Hall 204F
(937) 327-7486
lcrane@wittenberg.edu
After receiving her B.A. in Psychology from Yale University, Dr. Crane then went on to work and study in Japan. It was her interest in different cultures that lead her to receive her M.A. in Developmental Psychology and her Ph.D. in Cultural Psychology from Stanford University. An Assistant Professor of Psychology, Dr. Crane joined the Wittenberg faculty in 2007. As a cultural psychologist, she studies how taking part in a community's shared activities leads individuals to think in culture-specific ways. In particular, she has been investigating the socializing effects of language use and of religious engagement in the United States and Japan.  Prior to arriving at Wittenberg, Dr. Crane taught psychology courses at Stanford University, Williams College, and Kenyon College, and taught courses on English Language & American Culture at Nagasaki Junior College, in Japan. In addition, Dr. Crane also carried out social science research & development work in a corporate setting at Sociometrics Corporation, in California.
In general, her courses focus on how culture and language reflect and support human psychological functioning. Her current courses include: Experimental Design, Psychology & Culture, Psychology of Language, and related 400 level research courses. Dr. Crane's 400 level research students have gone to present at MPA, and have had their research published. Currently Dr. Crane is conducting research focused on religion and divinity in eastern and western cultures.
Publications:
Crane, L. S., Bruce, J. L. ('10), Salmon, P. Y. ('10), Eich, R. A. ('10), & Brandewie, E. N. ('10). (in press). Blending Buddhism, Shinto, and the secular: Interview findings regarding Japanese conceptualizations of The Divine. Journal of Ethnographic and Qualitative Research.
Mukaida, K., Azuma, H., Crane, L. S., & Crystal, D. S. (in press). Cultural scripts in narratives about future life: A comparison between Japan, China and the U.S. Japanese Journal of Personality.
Crane, L. S., Burns, E. ('08), Johnson, H. E. ('09), Brown, B. ('09), Ufholz, K. E. ('09), & Riehle, J. L. ('09). (2009). Conceptualizing human nature and The Divine: Qualitative interviews with Christians and Buddhists from a mixed-methods study. Journal of Ethnographic and Qualitative Research, 4, 9-23.
Shapiro, L. J., & Azuma, H. (2004). Intellectual, attitudinal, and interpersonal aspects of competence in the United States and Japan. In R. J. Sternberg & E. L. Grigorenko (Eds.), Culture and competence: Contexts of life success. Washington, DC: American Psychological Association.
Card, J. J., Shapiro, L. J., Amarillas, A., McKean, E., & Kuhn, T. (2003). Broadening public access to data through the development of tools for data novices. Social Science Computer Review, 21(3), 352-359.
Presentations:
Paper presentation: Conceptualizing human nature and The Divine: Interviews with Christians and Buddhists (Crane, Burns, & fall 2008 students of PSYC 400)
Paper presentation: A Japanese perspective on religion and spirituality: Interviews on belief and behavior (Crane & fall 2009 students of PSYC 400)
Poster presentation: Sexual permissiveness in the United States and Japan: Stereotypes and realities (Crane, fall 2009 students of PSYC 400, & Takemoto)