Departmental Honorary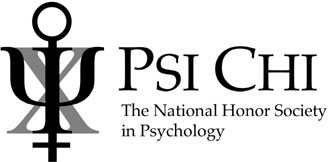 Psi Chi, the National Honor Society in Psychology, is the largest psychological association in the world. The society was started in 1929 by Frederick "Bud" Lewis and Edwin "Eddie" Newman. Since its beginning, Psi Chi has set out to maintain excellence and support research in the field of psychology, at both the graduate and undergraduate level. Many prominent psychologists have been members of Psi Chi, including: B. F. Skinner, Albert Bandura, Carl Rogers, and Phillip Zimbardo. Wittenberg University holds a special place in Psi Chi's illustrious history. Wittenberg started one of the first chapters of Psi Chi, and was the very first small liberal arts college to do so.
Psi Chi sponsors conferences, paper readings, and presents graduate, undergraduate, and faculty awards. Each year, to support the field of psychology, the society awards scholarships to members. Anyone who is a member may apply for one of these scholarships. Psi Chi also publishes a magazine, and holds a conference each year. Numerous Wittenberg Students have attended these Psi Chi conferences.
Each Spring and Autumn new members are inducted, Membership to Psi Chi is selective. There is a required fee, and at Wittenberg to become a member of Psi Chi the following criteria must be met:
The student must have completed at least 20 credit hours in Psychology courses.
The student must have a GPA of 3.5 in Psychology courses. GPA calculator
The student must have a cumulative GPA of 3.3.
Inductees
Congratulations to our 2023 Psi Chi Inductees:

Emilio Gutierrez, Alyson Parks

Congratulations to our 2022 Psi Chi Inductees:

Abigail Gerstenzang, Tiana Hughes, Annmeri Turner, Julie Fisher

Congratulations to our 2021 Psi Chi Inductees:

Chloe R. Beaver, Ethan M. Belknap, Ashley A. Brooks, Haley N. Eckhert, Gabriell M. Hancock, Monica A. Hosler, Hannah N. Jackson, Madison M. Lakosky, Clare N. Neltner, Harley C. Paul, Ashley J. Save, Taryn J. Smith, Eleanor V. Wenner

Congratulations to our 2020 Inductees:

Danielle B. Gilbert, Theresa K. Harper, Caitlyn M. Hum, Lucas A. Klever, Natalie M. Lowen, Elexis A. Spence, Sara E. Sullivan, Gabrielle Zysik

Congratulations to our 2019 Inductees (pictured):

Meagan Tanner, Kidron Taylor, Rebecca Towns, Zacchaeus Martin, Cassidy Taylor, Tara Buchy, Alexander Sheppard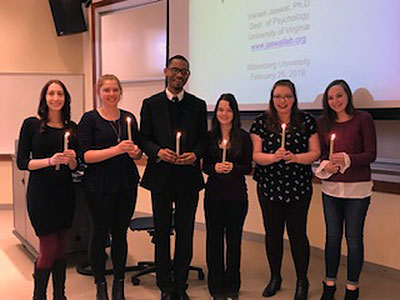 Departmental Awards
Award for Professional Potential
The Award for Professional Potential honors a senior student in Psychology who has demonstrated the potential to make a significant professional contribution.
Congratulations to all of our recipients:
2023: Haley Eckhert
2022: Danielle Crislip
2021: Lucas Klever
2020: Cassidy S. Taylor
2019: Zacchaeus Martin
2018: Catlin Martin, Joseph Johnson
2017: Zoey Wilson
2016: Elizabeth Nelson
2015: Matthew Preda
2014: Doreen Hipp
2013: Grace Whiteley
2012: Julia Smith
Bethlehem Steel Award
The Bethlehem Steel Award recognizes an outstanding senior student in Psychology for academic achievement and unique contributions to the Psychology program.
Congratulations to all of our recipients:
2023: Abigail Gerstenzang
2022: Ashley Brooks
2021: Kidron Taylor
2020: Tara E. Buchy
2019: Cassie McLean
2018: Alisha Genetin
2017: Kristy Bowen
2016: Heather Vose
2015: Nicholas DeRose
2014: Maija Mikkelsen
2013: Rachel Merchak
2012: Danielle Walerius
Virgil E. Rahn Memorial Award
The Virgil E. Rahn Memorial Award honors an outstanding junior student in Psychology for superior work in the discipline and promise as a future psychologist.
Congratulations to all of our recipients:
2023: Kaulana Smith
2022: Abigail Gerstenzang
2021: Ashley Brooks
2020: Lucas A. Klever
2019: Tara Buchy
2018: Cassie McLean
2017: Alisha Genetin, Tyler Begg
2016: Kelsey Lorko
2015: Kristy Bowen
2014: Matthew Preda
2013: Eileen Parry
2012: Rachel Merchak
Meagan Toothman Scholarship
This scholarship is awarded to two junior or senior psychology majors who are hardworking, passionate and engaged in the community. The foundation and this scholarship are in honor of alumna Meagan Toothman.
Congratulations to all of our recipients:
2022: Abigail Gerstenzang. Amy R. Bidwill
2021: Madison Lakosky, Harley Paul
2020: Alyssa Fesenmyer, Lucas Klever
2019: Jubileen Kombe, Gabrielle Zysik
2018: Andrew Sheppard, Cassie McLean
2017: Alisha Genetin, Lizzie McNeill
2016: Kelsey Lorko, Troy Weathers
2015: Heather Vose, Elizabeth Nelson
2014: Paige Erb, Ana Jeanne Campion
2013: Paige Erb