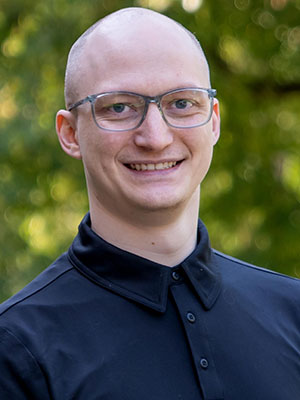 Associate Professor
Social and Personality Psychology
Blair Hall 111
davisw4@wittenberg.edu
Dr. Davis' research examines how people make sense of their place in the world and understand who they truly are. He is particularly interested in how feelings of authenticity can affect our well-being in both positive and negative ways. He also studies what factors predict feelings of meaning in life, and what motivates people to pursue their goals in different domains such as sports and academics.
Degrees
Ph.D. in Social and Personality Psychology, Texas A&M University
B.S. in Philosophy/Humanities and Psychology, North Dakota State University
Courses Taught
HONR-300 Psychology of Happiness
PSYC-101 Intro to Psychological Science
PSYC-241 Psychology of Personality
PSYC-361 Experimental Social Psychology
PSYC-400 Research
Recent Publications (* indicates student co-authors):
Kelley, N. J., Weinstein, N., Smith, E., E., Davis, W. E., Christy, A. G., Sedikides, C., & Schlegel, R. J. (2022). Emotional, motivational, and attitudinal consequences of autonomous prosocial behavior. European Journal of Social Psychology.
Kelley, N. J., Davis, W. E., Dang, J., Liu, L., Wildschut, T., & Sedikides, C. (2022). Nostalgia confers psychological wellbeing by increasing authenticity. Journal of Experimental Social Psychology, 102, 104379. https://doi.org/10.1016/j.jesp.2022.104379
Dorison, C. A., Lerner, J. S., Heller, B. H.,...,Davis, W.E.,...Coles, N. A. (2022). In COVID-19 health messaging, loss framing increases anxiety without concomitant benefits: Experimental evidence from 84 countries. Affective Science. https://doi.org/10.1007/s42761-022-00128-3
Psychological Science Accelerator Self-Determination Theory Collaboration. (2022). A global experiment on motivating social distancing during the COVID-19 pandemic. Proceedings of the National Academy of Sciences, 119(22), e2111091119. https://doi.org/10.1073/pnas.2111091119
Wang K., Goldenberg A., Dorison,...Davis W. E.,...Moshontz, H. (2021) A multi-country test of brief reappraisal interventions on emotions during the COVID-19 pandemic. Nature Human Behavior. https://doi.org/10.1038/s41562-021-01173-x
Seto, E., & Davis, W. E. (2021). Authenticity predicts positive interpersonal relationship quality at low, but not high, levels of psychopathy. Personality and Individual Differences, 182, 111072. https://doi.org/10.1016/j.paid.2021.111072
Johnston, C.*, & Davis, W. E. (2019). Motivating exercise through social media: Is a picture always worth a thousand words? Psychology of Sport and Exercise, 41, 119-126. https://doi.org/10.1016/j.psychsport.2018.12.012