Wittenberg's summer term provides numerous opportunities for students to engage in learning over the summer months. Whether you are a traditional, adult, or transient student looking to boost your GPA or earn extra credits, the School of Graduate & Professional Studies offers on-campus and online classes to help you get ahead.
Click to here view the preliminary 2018 summer schedule.
Summer classes will be offered during five different terms. See below for important dates.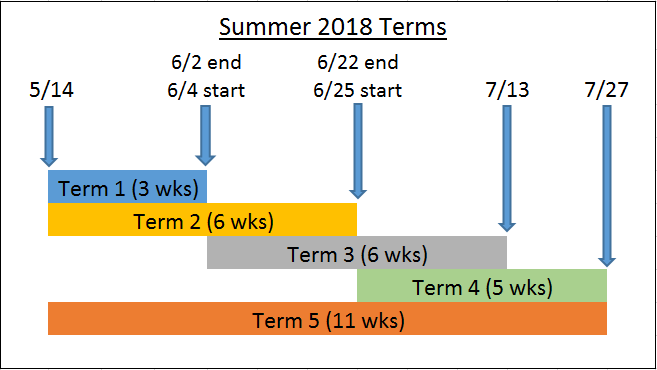 If you have questions regarding any of the courses, please feel free to contact us directly at gps@wittenberg.edu.
Summer 2018 Important Dates
Term 1 (3 Weeks)
May 14 (M)          Term begins
May 16 (W)          Last day to Add/Drop with refund
May 14-18           Period for filing *Pass/Fail option
May 18 (F)           Last day for withdrawal (no grade)
May 25 (F)           Last day for withdrawal (W grade)
May 28 (M)          Memorial Day holiday – classes are scheduled to meet
June 2 (Sat.)        Final exams
June 8 (F)            Final grades due
Term 2 (6 weeks)
May 14 (M)          Term begins
May 18 (F)           Last day to Add/Drop with refund
May 21-25           Period for filing *Pass/Fail option
May 25 (F)           Last day for withdrawal (no grade)
May 28 (M)          Memorial Day holiday – classes are scheduled to meet
June 1 (F)            Last day for withdrawal (W grade)
June 22 (F)          Final exams
June 29 (F)          Final grades due
Term 3 (6 weeks)
June 4 (M)           Term begins
June 8 (F)            Last day to Add/Drop with refund
June 11-15           Period for filing *Pass/Fail option
June 15 (F)          Last day for withdrawal (no grade)
June 22 (F)          Last day for withdrawal (W grade)
July 13 (F)            Final exams
July 20 (F)            Final grades due
Term 4 (5 weeks)
June 25 (M)          Term begins
June 29 (F)           Last day to Add/Drop with refund
July 2-6                Period for filing *Pass/Fail option
July 6 (F)              Last day for withdrawal (no grade)
July 13 (F)            Last day for withdrawal (W grade)
July 27 (F)            Final exams
Aug 3 (F)              Final grades due
Term 5 (11 weeks)
May 14 (M)         Term begins
May 18 (F)          Last day to Add/Drop with refund
May 28 (M)         Memorial Day holiday – classes are scheduled to meet
June 1 (F)           Last day for withdrawal (no grade)
June 29 (F)         Last day for withdrawal (W grade)
July 27 (F)          Final exams
Aug 3 (F)            Final grades due