Caroline Marlow '23, history and political science double major on the pre-law track, interned with the Bramer Group, which is rooted in the defense and national Intelligence communities with keen political insight into Congress and the executive branch, and leverages it to assist public, private, and nonprofit clients.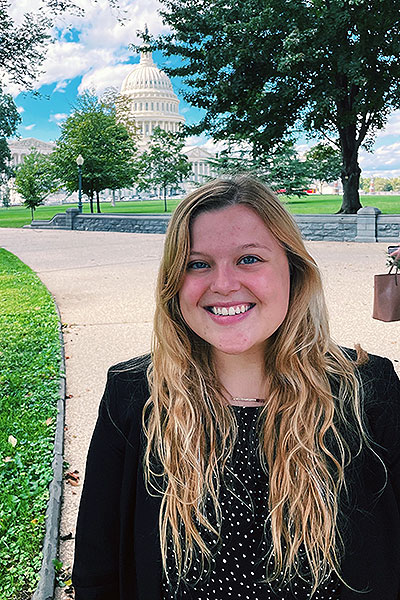 At Wittenberg she is the president of the Kappa Delta Sorority Alpha Nu chapter, a member of the National Honor Society of Leadership and Success, and is a member of Phi Alpha Theta History Honor Society.
"I participated in the Washington Semester program because I knew it would provide me with amazing opportunities to get a head start on my career. It's also always been my goal to go to law school and live in Washington, D.C. later in life. This program helped me become more comfortable with making that goal a reality. I worked as a government relations intern with the Bramer Group, LLC, a bipartisan consulting firm focused on foreign affairs and veterans' healthcare. This role helped me make some decisions about what I want to do later in life. I now have my sights set on obtaining a constitutional or civil rights law degree after graduating from Wittenberg. I hope to work either with a federal government agency or at a private law firm that partners with civil rights activist groups. While I took two classes and worked at my internship, I made so many important professional and personal connections that I will value for the rest of my life.
"I have so many amazing memories that it's hard to choose just one that was my favorite! Of course, all of our trips to museums and national landmarks were exciting, but one of my favorite places to go was the Eastern Market. While tourist attractions are great, we wanted to find some more local places to support. Eastern Market had multiple vendors selling everything from rugs to jewelry to clothes to paintings to candles to books and even the best breakfast sandwiches you will ever find.
"My second favorite thing I got to do was attend a women's march for reproductive rights. It was a very powerful and empowering event, and I was glad I had the opportunity to stand up for what I believe in along with thousands of others. I also really enjoyed our trip to the Kennedy Center, where we watched the Hadestown musical performed by Broadway actors. I was also able to go to the congressional baseball game where I saw President Joe Biden make an appearance. Lastly, spending the beginning of the holiday season down at the wharf watching a holiday boat decoration competition parade, ice skating, and listening to the best 2000s throwbacks by a local cover band was definitely a night to remember. LCWS provided us with unlimited U-passes for the metro and buses that made exploring so much easier. Also, the variety and quality of food you find in D.C. is amazing! I would recommend that any student interested in this program spends a semester in Washington, D.C. You won't regret it!"