Career Services at Wittenberg is pleased to offer various opportunities and events to students on a seasonal basis. All events are geared towards your own vocational discernment, professional development, and career readiness. Please take a look at some of our upcoming opportunities below and make plans to participate.
Career March Madness - Championship Bracket
Tiger Break Day Events (Founders Day 2021)
Wittenberg students will have a chance to ignite their future via the University's Career and Professional Development Office while they re-charge and re-fuel on Wednesday, March 10, during the Tiger Time Break Day. Learn More
Virtual Panel Sessions (10:30-11:30AM)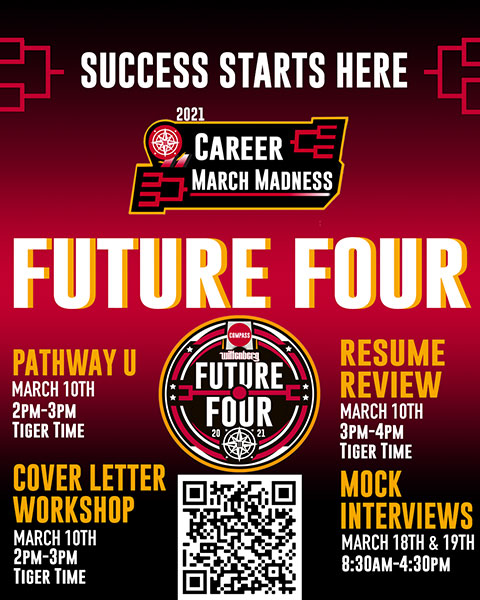 Med-School Alumni Panel: This panel will feature current students attending medical school. They will provide advice from their experience surrounding selecting a school, applications, the MCAT, and changes in med-school due to COVID-19.
Law-School Alumni Panel: This panel will feature recent law school graduates. They will provide advice from their experience surrounding selecting a school, applications, the LSAT, and other helpful information for those interested in pursuing a JD. Time for Q&A will be provided.
Keynote Address: Discussion on the Future of Work and the Evolving Recruitment Landscape (12:00-1:00PM)
COVID-19 has posed numerous challenges to an already fast-changing workforce and employment environment. Damu McCoy, a 1994 Wittenberg graduate, knows these challenges well. McCoy serves as the Vice President of Talent Acquisition for the Target Corporation and will walk students through this topic, as well as how to best prepare themselves for the future that lies ahead. Time for Q&A will be provided for those attending live.
Workshop Sessions (2:00-3:00PM)
Cover Letter Workshop (Holl 124): This session will teach you how to construct an effective cover letter and how to make it pop for potential employers or graduate programs.
PathwayU Wokshop: Pathway U is a personality and career assessment program. The tool evaluates the student based on values, workplace preference, personality, and general interests. Once the assessment is complete, PathwayU reveals specific majors, programs, and job opportunities available both locally and abroad. Through taking this assessment, students will learn a great deal about their future academic and career goals, aid in conversation around major declaration, and provide guidance toward their true passions.
Drop-In Resume Reviews (3:00-4:00PM)
Students wishing to have their resume reviewed during this time should come to the COMPASS: Sweet Success Center that is located inside of the Thomas Library.
Virtual Panel Sessions (4:00-5:00PM)
Careers In Tech: This panel will feature alumni working for tech companies. They will share about their experience working in the industry and will provide time for Q&A. Alumni from Google, Twitter, and Pinterest will be participating.
Careers In Sustainability: This panel will feature alumni working across a broad range of roles related to sustainability. You will hear about how their work intersects with sustainability issues and how they see their work contributing to better stewardship of the environment. Time for Q&A will be provided.
Student & Alumni Virtual Networking Event (6:00-7:30PM)
Students and alumni are welcome to attend this virtual networking event to conclude the "Tiger Break Day." All participants will watch a brief live streamed video and then self-select into a breakout room of choice to begin a moderated conversation with other alumni, students, and friends. This session will take place over Microsoft Teams.
Virtual Career Fairs & Graduate Program Events
Career Services plans multiple career fairs throughout each academic year. In addition, Wittenberg is a member of various professional groups that give our students access to additional outside career fairs. Please see upcoming fairs and registration information below.
Thursday, March 25th (Wittenberg Virtual Career Fair) - Registration Coming Soon
Why You? Mock Interview Program
Prepare for a future job or graduate program interview by participating in the Why You? Program. Being able to communicate your skills and value is important to stand out in the competitive job/education market. Register, get connected with career development support, and then conduct a mock interview with trained professionals. Feedback will be provided throughout the process to help you make improvements! If available, interviews will have alumni participants. Click Here To Register
Spring 2021 Interview Dates (8:30am-4:30pm):
Friday, February 19th
Thursday, March 18th
Friday, March 19th
Mock Interview Program Process
Register To Participate

Fill out the short registration form (Click Here). This will alert us of your intent to participate and set you up to receive resources for preparing for the interview.

Schedule Your Interview

After registering, you will receive instructions for how to schedule your interview time. This information will not be sent immediately, but will come shortly after registration

Utilize Resources & Prepare Your Documents

To participate in your interview, you are required and will be prompted to submit the following:

Link To Target Job/Graduate Program Description
Resume/CV
Cover Letter

In your preparation for submitting these documents, resources will be provided to you by Career Services.

Interview & Receive Feedback

Login early to the virtual waiting room, interview, ask questions, and receive feedback from your interviewers. Professional dress is expected for the interviews.

Complete Survey & Review Feedback

After interviewing, you will be sent a survey about the program and you will have the opportunity to make suggestions for future changes. You will also receive notes on the resume and cover letter that was submitted which you can use to make changes.
Spring Resume & Cover Letter Workshops
Career Services is hosting multiple resume and cover letter workshops during the spring semester. All workshops will take place over Microsoft Teams and a link will be sent to each person after registration.
Crafting A Resume Workshop
Crafting A Cover Letter Workshop
Wednesday, March 10 (Career Development Day)
Virtual Info Sessions & Coffee Break Conversations
Due to restrictions in response to the present pandemic, we have moved many of our typical events to a virtual format. These virtual info sessions and "Coffee Break Conversations" will take place on select Thursdays during common hour (12-1pm). Check out upcoming events below and register to receive the Zoom link.
Past Coffee Break Conversations
Thursday, October 29th at 12pm - Information Session with Northwestern Mutual
Thursday, October 1st at 12pm - A Year With YAGM (Olivia Slagle)
Thursday, September 24th at 12pm - Development & The Arts (Katharine Nemeth '10)
Thursday, September 3rd - Venture Capital with The Ohio Innovation Fund (Post Session Recording Coming Soon)