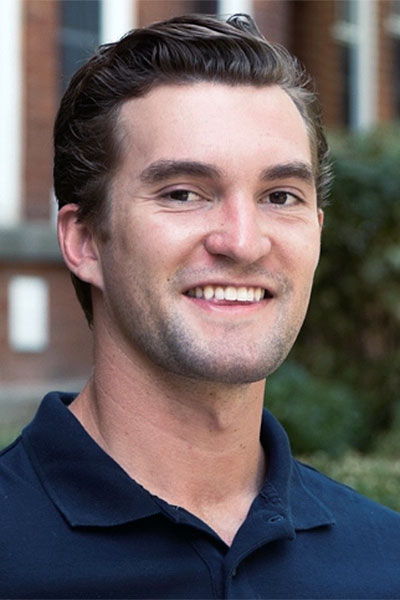 Assistant Director for Career Exploration and Engagement
batest@wittenberg.edu
Education:
B.A. Wittenberg University (2018)
Professional Bio:
Prior to returning to Wittenberg, Tim Bates worked with MurphyEpson, a public relations and marketing agency located in Columbus, Ohio. There, he served as an Account Coordinator, Account Manager, and Virtual Meetings and Events Lead. Through these various roles at ME, Tim managed public and private sector client accounts with combined budgets of over $25 million. He also led annual summer internship programs and new hire training initiatives.
At Wittenberg, Tim's role includes creating, maintaining, and sustaining over 200 internship and experiential learning partnerships with companies across the U.S. and internationally, as well as managing and capturing data for the university internship process. Tim is active in advising students on resumes, cover letters, mock interviews, overall career guidance, job and internship searches, and experiential learning opportunities. He works with other partners, both on and off campus, to establish avenues for alumni and friends of the university to connect with students for vocation and career exploration, mentorship, and professional opportunities. Finally, Tim assists with employer relations across U.S. and is the main point of contact for employers in the Columbus, OH region.
Q&A With Tim:
Q: Why are you passionate about assisting students in preparing for their professional life after graduation?
A: My passion and energy for this is deeply rooted in my upbringing, as well as the opportunities I had during my time as a student at Wittenberg. Both of my parents are teachers and coaches and to them, being asked to give students their diplomas or receiving invites to graduation celebrations meant more than pay checks or industry recognition. For as long as I can remember, I've wanted a profession that would allow me to give back and make positive impacts on people's lives. During my time as a student, I had mentors and leaders that helped guide my career journey in authentic and genuine ways. Now when I meet with students and see them light up while talking about their passions and then can connect them with alumni or employers for job opportunities, I'm energized knowing that the student has more clarity and confidence in their ability to have a career doing what they love. That energy tells me that I'm doing what I'm meant to do.
Q: Can you share a story about a funny or embarrassing experience you had in the hiring process?
A: During my time at Wittenberg, I found an internship on LinkedIn for a "Leadership Development" position at a "High Profile Company." It stated that I would be a mentee to the CEO and earn more than other college interns. I applied with a perfect resume and cover letter, sent an email of interest to the listed contact, and pressed my suit. I showed up 30 minutes early to what I thought was a one-on-one interview with the company's CEO and handed a copy of my resume to the receptionist. Instead, I was met with laughter and told to sit in a large room with about 40 other people. I was the only person in the room wearing a suit and the only person sitting in the front row when the lights went out, disco lights came on, and music started blaring. The person I was in contact with and five other people danced around the room asking if we were ready to get rich, then gave a presentation about how if we worked for them, then got three people to work for us, and each of those people got three people to work for them... What I learned from this experience was to always do as much research as you possibly can on companies and their employees before applying for positions. And, to run the other way if a receptionist laughs when you say you're there for an interview!
Q: What's a fun fact about yourself that others might not be aware of?
A: I'm an assistant baseball coach at Westerville South High School, and the head coach of an 18U travel baseball team in the Columbus, OH area.