In 2022, Wittenberg University hosted a "Witt Wednesday Podcast" to highlight our alumni and to allow them to share advice with our students.
Most people do not begin their careers in leadership or management positions. However, that doesn't mean you can't demonstrate leadership from the earliest moments of a new entry-level position. The Witt Wednesday Podcast focused on alumni, their perspectives on leadership, and their advice for students who are about to begin their career journey.
Click on the graphic below to listen to any of the Witt Wednesday Podcasts: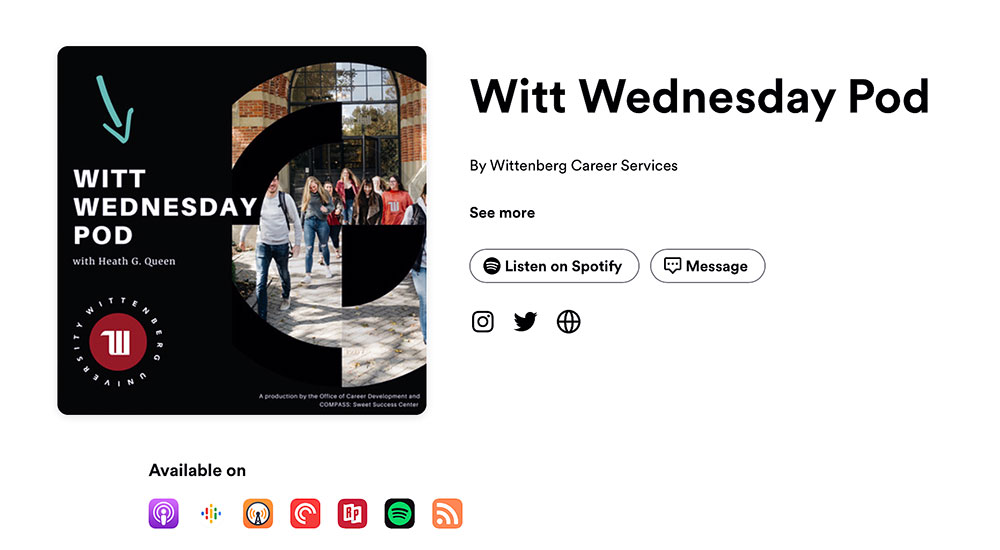 2022 Alumni Guests
Dr. Ben Burkam
Podcast Date: May 25
Physician @ Ohio Health & The Columbus Blue Jackets

Ron Cunningham
Podcast Date: June 1
Business Development Manager @ BMI Federal Credit Union

Bill Habermeyer
Podcast Date: June 8
President & CEO @ The Florida Business Development Corporation

Jeff Guyton
Podcast Date: June 15
President & CEO @ Mazda North America

Swati Shivshankar
Podcast Date: June 22
Senior Strategist @ Ogilvy (Singapore)

Dr. Chandra Donnell Carey
Podcast Date: June 29
Academic Associate Dean @ The University of North Texas

Brittany Minton
Podcast Date: July 6
Head Registrar @ Peabody Essex Museum

Evelyn Jones
Podcast Date: July 13
Hospitalist @ Cincinnati Children's Medical Center

Manny Lamarre
Podcast Date: July 20
Senior Advisor, US Department of Labor

Sean Buchan
Podcast Date: July 27
Founder & Head Brewer, Cerebral Brewing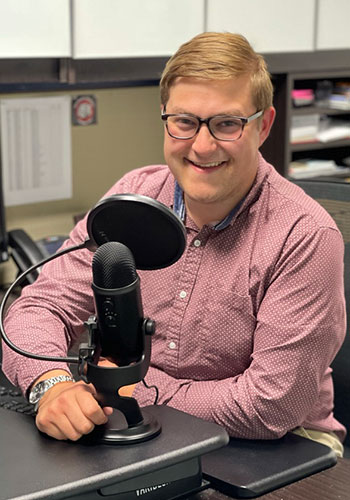 Podcast Host: Heath Queen '16 was the host of the Witt Wednesday Podcast in 2021 and 2022. Heath also served on staff for the University in various career development roles, including serving as the co-director for the Communication and Business Leadership Experience (CABLE) from 2017-2021. Throughout his time on staff and as an alumnus, he grew to love meeting and engaging with alumni across the country as they supported the career goals of current Wittenberg Tigers. He currently resides in Minneapolis, Minnesota, and is finishing his Master of Divinity degree at Luther Seminary.