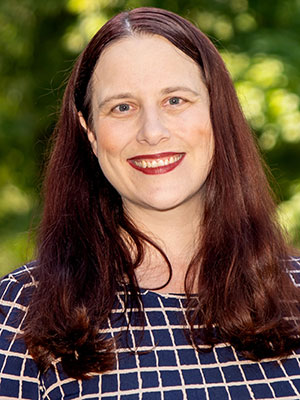 Matevia Endowed University Pastor
paschkejohannest@wittenberg.edu
(937) 327-7413
The Reverend Tracy Paschke-Johannes joined the community at Wittenberg University as the Rev. David and Carol Matevia Endowed University Pastor in August 2022.
An ordained minister in the Evangelical Lutheran Church in America (ELCA), Paschke-Johannes previously served as chaplain with Hospice of Cincinnati and with Epiphany Lutheran Church in Dayton, Ohio. In those positions, she was responsible for assessing the spiritual needs of individuals and families, which included using their personal beliefs and traditions to create meaning and increased peace. She also assisted individuals and families in creating purpose during times of significant end-of-life transitions.
Serving individuals from diverse faith traditions and cultural and socioeconomic backgrounds, Paschke-Johannes ensures that rituals, faith practices, and cultural values are honored. She applied for the position at Wittenberg out of a deep respect for the power of a liberal arts education, and she currently co-chairs the President's Council for Diversity, Equity, and Inclusion.
At Wittenberg, Paschke-Johannes partners with a variety of offices, as well as senior administration, to define and articulate a vision for religious and spiritual life while directing programs and activities designed to nurture the spiritual growth and development of students. In addition to providing leadership for the religious community on campus, including the Interfaith Committee, promoting wholeness and growth among a diverse and changing student body, pastorally supporting students, faculty, staff, and others members of the University community, and stewarding and representing the ELCA at the institution, Paschke-Johannes guides and supports the ministries of such faith-based student organizations as the Weaver Chapel Association, Athletes in Action, Cru, IMANI Gospel Choir, Jewish Culture Club, Common Ground, and Newman Club. She also assists students eager to develop their own spiritual identities and campus programming initiatives, along with developing and implementing strategies to promote a creative and faithful culture of worship.
Having received her Master of Divinity from Luther Seminary in St. Paul, Minnesota, Paschke-Johannes has served the church since 2008. She also has a master's degree in communication from Ball State University in Muncie, Indiana, and a bachelor's degree in communication from Midland University in Fremont, Nebraska, along with five years of experience teaching and coaching college students.
Her other professional experience includes being the lead pastor at Holy Trinity Lutheran Church in Muncie, Indiana, from 2008 to 2015. Additionally, Paschke-Johannes was an assistant professor of communication at Bethel University in St. Paul, Minnesota, and a graduate teaching assistant at Ball State. She has also served her communities as co-chair of the Diversity & Inclusion Committee for Hospice of Cincinnati, as a founding board member of Parents Empowering All Children of Color in Springboro, Ohio, as an interfaith ministry coordinator at Leaders For Equality & Action in Dayton, as a board member of Project Stepping Stone in Muncie, and as a council member of the Indiana-Kentucky Synod in Indianapolis, Indiana.
Paschke-Johannes serves as a member of student development leadership team with additional reporting to the president. She succeeded The Rev. Rachel and Anders Tune, the inaugural holders of the endowed position, following their retirement after 23 years of dedicated service to Wittenberg.