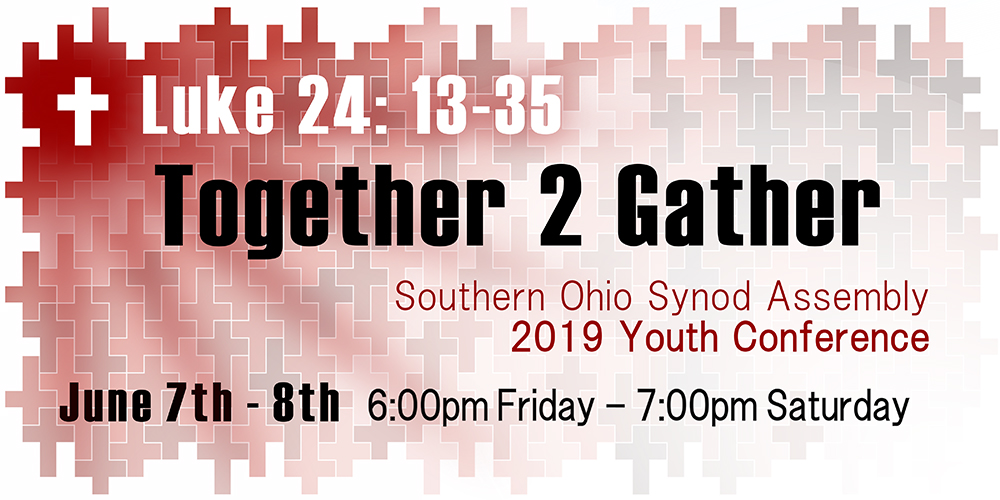 Synod Youth Conference Introduction Letter
Together 2 Gather is a youth conference coinciding with the 2019 Southern Ohio Synod Assembly at Wittenberg University. The event is June 7-8 starting at 6:30 p.m. Friday and ending at 7:00 p.m. Saturday. The cost is $30 per person and includes all activities and housing in the Tower Hall dorm as well as snacks and breakfast, lunch, and dinner on Saturday. This event is for youth entering seventh grade in the fall of 2019 up to graduating seniors and their adult leaders. In order to register please complete the registration form and select your payment method below on this page.
Please note that check-in has been moved to 6:00pm because all youth are now invited to participate in the opening procession for the Friday evening worship. At check-in youth and their adult leaders will be instructed where youth will need to line up for the procession.
Event activities include:
SOS Assembly Worship
Gathering Sessions
Super Sardines
Board Game Lounge
Bishop's Election Watch Party
Leadership and Service Workshops (more info about workshops coming soon)
Summer Snowball Fight
and much much more
Online Registration & Payment