The HWA is an investment in the future of Wittenberg, our students, and our region.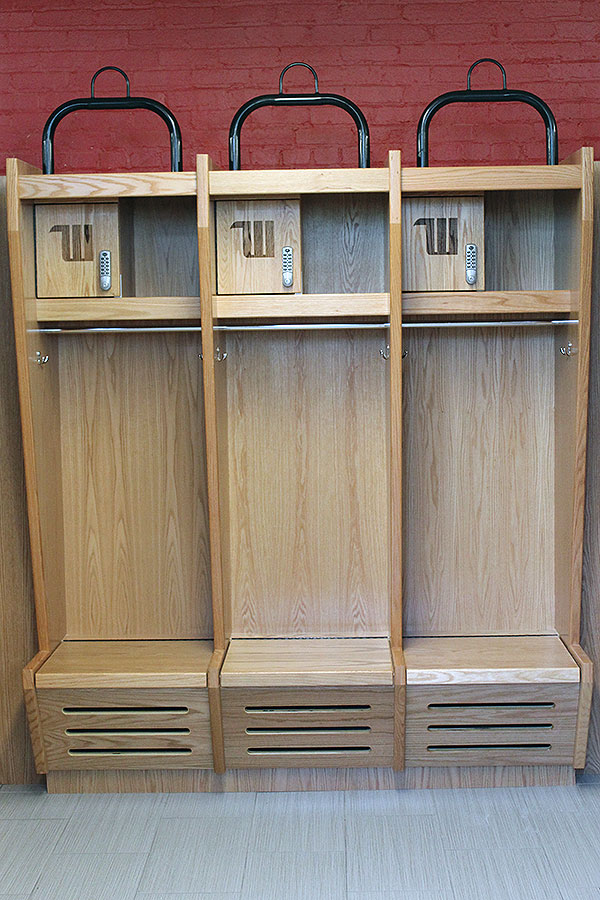 Defined by competitive spirit and Tiger pride, Wittenberg also ensured that its new facility provides scholar-athletes with locker rooms that feel like second homes during their respective sports seasons. Conveniently located near all training facilities, the rooms are filled with brand-new durable, long-lasting lockers that offer security, charging stations, and storage components. They also reflect the Tiger legacy.
Help scholar-athletes feel that legacy of athletics excellence through locker donations. For $1,500, a brushed aluminum nameplate featuring your name and or the name of someone who made a difference in your life will be placed on a Wittenberg locker in the new Health, Wellness & Athletics Complex. Through your generosity, current students will then be able to see the names of those who came before them, reminding them of the tradition that they must now carry forward.
To make a gift, purchase a locker, or learn more about more naming opportunities, contact Vice President of Advancement & Alumni Relations Rebecca Kocher at (937) 327-7426 or by email at kocherr@wittenberg.edu.
Giving Options
| | |
| --- | --- |
| Space | Gift Amount |
| Football Lockers | $1,500 per locker |
| Men's Locker Suite Lockers | $1,500 per locker |
| Men's Soccer Lockers | $1,500 per locker |
| Men's Lacrosse Lockers | $1,500 per locker |
| Golf/Tennis Lockers | $1,500 per locker |
| Women's Volleyball Lockers | $1,500 per locker |
| Men's Volleyball Lockers | $1,500 per locker |
| Men's Basketball Lockers | $1,500 per locker |
| Women's Basketball Lockers | $1,500 per locker |
| Women's Swimming and Diving Lockers | $1,500 per locker |
| Men's Swimming and Diving Lockers | $1,500 per locker |
| Women's Soccer Lockers | $1,500 per locker |
| Women's Lacrosse Lockers | $1,500 per locker |
| Women's Field Hockey Lockers | $1,500 per locker |
| Women's Softball Lockers | $1,500 per locker |
| Track & Field/Cross Country Lockers | $1,500 per locker |
| Women's Public Lockers | $1,500 per locker |
| Men's Public Lockers | $1,500 per locker |
Health, Wellness & Athletics Restoration Initiative Home Page