Wittenberg's commitment to developing the whole person includes academic programming that emphasizes Health, Fitness, and Sport.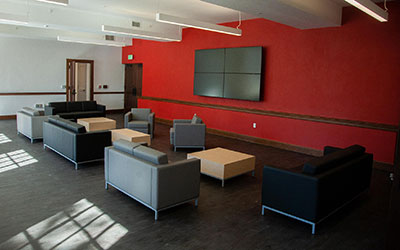 Degree programs in Sport Management, Exercise Science, and a Master of Arts in Athletic Coaching are among the areas of academic study that are utilizing the HWA Complex.
Students engaged in these degree pursuits have new and exciting academic opportunities. Outdated, interior spaces within the facilities were renovated to include a strength training and wellness center, a multipurpose recreational room for group fitness classes, and spacious gathering spots in which students can study or relax (pictured). In addition, there are a host of new state-of-the-art classroom spaces.
"Wittenberg has a tremendous academic reputation, which is one of the reasons I chose to come here after 11 years at another institution. I also chose here because of the newer exercise science program, which has a fantastic new home in the HWA, and in which I have an opportunity to help grow the program and collaborate with others to have the best prepared students of any institution."
John Thistlethwaite
Associate Professor of Health, Fitness, and Sport
Sport Management
The Sport Management major at Wittenberg provides students with academic preparation and practical training that are required to be successful in various careers in the sport industry, including professional sport, intercollegiate athletics, interscholastic athletics, recreation, or health and fitness.
Exercise Science
Exercise science at Wittenberg provides students with academic preparation and practical training that are required to be successful in various careers in the growing field of exercise science.
Master of Arts in Athletic Coaching
Wittenberg's Master of Arts in Athletic Coaching program is designed to provide students with crucial skills and insightful knowledge to become strong leaders in the coaching profession.
Experiential Learning
Experiential learning through field experiences, internships, classroom activities, and case studies are emphasized throughout the curriculum and by Wittenberg faculty. Additionally, students are encouraged to seek out internships and research experiences that match their interests in the field. The Health, Fitness and Sport faculty enjoys working with students in identifying and obtaining these experiences.
"I was lucky enough to have classes in the 1929 building before it was renovated, so seeing the changes firsthand has been exciting! The spaces are almost unrecognizable from before (in a good way), and I'm excited for the rest of the students, faculty and staff to be able to use this new facility. I think it definitely provides for a better learning environment!"
Morgan Siefert '19
Sport Management Major
Internships
This region of the country offers many opportunities within professional and minor league teams, i.e., Columbus Blue Jackets, Columbus Clippers, Dayton Dragons, Cincinnati Reds, Cincinnati Bengals, etc.; Area high school and college athletics departments; municipal parks and recreation departments; private sport facilities, including golf and tennis clubs, health clubs; marketing and athlete representation agencies, and Wittenberg's own athletics department.
Research opportunities in partnership with Wittenberg faculty also abound, including in sport marketing, branding, sport law, and event and facility management, among others.