Building Community, Connections, Capacity, Champions - The New Era of Excellence Begins
Click Here For Full HWA Grand Opening Photo Gallery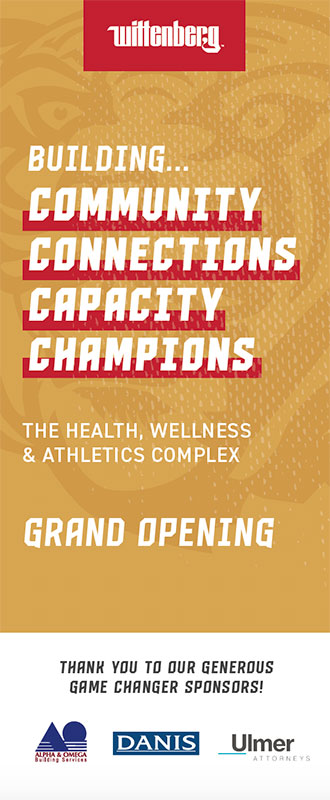 On October 25, 2019, Wittenberg celebrated the opening of its 265,000-square-foot fully expanded and renovated Health, Wellness, and Athletics Complex during Homecoming & Reunion Weekend.
Sincerest thanks to our Game Changer event sponsors Alpha & Omega Building Services, Danis, and Ulmer Attorneys. The University is also grateful to HP Group LLC and MCM Company, as well as Bill '89 and Ashley Edwards, and Steve '75 and Mary Alice Neely '75.
From various proclamations to students sharing their stories at respective stations throughout the facility to special tours of the complex, the Grand Opening festivities inspired all who were present, highlighting the exciting new possibilities for experiential learning, community-building, and regional and national partnering now available through the HWA Complex.
The grand opening celebration was streamed live on the university's Facebook page. That live video is available for viewing below.