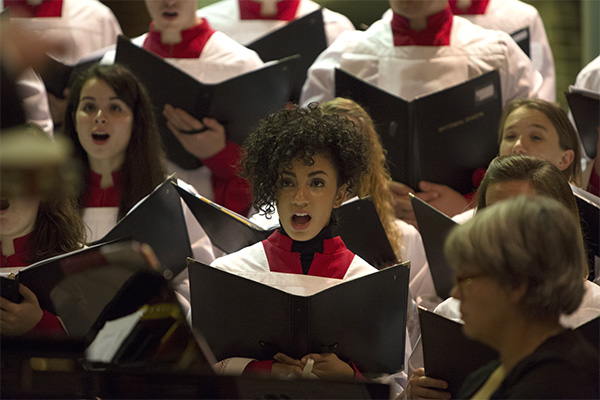 Wittenberg seeks to identify students who wish to study and participate in music at the college level: in applied lessons, music ensembles, and in pursuit of a music minor or one of Wittenberg's two music majors: the B.A. in Music (which is often combined with a major or minor in another area, such as theatre, communication, business, biology, psychology, or English, or can be the first step toward a career in music therapy) or the B.M.E. (which leads to certification for public school instruction).
Wittenberg's Music Department has been an accredited member of the National Association of Schools of Music for 90 years. The department combines an excellent faculty and first-rate facilities in the midst of a small, residential college. Wittenberg has more Ohio Professors of the Year than any other four-year college or university in the state. More than $375,000 in music scholarships are awarded annually. Several dozen scholarships are awarded each year, available to all students regardless of major, for voice, band and orchestral instruments, piano, organ, and classical guitar. To learn more about Wittenberg music scholarships, click here.
To the student:
After submitting an Audition Request, please give this link to one or two teachers who are familiar with your capabilities as a musician and ask them to complete the form below.
To the teacher:
Please complete the form below. If you have any questions, contact Daniel Kazez (Professor of Music & Music Audition Coordinator) via email at dkazez@wittenberg.edu.