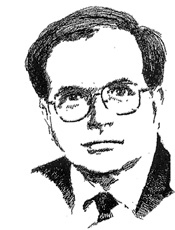 Professor, Emeritus
cgeorges@wittenberg.edu
Corwin Georges, Professor Emeritus of Theatre and Dance, formerly chaired the Department of Theatre and Dance where he taught directing, improvisation, history of the theatre, and child drama. His directorial work includes: The Laramie Project, Major Barbara, Becky's New Car, and The Women of Lockerbie. His publications include works in theatre history, integrating drama in education, and arts education assessment.
Georges has served as chair of the Ohio Arts Education Advisory Committee, national chair of the Kennedy Center Alliance for Arts Education Network, and as president of the Ohio Theatre Alliance and the Ohio Alliance for Arts Education. He served on the steering committee of the Ohio Arts Education Assessment Project, designed Ohio's teacher licensure protocol for university and college arts programs, evaluated college theatre programs, and worked as an arts education consultant for several school districts in Ohio. He has served as a panelist for Dayton's Culture Works, Cleveland's ICARE Project, the Greater Columbus Arts Council, and the Ohio Arts Council. He served as a steering committee member and artist in Project Start ID, a state-wide effort to develop methods for identifying children gifted in the arts.
Georges has reviewed teacher licensure programs for the Ohio Department of Education, was a member of the writing teams for Comprehensive Arts Education: Ohio's Model Competency-Based Program and Common Expectations for Ohio's Schools, a member of the Arts Academic Content Standards Advisory Committee and a member of the Advisory Committee for the Model Curricula. He has conducted two Arts Education research projects with the Tri-County Educational Service Center and Wayne Center for the Arts under the auspices of the Kennedy Center Partners in Education Program. During the past five years he has provided program assessment for youth theatre and afterschool youth arts programs. He served as project director and editor for the 1996, 2000, and 2005 editions of Status of Arts Education in Ohio's School Districts and is currently working on the 2011 edition of the survey. He received the Ohio Theatre Alliance's Outstanding Achievement Award for founding the Ohio Playwrights' Workshop, and was inducted into the Ohio Educational Theatre Hall of Fame in 2003. He received the Wittenberg University Alumni Association Distinguished Teaching Award and in 2009 recieved the Governor's Award in Arts Education. He has also been recognized for his work as a director by the Miami Valley Press.
Georges received his B.A. from Morehead State University and his M.A. and Ph.D. from The Ohio State University.