This study abroad program offers Wittenberg students the chance to connect with the university's Lutheran heritage and gain international work experience.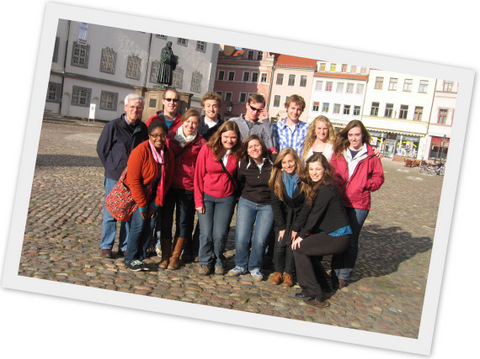 With immeasurable support from the city, Wittenberg developed its own distinctive study-abroad opportunity, designed to be academically and financially accessible. From there, the Wittenberg in Wittenberg program was born. Each spring semester since 2011, a group of students and a faculty member from Wittenberg University have studied, worked and lived in Lutherstadt Wittenberg (right - group photo from inaugural semester in 2011).
Unlike most study-abroad opportunities, Wittenberg's program offers tuition exchange, which allows students to maintain all of their financial aid while studying at Colleg Wittenberg, taking rigorous language courses from Universtät Halle-Wittenberg professors and intensive culture courses from their Wittenberg professor. With no foreign language prerequisites, the program enables students from all disciplines to participate. So far 20 out of Wittenberg's 31 majors have been represented.
Those who participate undergo a rich cultural immersion throughout their stay, the quality and depth of which is evidenced by the unparalleled access and opportunities students have as they explore Wittenberg's Lutheran heritage, grow as responsible global citizens, discover their callings and pursue their passions.
A full semester program that will earn 16-18 credits (directly from Wittenberg University)
No prior German is required
Classes are taught by both Wittenberg professors and Halle-Wittenberg professors.
Residence in American-style residence hall in historic heart of city
Program Costs are Wittenberg University tuition, as well as room and board (ALL financial aid and scholarship, with the exception of work study awards, are applicable). Students will need to cover airfare as well as spending money
Internships are included in the fields of business, education, political science, international studies, history, philosophy, English, communication, biology and many others
Complete language requirement and other Wittenberg general education requirements
For more information, please contact the Spring 2024 leader, Dr. Brian Yontz: