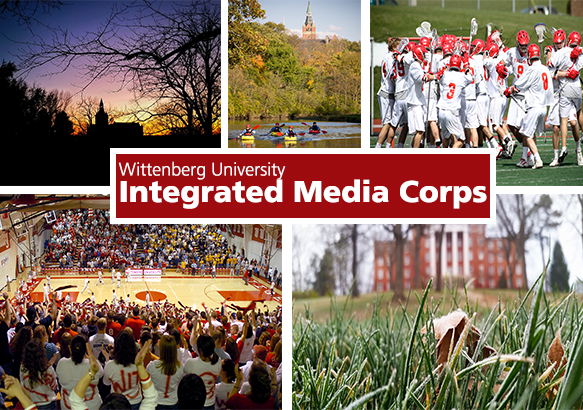 Integrated Media Corps (IMC) is a co-curricular initiative with the goal of providing opportunities for students to gain hands-on experience in a variety of communications, public relations and multimedia fields. All students, regardless of their academic year, are eligible to apply and go through the interview process, which typically takes place each year in March.
Students work with faculty members in Wittenberg's Department of Communication and administrative professionals in the Office of University Communications to gain a wide range of experience and expand their knowledge base. Work projects include, but are not limited to, updating websites, collaborating on public relations and media relations projects, photography, managing social media accounts, fulfilling requests for multimedia projects, and many other deliverables.
"During my two years in the Integrated Media Corps, I have gained a tremendous amount of knowledge and practical skill in media," said Stephanie Glass '17. "This program has allowed me to shape my own education by following my passions and creating projects that interest me, learning and building as I go."
In addition to hands-on experiences, IMC students often have the opportunity to learn about their fields of interest from professionals, in addition to discussing progress on assignments and engage in conversation about industry trends. Past speakers have included radio station general managers, television personalities, social media managers, public relations professionals, website managers, video production specialists and filmmakers.
Integrated Media Corps students are paid for their work. To learn more about the program or to apply to participate, contact one of the current program advisors:
Ryan Maurer, Senior Writer & Web Content Specialist
(937) 327-6114
rmaurer@wittenberg.edu
Cindy Holbrook, Senior Communication Assistant
(937) 327-6171
holbrookc@wittenberg.edu
Learn more about the IMC: