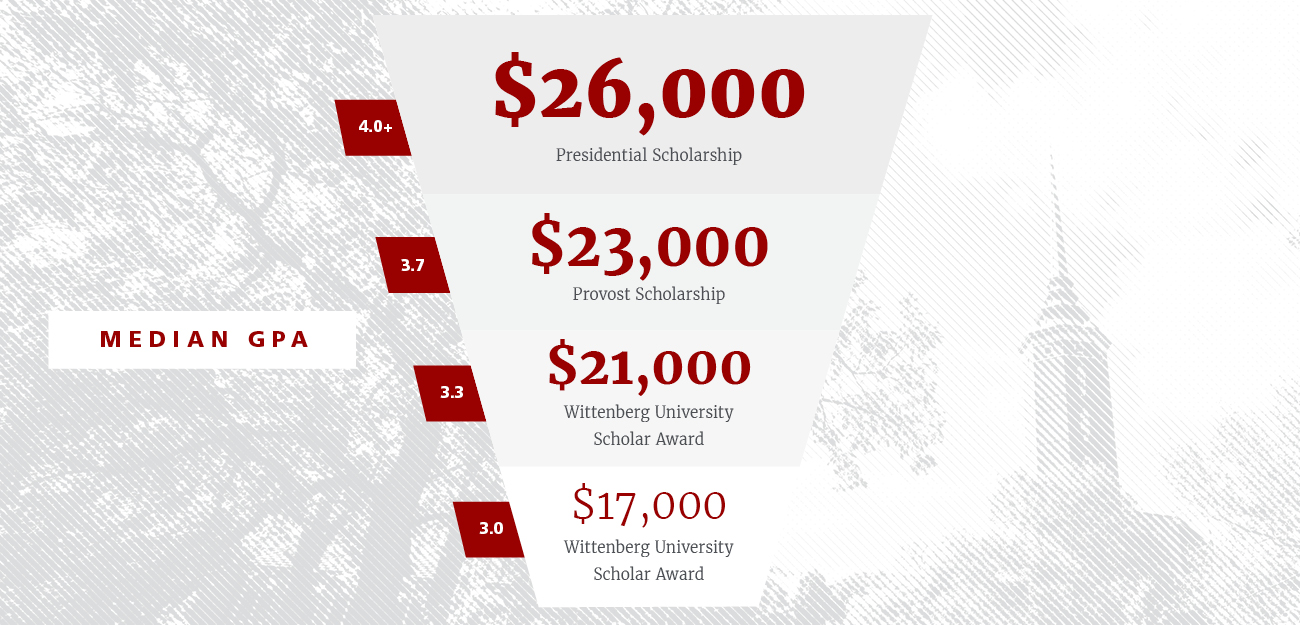 The high school grade point averages listed above are based on the median GPA for each scholarship. As a test score optional institution, submission and consideration of test scores may also impact your merit scholarship. Eligibility is not a guarantee based on information provided here.
Check out our Net Price Calculator:
To learn your estimated Wittenberg Scholarship, or a full estimate of your cost to attend Wittenberg, click here
Honor Award ($6,000)
Based on good citizenship, personal references and involvement in co-curricular activities.
Broadwell Chinn Award (Starting at $17,000)
Students who apply by the Early Action 1 deadline of December 1 will be given consideration for this award.
With Wittenberg's commitment to diversity and inclusion, the Broadwell Chinn Award is awarded to selected students who have identified themselves as being minority and/or from underrepresented backgrounds and who have shown overall academic achievement and leadership.
Yellow Ribbon Grant (Up to full tuition)
This grant is offered to military veterans and/or their families. The recipient must be a child of a military veteran who qualifies. The scholarship, when combined with other VA benefits, provides up to full tuition to qualifying applicants. Eligible students must work with the VA to apply for this award.
Scholarship Eligibility
Students are automatically considered for a Wittenberg Scholarship when applying for admission.
For priority consideration for all scholarships, students must apply by Wittenberg's Early Action deadline of December 1.
All Wittenberg Scholarships will be renewed for up to four years if the student maintains good academic standing.
Students may receive only one Wittenberg Scholarship.
In addition to scholarship opportunities, applicants to Wittenberg may be eligible for need-based financial aid. To be considered for financial aid, submit the Free Application for Federal Student Aid (FAFSA), which is available online, by the priority filing date of January 1.