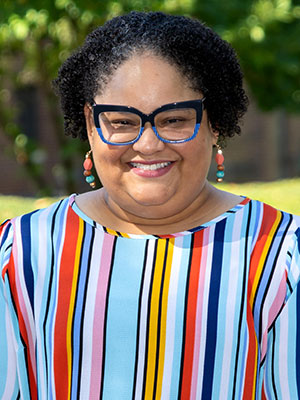 Assistant Dean for Diversity, Inclusion, & Belonging
Director of McClain Center for Diversity
scalesj@wittenberg.edu
(937) 327-6163
Education:
M.Ed. University of Cincinnati (2004)
B.A. Denison University (2001)
Professional Bio:
Wittenberg University is the 5th higher educational environment that Joi has worked in. Her primary focus serving as an advocate for underrepresented students and providing leadership and oversight for diversity and inclusion initiatives while serving as an institutional and educational resource for faculty, staff, and students on DEI issues. Most recently, Joi spent the last three years at Wittenberg managing the Student Employment program and providing leadership in the Career and Professional Development area. Prior to working at Wittenberg, Joi worked at the University of Dayton for eight years ensuring efficient operations and human resources functions for conference services and the housing department. Prior to UD, Joi spent five years in Atlanta, Georgia at the Georgia Institute of Technology in traditional Residence Life functions supervising both undergraduate and graduate student workers. While in graduate school, she worked with the Legal Aid Society of Greater Cincinnati to set up the Domestic Violence clinic operations with the University of Cincinnati College of Law as well as served as a graduate assistant for Student Activities and Leadership Development focusing on diversity programs. Joi's introduction into higher education began after she graduated undergrad where she served as an intern at the College of Wooster in Residence Life and the Office of Multi-ethnic Student Affairs (formerly the Office of Black Student Affairs).
Q&A With Joi:
Q: Why are you passionate about assisting students in preparing for their professional life after graduation?
A: As a first-generation college student, I found it life-changing to have higher education professionals assist me in achieving academic success and, ultimately, graduating with a degree from Denison University. There were moments when I did not think I would be able to continue and that I would drop out altogether. Those individuals dedicated their time, knowledge, and encouragement to see me through. Given the opportunity to intern and see, from the other side, the impact I could have on students in the same way, I was sold that this was my life's calling. Part of the "success" battle is getting through college; the next step is being set up for success after college. I get to play a unique role in helping students develop sustaining life skills and habits that help them beyond graduation. This, to me, is the meaning of success and why I am passionate about assisting students with their professional career plans.
Q: Can you share a story about a funny or embarrassing experience you had in the hiring process?
A: This story isn't funny or embarrassing (or maybe it is!?). When I was searching for work straight out of graduate school, I applied to be an admissions counselor at a nearby institution of higher education. I waited until just prior to my interview date and backed out. I wasn't confident in my ability to deliver the required presentation as part of the interview process. I learned valuable lessons about what I needed to work on as a professional (where my strengths and weaknesses were) and my readiness to take on certain positions.
Q: What's a fun fact about yourself that others might not be aware of?
A: I love Marvel comics, specifically X-Men! On my days and nights off, you might catch me searching on a marvel or x-men fan page learning about a character's history and powers!