MLK Jr. Events 2023
Hagen Center MLK Day of Service (News Release)
Student Center Geil Lounge
2 p.m. Monday, January 16
Contact: Rachel Scherzer
Presentation by Dr. Brian Yontz
"Brown is Almost 70! The Legacy of the Landmark Supreme Court Ruling on the De-Segregation of Schools"
9:30 a.m. Tuesday, January 17
Presentation by Dr. Julius Bailey and Dr. Chad White
"Martin L. King Jr and Abraham Joshua Heschel: Collaboration for Liberation"
Hollenbeck 318
9 a.m. Wednesday, January 18
Presentation by Dr. Vanessa Plumly
"Fasia Jansen: From Concentration Camp Forced Laborer to Post-WWII German Activist"
Hollenbeck 234
1 p.m. Wednesday, January 18
Presentation by Dr. Billy Davis
The Psychology of American Racism"
Barbara Deer Kuss Science Center, Bayley Auditorium
3 p.m. Thursday, January 19
Presentation by Dr. Marlo Starr
"Fragments of an Epic Memory: Black Diasporic Poetry"
Hollenbeck 131
2:30 p.m. Thursday, January 19
A Public Dialogue by Dr. Julius Bailey and Dr. Chad White
"What does Religious Community Look Like Today"
105 Shouvlin
9 a.m. Friday, January 20
Presentation by Dr. Travis Proctor
"Mine Eyes Have Seen the Glory: Religion and Social Justice in Dr. Martin Luther King Jr.'s Final Speech"
Barbara Deer Kuss Science Center 262
11 a.m. Friday, January 20
Biological and Environmental Sciences Presentation
The Martin Luther King, Jr Week Symposium
Bayley Auditorium
2 p.m. Friday, January 20
Contact: Kunal Chatterjee
A Dialogue with Rapper Tronee Threat and Dr. Bailey's Phil 103: Living Ethically Class
"The Art of Living Ethically After Prison"
318 Hollenbeck Hall
9 a.m. Monday, January 23
Tronee Threat: Hip Hop Performance!
"Who U Witt"
Founder's Pub (Free snacks, cash bar)
7 p.m. Monday, January 23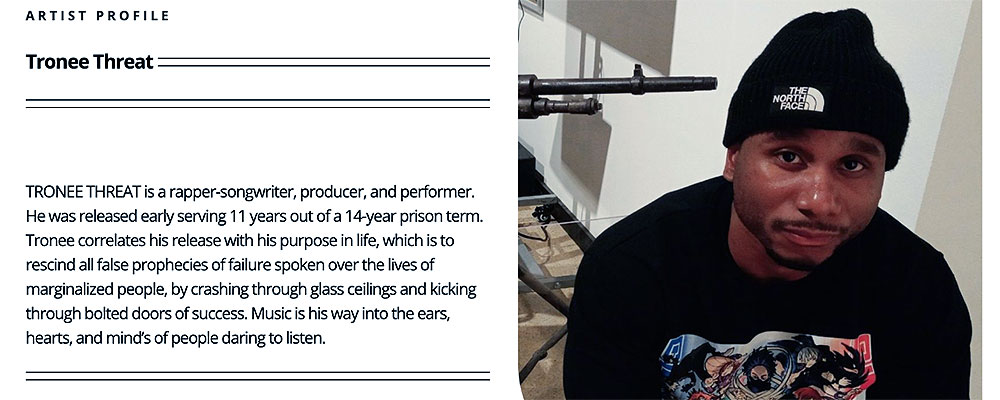 Presentation by Dr. Scott Rosenberg
Trans-Atlantic Slave Trade and Origins of Racism
Hollenbeck 316
11 a.m. Monday, January 30
Presentation by Dr. Elena Dahl
Film Screening of "Redlining: Mapping Inequality in Dayton and Springfield"
Kissell Auditorium, Koch Hall
2:30 p.m. Tuesday, February 14
Presentation by Dr. Julius Bailey with Dr. Chad White
"The Black Church and The Civil Rights Movement"
316 Hollenbeck Hall
2:30 p.m. Tuesday, February 21
Presentation by Dr. Julius Bailey
"(LWB) Loving While Black: The Radical Politic of Soul"
316 Hollenbeck Hall
2:30 p.m. Thursday, February 23
Take a look back:
---
Tiger PRIDE Lavender Graduation Celebration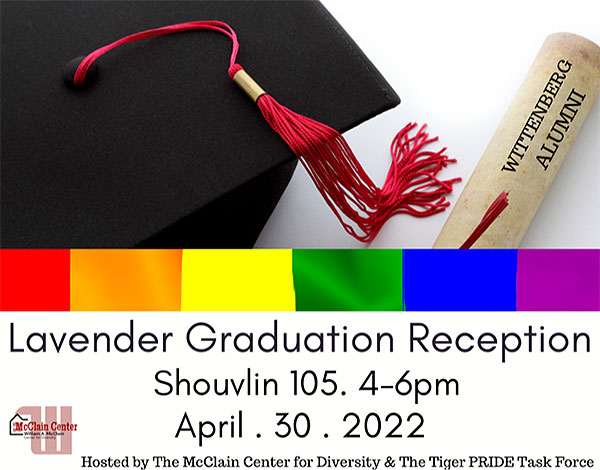 The McClain Center for Diversity and The Tiger PRIDE Taskforce annually hosts a Lavender Graduation for all students that identify within the LGBTQ+ Community. We have refreshments for our attendees and present the students with their rainbow chords, which may be worn at commencement (if they so choose).
---
Hitimu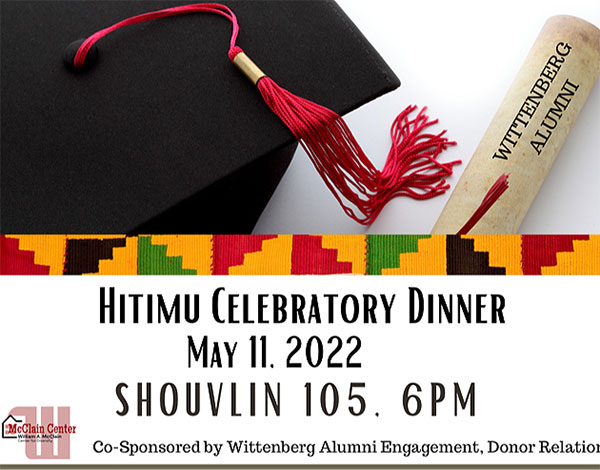 The McClain Center for Diversity will be hosting The Himitu Black Congratulatory Dinner for the African American and Latinx Student Graduates. Sponsored by Wittenberg Alumni Engagement office. Please Register no later than May 1, 2022.
---
Black History Month 2021
Wittenberg University offered a wide range of outstanding programming for Black History Month 2021. Learn More
---
Unity March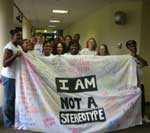 Developed in an effort to promote interracial unity between Wittenberg University and the City of Springfield. Each year, students organize the march that begins on campus, moves through the City of Springfield, and ends back on campus with singing and activities that reflect the unity seen in this community. Bands, choirs, and student organizations all cooperate to make this one of the most successful campus events each year. View Photos from past Unity Marches...
---
CBS Walkout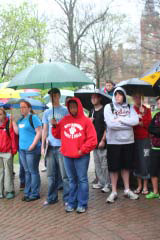 Concerned Black Student (CBS) hosts an annual Walkout to pay tribute to the 38 of the university's then-45 black students who walked off campus in protest in 1969 after negotiations surrounding 14 demands for racial diversity between the administration and the then-recently founded CBS failed. According to William Kinnison's Modern Wittenberg, the second of his two-part history of Wittenberg, the list of demands presented by CBS in 1969 included the recruitment of more black students, the hiring of black faculty and staff, and the offering of courses in black studies. The list of demands was prompted by the unwarranted arrest of three black guests who were visiting from another school, and the protest ended after CBS and the administration reached an agreement.