Comedian Kelly Kellz, B.S.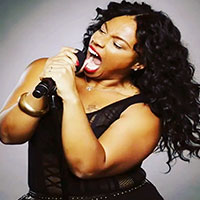 HBO's All Def Comedy Comedian, Mrs. Kelly "Kelly Kellz" Davis has been living her dream of "bringing laughing to the soul" since 2009 after moving her family to New York to pursue comedy full time.  Aside from doing comedy shows and hosting events all over the nation, from Black College Homecomings to Broadway Stages, Kelly partnered with Milwaukee Health Services and the NFL Crucial Catch Initiative, to promote Breast Cancer Awareness and the importance of early screenings.  She also joined the Greek Comedy Tour in 2016, touring the country with her peers / colleagues, encouraging members of Black Greek-letter organizations to challenge negative stigmas regarding Greek life, and promoting college graduating especially. She is also a part of the Girls Night Out For Laughs Tour, which is a variety show composed of comedy, poetry, and singing, hosted by Vivica Fox.  In 2017, Kelly made her first television debut appearing on HBO's All Def Comedy Jam.  Most recently, Kelly performed at the Symphony Space Theater on Broadway, in New York. Her comedic abilities have also spilled over into the film industry.  Disconnection, for instance, will be aired during the American Black Film Festival in 2019, and Role Play is currently on Amazon Prime.
Kelly is known for offering comedic relief in response to both the profane and the sacred, complex, intersecting realties that define the lives of Black women and families. She destigmatizes Black women of, in her words, "blessed proportions," who perform sex-positive identities; she affirms the strength of Black women and Black men, while also underscoring the importance of the Black American trope of "signifying," which is historically integral to the Black expressive tradition; she even has a way of holding her audience transfixed and overcome with laughter when lamenting the challenges of juggling motherhood, marriage, and entrepreneurship.  Kelly has been blessed to share the stage with legends such as Dick Gregory, Mike Epps, Rickey Smiley, Katt Williams, and a host of other legendary comedians. She is fearless on stage and has the natural talent of enlivening any atmosphere!
Heather "Byrd" Roberts, M.A.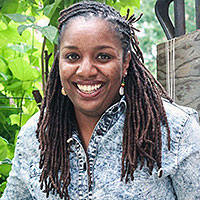 Born and raised on the South Side of Chicago, Heather "Byrd" Roberts is a Spoken Word Poet, Performer, and a Teaching Artist.  Byrd received her B.A. in Special Studies in Performance Art from Cornell College, and her Master's in Organizational Leadership From St. Ambrose University.  She launched her professional career in diversity and inclusion at Cornell College. She began facilitating poetry workshops with youth, and also coached the college's poetry slam team, who competed and placed in the largest spoken word competition in the nation, Louder Than A Bomb – the college division.
After returning to Chicago in 2014, Byrd completed her Spoken Word Pedagogy Certificate program at Concordia University and currently serves as a writer with and the Programs Manager at Young Chicago Authors, an organization for youth that fosters a sense of artistic expression through various arts education programs.
As her website states, "her work focuses on the intersectionality between form and freedom - being black and a woman. A quilt stitched together shining a light on the best and worst parts of her experiences. Byrd's poems are in lineage of Lucille Clifton, Ntozake Shange, and Gwendolyn Brooks. Her stories span from childhood epiphanies to unexpected lessons and celebrations. Each story tastes like ripe mangoes, cayenne pepper, or an eclectic combination of the two."
Byrd released her first chapbook in 2016, titled Mahogany: A Love Letter to Black, and is working on another poetic manuscript. Byrd has recently graced the stage at Wittenberg with her performance partner, Gregory Geffrard, performing HER Story of HIS story, a bracing exploration of contemporary African American identity through performance and poetry.
Lauren R. Welch, B.A.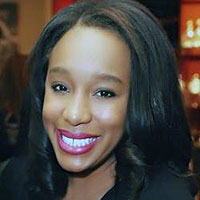 2010 Wittenberg Graduate, Lauren Welch majored in Communications and minored in Africana Studies while at Wittenberg.  Lauren is a self-defined Womanist, which means that, in the spirit of Alice Walker, she advocates for the rights and lives of "outrageous, courageous or willful Black women who love other women and Black men, but who are also "[c]omitted to [the] survival and wholeness of [an] entire people."  Lauren is the founder and Executive Director of Women's Leadership Guild, "a nonprofit organization dedicated to positioning women of color as assets in their communities."  As an Advocate, Brand Strategist, and Creative, Lauren has extensive experience (over ten years) in the field of marketing and communications. She has served and managed clients such as Reebok, Zico Coconut Water, and The Western Reserve Historical Society, and has secured brand visibility for Warner Brothers, the 82nd and 83rd Academy Awards, E!, the City of Cleveland, and the like.  Lauren has found her way back to academia, currently serving as the Assistant Director of Communications and Marketing at the Mandel School of Applied Social Sciences at Case Western Reserve University.  
Lauren is especially committed to activist work in communities of color.  A Cleveland native, she rallied and demanded justice in the killing of Tamir Rice in 2014.  She is also a member of The Soul of Philanthropy: Reframed and Exhibited (TSOPCLE), a collaboration of civic and community leaders, volunteer activists, and philanthropists in the Cleveland area. They are committed to reframing various portraits of African American philanthropy across generation, through exhibits which include panel discussions, talks, and public forums.  As a member of TSOPCLE, Lauren advocates for and tells the stories of Black folks—the womenfolk especially—through exhibits. Finally, as a former Concerned Black Students Vice President while at Wittenberg, Lauren has valuable insight into the racial atmosphere and the culture of activism at Wittenberg University, as well as what it means to navigate white and patriarchal spaces by unapologetically employing an intersectional framework. It is no wonder that Lauren has been awarded Who's Who of Black Cleveland in 2015 and 2016, and was a 2014 Honoree for Celebration of Heroes.
Amaya Sexton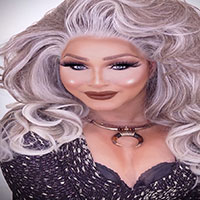 Hailing from the Dayton area, Amaya Sexton is a seasoned, biracial transgender female impersonator. She has been doing drag performance for ten years, obtaining nearly forty pageant titles. Drag is her full-time job. In fact, Amaya performs and hosts shows at the well-known gay nightclub in Dayton, Club Masque.  She actually travels from New York to LA competing!
Amaya has spoken and performed at Wittenberg University, yearly, for almost five years, on topics such as the art of drag performance, gay and transgender rights, and she provides insight into the socio-political experiences of the LGBTQ community.
Amaya is the reigning Miss Masque, Miss Dock, Miss Gay, Northern Kentucky, and she has just received the award of "Dayton's Best Drag Queen."  When she is not competing, Amaya spends her time perfecting her craft.