Service-Learning in Lesotho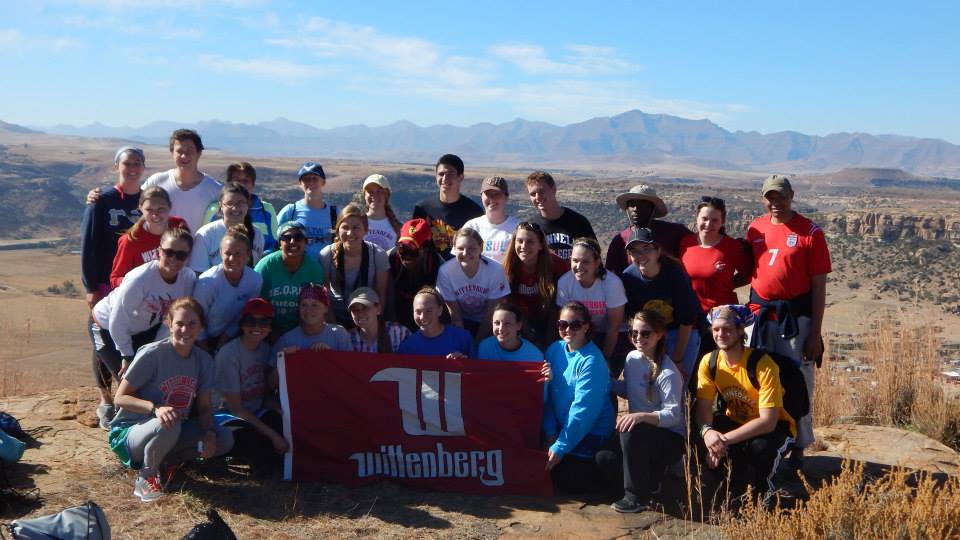 Extending opportunities for service and engagement with the global community, professor of history Scott Rosenberg and head women's basketball coach Sarah Jurewicz led students on a month-long service-learning program in Lesotho, Africa, June 11-July 9.
Through service projects aimed to improve the quality of life for orphans and other vulnerable children, students hoped to provide sustainable projects while putting their work in perspective of larger issues faced by the country. One of the poorest countries in the world, Lesotho has the third highest AIDS rate in the world, with the highest per capita AIDS mortality rate, and more than 220,000 orphans in a country of less than 2 million people.
"Beyond helping some of those in the greatest need, this trip helps students develop a sense of empathy for others," said Rosenberg. "Lesotho provides students a chance to develop a sense of empathy for those in need, and hopefully they bring that sense back home with them. The homes, greenhouses and playgrounds they built, as well as the classrooms and libraries they painted, helped some of the neediest children in the world, and our help gives them hope, which is a great gift."
Stepping Outside Their Comfort Zone
For Kieran Conway '16, a double major in dance and international studies from Cincinnati, Ohio, the summer program was her second trip to Lesotho with Rosenberg. She shared a reflection of her experience as the student leader during the program.
"In many of my classes at Wittenberg, I have been pushed to step outside my comfort zone and try something I have never thought to do before," Conway said. "Wittenberg prepared me to keep an open mind about my surroundings. Even though being in Lesotho was very different from anything I was used to, there was always something to learn and grow from.
"The most important lesson I learned while on this trip was probably accepting my own personal limits. When working on a project, you want to do something that will really make a difference as well as leave a lasting impact, and sometimes both of those are out of your control," Conway said. "It's important to learn that we can't do everything, but we need to do what we can.
"One of the most rewarding parts of the trip for me was getting to know some of the Basotho people. In Sesotho, their native tongue, which they speak along with English, there is no word for stranger. Walking down the street, anyone you pass will greet you with "Lumela me/ntate!" (pronounced Doo-may-la may/nn-da-tay), which translates to "Hello mother/father." Everyone is greeted by a familial title.
"The Basotho are such a warm and welcoming community of people, you can't help but be drawn into their beautiful community and feel like you are one of them. We have so many things we could learn from the Basotho if we took the time to appreciate everything others have to offer us."
About Study Abroad at Wittenberg
Study abroad programs such as the credit-bearing Lesotho program are made possible by the Office of International Education. Each year, more than 90 students from Wittenberg study abroad in programs that range in length from several weeks to several months, and nearly 20 percent of students have an international study experience during their time at Wittenberg.
Students in the 2014 summer program included Jordyn Baker, Isaac Cason, Daniel Cathcart, Kieran Conway, Samantha Diehm, Margaux Empey, Rebecca Fiete, Kaylee Gialamas, Abigail Gilligan, Anna Gutridge, Nicole Johnson, Margaret Jonsson, Jamila Juzer, William Kaufman, Hannah Kinney, Jeanette Klamfoth, Carrie Kubasta, Alexandra Kukovich, Andre Lorenz, Leighanne Main, Riley McDonald, Kristin Mercer, Maija Mikkelsen, Ryan Mumma, Katherine Reuter, Margaret Ruppel and Meredith Wells.
Find out more about the group's experiences through their blog.