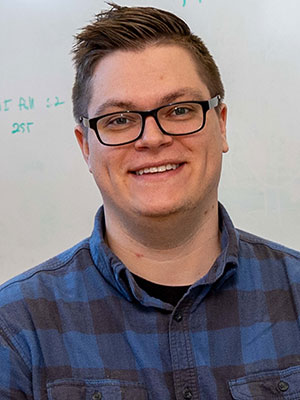 Assistant Professor of Computer Science
BDK Science Center 329L
(937) 327-7856
highlandert@wittenberg.edu
Tyler Highlander has a background and education in Computer Science developed during his time at Wright State University, where he received his BS, MS and Ph.D. in Computer Science. Tyler teaches a full range of courses in the Wittenberg Computer Science department and is especially focused on developing student interest and skill in computer programming beginning in the introductory programming classes.  His research interests are focused on the areas of machine learning, artificial intelligence and neural networks. In addition to teaching at Wittenberg, Tyler does grant research in conjunction with the Air Force Research Lab at Wright Patterson Air Force Base in nearby Dayton, Ohio.
When Tyler is not teaching or advising students at Wittenberg, he enjoys cycling, gardening, cooking, reading and hiking. He especially enjoys spending time with his wife and dogs on their country estate, complete with fenced yard and barn workshop.