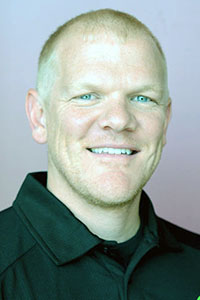 Associate Professor
Program Director, Master of Sport Administration
ledforda@wittenberg.edu
(937) 327-6433
HWA 107
Alan Ledford is the graduate program director and associate professor of the sport management department at Wittenberg University. Ledford earned his doctoral degree in sport management at the United States Sports Academy. Ledford has a Master of Arts in sport management from East Tennessee State University and a Bachelor of Science in sport administration from Wilmington College.
Prior to Wittenberg, Ledford served as the program director at Wilmington College. Ledford was an assistant athletic director/recreation specialist/adjunct faculty member at Harrisburg Area Community College. Ledford has coached baseball and basketball at both the high school and collegiate levels and has worked with intramurals and recreational sports. Ledford graduated from Wilmington College in 2002, played on the baseball team for four years.
Ledford's teaching philosophy is to bring real-world experiences to the classroom. Almost any event can be linked to the sporting/business world. "Every student I teach is unique in his/her own individual way. I will respect every student, empower all students and promote a positive atmosphere in the classroom."
Ledford leads yearly student groups to work the NFL's Super Bowl, NCAA College Football National Championship, MLB All-Star Weekend and the NBA All-Star festivities.
Ledford lives in Clarksville with his wife Emily, two daughters Riley and Reece, and their son Jaxson.