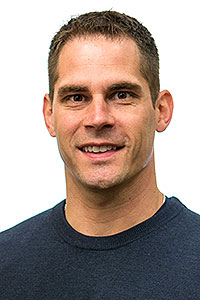 Associate Professor of Health & Sport Studies
thistlethwaitej@wittenberg.edu
(937) 327-6474
HPER Center 113
John Thistlethwaite came to Wittenberg with prior experience leading and developing exercise science and biology programs. As a faculty member in the Department of Health, Fitness, and Sport, he teaches courses in exercise science as well as the Master of Arts (MA) in athletic coaching.

He received a Bachelor of Science (BS) degree from Ohio Northern University, majoring in biology and secondary education; a Master of Science (MS) degree from the University of Toledo with emphasis in exercise science; and a Doctor of Philosophy (PhD) from the University of Toledo with emphasis in exercise science. His primary area of focus is cardiopulmonary physiology and metabolism with additional focus in endocrinology, neurophysiology, and anatomy. He has received awards for his work in the field and in the classroom and has delivered presentations and professional papers on cardiopulmonary research and metabolism. His current research focuses on arterial function and other cardiovascular characteristics between sedentary and non-sedentary individuals using techniques such as Doppler ultrasonography, pulmonary gas exchange, and near-infrared spectroscopy.
Prior to coming to Wittenberg, Dr. Thistlethwaite served 11 years as the chair and director of the Biology and Exercise Science programs at Ohio Dominican University. There, he was able to develop undergraduate research, implement over 40 new courses, and develop seven new programs.